This course focuses on leadership and management issues in health care organizations while providing students with a practice setting to examine and develop their own management skills. Each team acts as a consultant to a local healthcare organization which has submitted a project proposal to the course. The teams define the issue and negotiate a contract with the client organization. By the end of the semester, teams present assessments and recommendations for action to their clients and share their experience with the class in a series of workshops and cross-team consultations.
Prerequisites: HCMG 841
Other Information: Seminar and workshop, a written and oral presentation of the team management study and an individual paper.
HCMG841 - INTRO HEALTH MGMT & ECON
This course provides an introduction to the field of health care economics and management. Using an economic approach, the course will provide an overview of the evolution, structure and current issues in the health care ecosystem. It examines the unique features of health care services, products and markets, with a specific focus on the changing relationships between patients, physicians, hospitals, insurers, employers, communities, and government. In particular, the course focuses on three broad segments of the health care industry: payors, providers, and producers. NOTE: This is a required course for Wharton Graduate Health Care Management majors; it counts as an elective course for all other Wharton Graduate students. It is also open to Law School and Nursing School students with a joint Wharton Program.
This course, co-taught with Brad Fluegel (former Chief Strategy Officer at Aetna, Anthem, and Walgreens and presently on the boards of several health care firms, including Fitbit and Premera Blue Cross), provides an overview of the challenges facing payers and providers in US healthcare as well as the strategies they use (or should use) to succeed. We cover all major aspects of the healthcare sector as seen from the perspective of payers and providers, starting from their core products and services (consumer preferences and health plan design, provider quality), the market environment they operate in (regulation and the role of public insurers, payment reforms, rising costs, and consolidation), and their strategic and operational responses (new organization models, mergers and acquisitions, and new ventures). The pedagogy is accordingly a mix of faculty lectures and talks by senior industry leaders to balance theory and practice.
Other Information: Lectures, cases, assignments, term project, and final presentation.
HCMG849 - FIN MGMT HEALTH INST
This course focuses on health care organizations' financing and financial decisions in the changing health care landscape. The course involves case analyses and lectures, including presentations by practitioners with extensive real-world experience. Students seeking careers in health care with minimal finance background will obtain a solid introduction to key areas of health care finance and financial decision making. Students with more background will extend and enhance their analytical skills in a variety of important areas.
Prerequisites: FNCE 611 OR FNCE 614
Under stress from COVID-19, this course provides students with a rigorous understanding of the current American health care system and how it is likely to evolve over the next decade. The course will focus on six topics: 1) the development of the current health care system; 2) challenges of health care costs, quality, and access; 3) lessons of previous attempts to reform the system including the Affordable Care Act (ACA); 4) analysis of current policies regarding provider payment, technology, and electronic health records and how various sectors (e.g. public health and hospitals) are evolving in the current system; 5) impact of COVID-19 on health care delivery and finance, and 6) future megatrends in American health care system. Throughout the course, lessons will integrate basic health economics, history, health policy, and politics to elucidate key principles for understanding the health care system. The course will also examine at least one other country's health system for comparison. The course will end with a consideration of the long-term outlook for the structure of the US health system and potential reforms.
HCMG852 - HEALTH CARE SERVICES DEL (Course Syllabus)
The purpose of this course is to apply economics to an analysis of the health care industry, with special emphasis on the unique characteristics of the US healthcare markets, from pre-hospital to post-acute care. This course focuses on salient economic features of health care delivery, including: the role of nonprofit providers, the effects of regulation and antitrust activity on hospitals, the degree of input substitutability within hospitals, the nature of competition in home health care, public versus private provision of emergency medical services, the effect of specialty hospitals and ambulatory surgery centers, defining and improving medical performance in hospitals, specialization and investment in physical and human capital, shifting of services between inpatient and outpatient settings and its effect on health care costs and quality, and innovation in primary care from retail clinics to patient-centered medical homes and retainer-based medicine.
Successful medical devices are an amalgamation of creative and innovative thinking, clinical expertise, and engineering know-how that endures intense regulatory and reimbursement scrutiny. This course will provide a foundation for understanding the nuances of the medical device industry. It will cover topics ranging from device design and discovery, regulatory issues, marketing, reimbursement, management, and strategy. Classroom activities will be supplemented with optional tours of hospitals, research and manufacturing facilities, and hands-on demonstrations of devices. Though the course is intended primarily for MBA students, it will be open to medical and engineering students as well as to hospital house staff.
HCMG855 - MGMT HLTH CRE FOR ELDRLY
This mini course is designed to provide students with an appreciation of the good, the bad and the ugly of how our current health care system cares for one of our nation's most precious resources - our seniors! This course will review care provided to seniors within a variety of institutional settings (hospitals, nursing facilities, various senior housing levels) as well as outpatient and home care services. Special attention will be paid to nursing homes and senior housing options and their past, present and future role within the overall health care system in the United States. The course will start with an overview of the senior population with special attention to their health and social needs. Several classes will be held off campus at selected nursing facilities and senior housing complexes. In addition, a broad range of special programs and services will be reviewed such as sub-acute care, long term care insurance, Medicare Risk Programs, elderly housing, adult day care, managed care, Medicare Part D, case management, hospice and other recent developments. Throughout the course, emphasis will be placed on entrepreneurial opportunities to serve the senior market at all levels. Students are required to produce a paper for this course that focuses on a specific area impacting the senior market. This is a wonderful opportunity for students to select an area of personal interest and conduct an in depth review of that area including making direct contact with national experts within the topic selected. All student topics must be approved during the first two weeks of class and the depth of research required agreed upon by the by the student and the instructor. Interested students not in the HCMG major are urged to speak to the instructor before enrolling in the course.
In healthcare or anywhere else across science, or business, or sports, the importance of data and analytics is virtually unquestioned. That, however, does not mean that it needs no elucidation. In this course, we begin with a fundamental understanding of the state of data and analytics in healthcare and then move onto examples of its use in converting from business questions to implemented solutions. We "sidestep" into the world of algorithms/machine-learning/AI and causal inference, but our focus is on business applications of these tools to the available data in the healthcare industry. As we discuss examples, we always seek to show how human creativity needs to be at the heart of the questions being probed. We highlight today's data universe in healthcare, the level of integration we have achieved, and the immensity of the remaining task, all with an eye to the business opportunities that exist now. We end with a showcasing of the art of the possible - in 2020 - and with (hopefully) a clear look ahead at what remains to be achieved. At the end of this course, students will: 1. Know the health care data landscape; 2. Understand the "loop" that drives modern evidence-based businesses; 3. Dive into real health care data analytics problems, developing a first-hand familiarity with basic tools and concepts; 4. Anticipate the business opportunities evolving in health care dataand analytics. Experience in data science if prerequisite not met. Other experience in data science can serve as a substitute for the prerequisites. Knowledge of basic statistics is a must. Coding experience is a plus. Experience coding to solve data/statistics problems is ideal. Further training in data science is a plus, and we welcome those with more advanced preparation.
Prerequisites: STAT 613 OR STAT 621
HCMG859 - COMPARATIVE HC SYSTEMS
This course examines the structure of health care systems in different countries, focusing on financing, reimbursement, delivery systems and adoption of new technologies. We study the relative roles of private sector and public sector insurance and providers, and the effect of system design on cost, quality, efficiency and equity of medical services. Some issues we address are normative: Which systems and which public/private sector mixes are better at achieving efficiency and equity? Other issues are positive: How do these different systems deal with the tough choices, such as decisions about new technologies? Our focus first on the systems in four large, prototypical OECD countries- Germany, Canada, Japan, and the United Kingdom -and then look at other developed and emerging countries with interesting systems - including Italy, Chile, Singapore, Brazil, China and India. We will draw lessons for the U.S. from foreign experience and vice versa.
HCMG860 - LEADING HC ORGS
This course aims to improve enrollees' ability to effectively manage and lead health care organizations (HCOs, including hospitals, medical groups, insurers, biopharmaceutical firms, etc.). The course is designed to integrate previous course work in general managment, health care, and health policy to further participants' understanding of organizational, managerial, and strategic issues facing HCOs and the health care workforce. The course will provide participants with a foundation for developing, implementing, and analyzing efforts to improve HCOs' performance. A major objective of the course is to sharpen the leadership, problem-solving, and presentation skills of those who aim to hold operational and strategic positions in health care organizations. Another objective is to introduce enrollees to leading HCOs. Through case studies, readings, in-class exercises and class discussions, particpants will learn analytic frameworks, concepts, tools and skills necessary for leading and managing organizational learning, quality improvement, innovation, and overall performance in HCOs.
HCMG863 - MGMT&ECONOFPHARM&BIOTECH (Course Syllabus)
This course provides an overview of the management, economic and policy issues facing the pharmaceutical and biotechnology industries. The course perspective is global, but with emphasis on the U.S. as the largest and most profitable market. Critical issues we will examine include: R&D intensive cost structure with regulation and rapid technological change; strategic challenges of biotech startups; pricing and promotion in a complex global marketplace where customers include governments and insurers, as well as physicians and consumers; intense and evolving M&A, joint ventures, and complex alliances; government regulation of all aspects of business including market access, pricing, promotion, and manufacturing. We use Wharton and industry experts from various disciplines to address these issues.
HCMG866 - E-HEALTH:BUSINESS MODELS (Course Syllabus)
Healthcare is in the early stages of extraordinary change in the business model of care delivery and financing. This transformation will lead to a system based on the proactive management of health, integration of care across the continuum, blurred boundaries between care providers and purchasers and the placement of the consumer at the center. As has been the case in other industries, this new business model will be based on a foundation of diverse, potent, and well implemented information technology. This course will help prepare students to lead a digital health future. Specifically, the course will cover three major areas. (1)The context of health care information technology: the size, composition and evolution of the digital health market; federal government agencies, and related regulations, that shape the market; leadership roles and factors that enable healthcare organizations to effectively implement and leverage information technology. (2)Emerging technologies that will fuel the transformation of healthcare: artificial intelligence and advanced analytics; interoperability; telehealth; consumer-directed digital health; use of behavioral economics to influence patient and provider decisions. (3)Digital health use by specific sectors of the healthcare industry: healthcare providers; health plans; retail-based primary care; life sciences; wellness and chronic disease management. The course will include lectures from industry leaders who will share their ideas and experiences.
HCMG867 - HC ENTREPRENEURSHIP
The course focuses on the creation, funding, and management of digital health, biotech, medtech, and other health services enterprises. The course is designed to supplement other offerings in the Health Care Systems and Management Departments for those students with entrepreneurial interest in such ventures, and will focus on special issues surrounding the conceptualization, planning, diligence, and capitalization of these ventures and also includes management and compensation practices. In addition, course offers methods for self-assessment & development of business models and plans, techniques for technology assessment and strategy, develops foundation for capitalization and partnering strategies, and creates a basis for best practices in company launch and plan execution. Students must apply to take this course. Please see the Health Care Management Department for the application.
Issues surrounding global health have captivated the attention of the public sector and foundations for many decades. Many of their initiatives are realizing progress on the health-related Millennium Development Goals. The private sector has been less engaged in global health, but has a significant role to play in providing resources and in building infrastructure, human resource capacity and sustainability. This course explores entrepreneurial and other private sector solutions for health services and access to medicines and technologies in the developing world and other underserved areas. The course also encompasses study of creative programs to engage the private sector in development of vaccines and medicines for tropical and neglected diseases. Furthermore, the course addresses novel care systems and therapeutic strategies for the rapidly growing burden of chronic, non-communicable diseases in the developing world. In short, the course builds on the content of conventional global health courses from a managerial and entrepreneurial perspective. Learning is driven through readings, class discussion and a series of guest speakers representing a wide range of global health issues. Evaluation is largely based on a student group project.
HCMG870 - BUS OF BEHAVIORAL HEALTH
This half-credit course will provide an overview of the behavioral health care landscape. There are three modules: (1) delivery, e.g., deinstitutionalization, the provider shortage, collaborative care; (2) financing, e.g., managed care, the shift to value-based care; and (3) recent trends, e.g., digital health, venture capital. Each module will include a guest lecturer with industry expertise.
HCMG 890-001: This course examines issues related to the Services Sector of thehealth care industry. For those interested in management, investing, or bankingto the health care industry, the services sector will likely be the largest and most dynamic sector within all of health care. We will study key management issues related to a number of different health care services businesses with a focus on common challenges related to reimbursement, regulatory, margin, growth, and competitive issues. We will look at a number of different businesses and subsectors that may have been unfamiliar to students prior to taking the course. We will make extensive use of outside speakers, many of whom will be true industry leaders within different sectors of the health care services industry. Speakers will address the current management issues they face in running their businesses as well as discuss the career decisions and leadership styles that enables them to reach the top of their profession. Students will be asked to develop a plan to both buyout and manage a specific health care services business of their choosing and will present their final plans to a panel of leading Health Care Private Equity investors who will evaluate their analysis. Prerequisites: HCMG 841. Health Care Management MBA majors only Senior healthcare executives and policy leaders will be engaged as guest speakers.
HCMG899 - INDEPENDENT STUDY
Arranged with members of the Faculty of the Health Care Systems Department. For further information contact the Department office, Room 204, Colonial Penn Center, 3641 Locust Walk, 898-6861.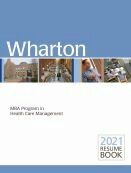 Click on covers to see e-books
Resume Book 2021 (pdf)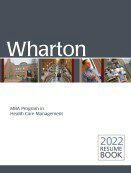 Resume Book 2022 (pdf)