HCM CLASS OF 2016 STATISTICS
Male: 64%
Female: 36%
International: 35%
Years Out of Undergraduate School
< 2: 0
2-4: 46%
5-7: 48%
8 <: 6%
Undergraduate Majors
Liberal Arts and Social Sciences 18%
Sciences 15%
Engineering 15%
Business and Economics 45%
Pre-Professional 7%
Graduate Degrees Held
MD: 2
MD, PhD: 1
RN: 1
Joint MD/MBA Program: 6
---
HCM CLASS OF 2016 PROFILES
68 Students
Can Akannac

I grew up in Istanbul, Turkey before moving to the US in 2005 for college. Prior to Wharton, I worked and lived in 4 countries. In 2010, I graduated with a BS in Mechanical Engineering from Washington University in St. Louis. While in school, I worked at St. Jude Medical's Cardiac Rhythm Management division in Los Angeles, CA, rotating across development, manufacturing and operations projects. After graduation, I moved to Chicago to join Egon Zehnder, where I advised 20+ pharma and biotech, 30+ medtech and healthcare services and IT companies to build critical competencies, and solve talent management and organizational challenges at C- and board-level. I have conducted in-depth interviews and assessments, and performed market outreach to attract and build relationships with senior executives. Pursuing my passion for products, technology and global health, I was promoted to cover the Firm's global medtech segment in 2012. I evaluated industry trends and facilitated improved collaboration on client engagements, market insights, business development, and thought leadership. Being the Turkish nomad I am, I moved to Copenhagen in 2013 to rebuild a team of 8, holding responsibility for workload allocation, recruitment, training, and development and performance reviews, continuing my global medtech role with a focus on growing the segment in EMEA.

Egen Atkinson

I grew up in Honolulu, HI, and in 2010 received an A.B. in Economics from Harvard University, where I also played 4 years of varsity water polo.  After college, I spent a year at ForSight Labs, a medical device startup in Menlo Park, CA.  At ForSight, I helped design and execute an international, first-in-humans clinical trial of a drug-delivery device implanted in the eye for the treatment of Age-Related Macular Degeneration, the leading cause of blindness in the United States.  I then started medical school here at Penn, and have just completed my third year. Recently, through Penn Biotech group, my colleagues and I completed a consulting engagement for Medtronic in which we evaluated the growth potential of implantable cardiovascular devices in an emerging economy.

Emily Balmert

After I finished my undergraduate degree in Biology at Harvard in 2009, I joined Genoptix as a business development program analyst.  I am passionate about helping cancer patients receive better care and was excited to work with this oncology diagnostics laboratory after serving two college summer internships there.  As Genoptix expanded into clinical trial testing my role grew to include clinical trial project management, and once Genoptix was acquired by Novartis I was in a better position to see how changes in the regulatory landscape have the potential to bring substantive changes to patient care.

Neil Bansal

I graduated from Indiana University in 2010 with a dual degree in honors Economics and Finance.  After graduating, I joined the investment bank at Barclays, where I worked on the healthcare mergers and acquisitions team.  After two years at Barclays, I joined Irving Place Capital, a middle-market private equity firm.  While at Irving Place, I primarily focused on executing and monitoring the fund's investments in healthcare services companies.

Griffin Leo Barstis

BA, Political Science, Washington University, May '09. Associate, Olympus Partners, Stamford, CT; Investment Banking Analyst, Piper Jaffrey & Co., New York, NY

Nick Bartz

I graduated from Yale in 2010 with a B.A in History – mostly Late-Ottoman, with a touch of 19th-Century British Electoral Politics. After graduation, I started at The Advisory Board Company, first as an Analyst, then as a Consultant. During my four years at the company, I worked on about as broad a range of projects as one can – Medicare reimbursement analyses, patient-centered facility design, mergers and acquisition strategy. I also wrote several white papers on health care IT that people have described as "helpful!"

Peter Belisle

I grew up in Maine before fleeing to the West Coast to study mechanical engineering at Stanford, from which I graduated in 2009.  After college, I stayed in the Bay Area for another five years to work in finance.  I spent three years as an investment banking analyst, during which time I quickly forgot any engineering skills I once had.  At Evercore Partners' health care group in San Francisco, I advised on mergers and acquisitions for biotechnology and specialty pharmaceutical companies.  Interestingly, a considerable portion of my time in this space was focused on medical and cosmetic dermatology companies (think Botox).  After Evercore, I worked as an associate at a small credit fund in Menlo Park that specializes in start-ups.  I mainly focused on medical device companies, although my services were occasionally appropriated for diligencing an assortment of internet and software technology plays.

Jolene Bressler (Schaefer)

I graduated from the University of Michigan in 2008 with a BSN in the nursing honors program. After graduation, I worked as a Registered Nurse at Johns Hopkins Hospital in Baltimore, MD, and at both the Children's Hospital of Philadelphia and the Hospital of the University of Pennsylvania (both in Philadelphia). In addition to working as a bedside nurse, I spent two years as the chairperson of our nursing shared governance, and also worked with some of the clinical directors of Penn Medicine. I assisted in writing a manuscript on nurse peer review which is currently being considered for publication.

Scott Casale

I graduated from Duke University with a BS in Economics with distinction in 2010. After graduation, I joined The Advisory Board Company in Washington, DC, where I helped conceptualize and develop new healthcare technology products including a real-time surveillance tool for the hospital inpatient setting. After nearly a year and a half in this role, I transitioned within the company to become a Dedicated Advisor for the physician performance improvement technology, Crimson. During my three years in this position, I partnered with executives and physician leaders at over forty member hospitals within Hospital Corporation of America (HCA) to develop strategic plans and work on process improvements focused on providing value care to patients. While in college, I also completed a summer internship at Boston Scientific as a financial analyst.

Kristin Chan

I graduated cum laude from Cornell University in 2010 with a BS in Chemical and Biomolecular Engineering.  After graduation, I returned home to the Bay Area and started working at Genentech, a biotechnology company in South San Francisco, as an Associate Engineer in the Process Development Rotation Program.  As an associate, I completed four six-month rotations in different departments (Analytical Operations, Pharmaceutical & Packaging Engineering, Cell Culture, and Purification Development) of US Biologics Technical Development.  During these two years, I developed new technologies and different manufacturing processes for biologics.  After the program, I accepted an Engineer position in a department of US Biologics Technical Development.  In this role, I developed and implemented the Phase III manufacturing process for Polatuzumab Vedotin (a clinical product for indolent NHL) a facility in Europe.  I also transferred the drug product manufacturing process of Kadcyla (a commercial product for breast cancer) to different sites in Europe.  At Genentech, I co-lead the intern/co-op recruiting program for US Biologics Technical Development and was a campus ambassador to Cornell University.

Stephanie Chang

I graduated from the University of California, Berkeley in 2010 with a B.S. in Business Administration. I spent the last four years after graduation working at ZS Associates, a sales and marketing consulting firm focused on the healthcare industry, in the Bay Area. At ZS, I worked solely with pharma/biotech companies, with a focus on oncology. Some of my projects included product performance tracking, customer and market segmentation, and pipeline asset evaluation. I served as a lung and prostate cancer expert for the firm and was sponsored to attend oncology conferences and create materials expressing ZS' perspective on the latest developments in oncology. While at ZS, I was also involved with the Women's Leadership Initiative, training curriculum development, and recruiting efforts.

Tom Fagan

I graduated cum laude from The Ohio State University with a BS in Business Administration, specializing in Finance and Marketing in 2011. During my final two years at OSU, I worked full-time as a Registered Client Associate at Merrill Lynch primarily focusing on options trading for high net worth clients. After graduation, I started as a Strategy and Operations Business Analyst at Deloitte Consulting out of Cincinnati. In my three years at Deloitte, I focused in the healthcare and life sciences practice, specifically on provider performance improvement and strategy in nursing and surgery. I also assisted in publications and presentations on strategic planning for academic medical centers and on the impact of the ACA/accountable care organizations on perioperative nursing. Another focus of mine is in pro bono consulting, and I led a volunteer strategy consulting engagement for the National Underground Railroad Freedom Center.

Aaron Fisher

I graduated from the University of Virginia – McIntire School of Commerce with a BS in Commerce in 2010.  Upon graduation, I worked as an investment banking analyst at Stephens, Inc. focused primarily in Industrials and Oil & Gas.  During my tenure at Stephens, I was also placed on the business due diligence side of several Stephens Capital Partners (Private Equity arm) transactions. After two years at Stephens, I joined H.I.G. Capital, a middle market private equity firm, in the Growth Buyouts Fund – an industry agnostic $500M fund dedicated to leveraged buyouts of high-growth, profitable businesses in the lower middle market.  At H.I.G., my primary responsibilities were to evaluate new investment opportunities and to manage portfolio companies in a variety of industries including consumer, industrials, business services / tech-enabled business services, and healthcare.  While at H.I.G., I investigated multiple transactions in the healthcare services space, primarily outsourced service providers and practice management companies.

Bharath Ganesan

I graduated magna cum laude from Vanderbilt University in 2010 with a double major in Economics and Political Science and a minor in Financial Economics.  After graduation, I joined Bank of America Merrill Lynch in the Mergers & Acquisitions investment banking group in New York, where I worked on a variety of M&A transactions primarily in the healthcare, industrial, consumer and retail sectors, including Ardian's sale to Medtronic and Cephalon's sale to Teva.  After two years at Bank of America Merrill Lynch, I joined the middle market buyout fund at H.I.G. Capital, a middle-market private equity firm investing in across multiple sectors.  In my two years at H.I.G. Capital, I was involved in a number of new deal opportunities and also in the sale of H.I.G.'s portfolio company MagnaCare, a leading health plan services company offering a broad range of healthcare administrative services and access to a proprietary provider network.

Mridul Ganesh

I was born and raised in New Delhi, India. I graduated from the Indian Institute of Technology, Delhi, in 2008. After graduation, I joined McKinsey and Co. as a Business Analyst in New Delhi, where I worked with pharmaceutical companies on patented drug and generic drug portfolio launches. After 2 years, I moved to Boston and began working with Objective Health, a startup within McKinsey that aimed at helping small hospitals with strategy and operations using data analytics. I was a founding member of the product development team, building analytic tools to help hospitals understand the implications of healthcare reform on their economics as well as helping develop Objective Health's strategy. I returned to India two years later and worked as an independent consultant with startups in India and the US, helping them develop strategies to monetise their data and building analytic/visualisation tools to help them utilise their data better. In parallel, I also pursued my passion for music by releasing an album and playing lots of shows with my band 'Antariksh'.

Navid Gharavi

I graduated from UCLA magna cum laude in 2007 with a BA in Economics and a pre-medical concentration.  Upon graduation, I deferred medical school and joined Arbor Advisors, a Palo Alto-based investment bank, where I helped build the firm's healthcare technology practice.  In 2010 I joined TA Associates, a global private equity firm, in Menlo Park.  As an Associate, I originated and evaluated investment opportunities for the Healthcare and Business Services Groups and worked closely with portfolio companies.  To supplement my finance experience, in 2013 I joined Millennium Laboratories, a provider of medication monitoring solutions to the pain management and psychiatric segments (and a TA portfolio company).  At Millennium, I served in a chief-of-staff capacity reporting to the executive team and focused on expanding the Company into adjacent markets and new product offerings.  It was a busy year – I co-led the acquisition of a predictive analytics business, helped launch two new products (chronic disease testing & pharmacogenetic testing), and alongside the executive team, completed a large (> $1 billion) leveraged recapitalization of Millennium.

Noah Goodman

I graduated from the University of Michigan in 2009 with a B.S. in Neuroscience. After school, I moved back to my home town of Washington DC where I worked for a non-profit called the State of the USA helping translate public health data into interesting and interactive data visualizations. While at the non-profit I helped to co-found Jibo, a company which is commercializing social robotics technology for health care and consumer applications (think medication adherence and chronic disease management). At Jibo, I helped develop a health care strategy and wrote pitch decks for fundraising.  After realizing that sweat equity wouldn't pay the bills, in 2010 I moved to NYC and began working with a boutique life sciences consulting firm called Easton Associates. At Easton, I primarily focused on opportunity assessment projects for biotech, pharma, and medical device companies considering acquiring new technologies. I also got the opportunity to work with a number of venture backed medical device startups on strategy projects.

Alden Gordon

In 2010 I graduated from Trinity College in Hartford, CT with a BS in Chemistry, then moved to Boston and started at strategy consulting firm Health Advances. There I worked with companies across the therapeutic, device, and diagnostic spaces and gained experience in a broad range of strategic projects including new product planning, pricing / reimbursement, and lifecycle management. I was also on the Business Analytics committee and specialized in market forecasts, so I like answering excel questions. After two and a half years I decided to gain more experience with the payer-provider side of healthcare and took a role doing payer business development at athenahealth. There I was a member of an upstart team finding novel ways to collaborate with payers and generate new revenue streams for athena's provider clients.

Danielle Graham

I graduated magna cum laude from the University of Pennsylvania in 2010 with a B.A. in Economics and Biological Basis of Behavior, with distinction.  After taking my time to finish undergrad (4.5 years), I enjoyed a wonderful 8 months off of school, during which I travelled.  I participated in a NOLS mountaineering program in Chile, and I was a nanny and tutor in Spain and Russia.  I then started medical school at the University of Pennsylvania (I apparently just can't get enough of this place).  During my first three years of medical school, I have been involved in various activities, including founding the Wilderness Medicine Elective and leading the Agnew Surgical Society.  I am currently doing research on patient outcomes after melanoma surgery.

Grey Heecheon Im

After 2 years of service in the Korean Army, I graduated from Dartmouth College in 2010 with a degree in Economics and Psychology. Following graduation / prior to starting at Wharton, I spent 4 years with Kaiser Associates, a management consultancy headquartered in Washington DC. Working exclusively within the firm's healthcare practice, I specialized in commercial due diligence, opportunity assessment, and growth strategies for Fortune 500 clients in pharmaceuticals and medical device, in therapeutic areas ranging from Urology to Cardiology and Ophthalmology. More recently, I spent 3 months in Ethiopia volunteering with Clinton Health Access Initiative on projects designed to expand patient access to HIV treatments.

Edgar Iskanda

I graduated from Singapore Management University in 2010, with a degree in Business Management (Magna Cum-Laude) and a focus in Finance.  Upon graduation, I joined Dragonfly, LLC, a risk and strategy consulting, advising Japanese subsidiary of a major oil company. In 2011, I joined GE as one of its Financial Management Program Associates where I worked in GE's four different businesses. My passion in healthcare started during my stint in GE Healthcare (GEHC) and I decided to join the GEHC after graduating from the program. As a financial analyst, I oversaw GEHC Southeast Asia operating expenses and led a feasibility study of tele-radiology in Southeast Asia's rural areas. Based on my performance, I was promoted early to be a Modality Finance Leader, where I was responsible for the commercial finance of the $50M ultrasound business. In my latest initiative, I worked with the Project Financing Director and partnered with a Japanese bank in Indonesia to provide financing to our local dealers.  Currently, I am running Desaku Sehat (desakusehat.org), an organization which partners with Indonesian Red Cross and local primary clinic to improve life quality of the people in Indonesia's remote areas.

Frank Jackson

I graduated summa cum laude from Boston College in 2008 with a Bachelor of Arts in Economics, minoring in Ancient Civilizations. Following graduation I joined Charles River Associates, an economic consulting firm specializing in litigation, regulatory, and management consulting. In this role, I analyzed large, complex datasets and conducted research for a range of clients; most projects involved either examining the competitive effects of mergers under review by the Department of Justice or valuing patents subject to litigation. Working on a proposed merger in the Pharmacy Benefits Management (PBM) space sparked my fascination with the healthcare industry; fortunately, the interest was mutual as the client, CVS Caremark, offered me an analytics role in their Product Innovation and Management group. After three years of living and working in downtown Boston, I traded my T pass for a car and began commuting to the 'burbs.  At CVS Caremark I supported numerous pharmacist-driven medication adherence and hospital readmission prevention programs. My work included identifying and analyzing opportunities for expansion as well as implementing and scaling these programs.

Rashie Jain

I graduated from the Indian Institute of Technology (IIT) Kanpur in 2009 with a major in Biological sciences and Bioengineering. After graduation, I joined JP Morgan and worked as an Equity Research Analyst for 2.5 years. My role involved valuing and making recommendations on small cap biotech companies. I realized my passion for Biotechnology at JPM and then joined Biocon as a business strategy manager where I worked closely with the business unit head of the Biosimilar division to launch world's first biosimilar Herceptin. A year later, I was promoted to become a program manager where I overlooked end-to-end development of a billion dollar biosimilar cancer drug. This summer I worked with Accel Partners and prepared a thesis on investment opportunities in the Indian healthcare sector. I am excited about the prospects of innovation in healthcare targeted to address accessibility and affordability issues in the developing countries.

Keren Johnson

I was born in New Zealand and grew up in Brunei. I graduated cum laude from Harvard University in 2009 with an A.B. in History and Literature. In the 5 years since, I've worked for the Advisory Board Company's international division, where I led a research team studying hospital quality and efficiency improvement on behalf of clients in 35 countries. I also delivered conference presentations on the research, created marketing collateral, helped onboard clients, trained account managers and sales staff, and wrote publications on medical staff engagement, efficient patient flow, readmissions, and quality improvement.

Gil Kaminski

I was born and raised in Israel, and spent the majority of my life there. In 2005 I graduated Cum Laude from the Technion, with a B.Sc. in Biomedical Engineering, and a concentration in signal processing and imaging. After graduation, I began my mandatory service as a research officer in the IDF (Israel Defense Force), and was stationed at the Naval Medical Institute. My role there was to manage and lead clinical trials, and conduct research. I was lucky to be involved with research that spanned medical devices, physiological signal testing, pharmaceuticals, genetic science, and occupational health. Upon completing my service I joined Widemed a start-up company in the field of Sleep Monitoring, and Cardiovascular Diagnostics. My focus was on our new generation product, an at-home, wearable, sleep lab. In 2012 I began a Master of Science in Finance (Financial Engineering) at the University of Delaware, which I completed with The MS in Finance Program Achievement Award. During my masters I worked for the Office of Economic Innovation and Partnerships at the University of Delaware. I was involved with the Technology Transfer Office and with a new program aiming at integrating entrepreneurs into the University's eco-system. I later worked in the Marketing and Innovation team for Ashland Specialty Ingredients. Our group focused on finding new growth platforms for the company.

Rimi Kawashima

I grew up in Tokyo, Japan, where I attended the Lycée Français International de Tokyo in my youth, followed by the American School in Japan. In 2004, I moved to the US to pursue degrees in Economics and French at the University of Virginia. After graduation, I joined Parker Global Strategies, a Fund of Hedge Funds based in Stamford, Connecticut. The small firm culture at PGS gave me the opportunity to explore various diverse investment opportunities, from natural resources to Asian equities. In addition to supporting the Director of Research, I was also fortunate to complete projects directly for firm management, including the firm's founder and CIO. After two years at PGS, I became an equity research associate on Cowen and Company's healthcare services team. Within the three-person team, I was specifically responsible for the coverage of Healthcare IT (HCIT) companies; I also helped my team launch coverage of drug retailers. Over the course of four years at Cowen, I enjoyed helping my Managing Director author deep-dive industry reports, attending industry conferences, and discussing the latest trends in HCIT with investors.
Justin Kuk

I am a Toronto native, and graduated with a BSc in Developmental Biology from University of Toronto in 2007.  Afterward, I received a Master in Biotechnology from Columbia University in 2010 and completed my Master's dissertation on induced pluripotent stem cells. During my Master's, I interned in the technology transfer office at Mount Sinai School of Medicine, and the marketing department of Alere, a diagnostic firm. Following school, I worked as a venture capitalist at Rho Ventures, a diversified VC firm with over $1.5B AUM in New York, focused on investing in clinical-stage biotech firms. After two years, I moved to La Jolla to West Health Institute, a non-profit medical research institute, where I had a dual role: venture capitalist for the $100M VC fund focused on health IT and services, and business development manager for a Microsoft Xbox based technology to deliver behavioral therapy to Autistic children. As an investor, I have been fortunate to have worked on 7 investments, two of which have since exited. Most recently, I spent the past six months in China interning at a diabetes diagnostic startup in Shanghai, and a healthcare VC in Shenzhen. I engage with the healthcare innovation community by advising startups and serving as a mentor for HealthBox incubator.

Vignesh Kumar

Kia ora tātou! (Hello everyone!) I am a Kiwi, (read: New Zealander) and I graduated from the University of Auckland with a B.E.(Honours) in Biomedical Engineering (2010), and a MEng (1st Class Hons) in Medical Device design (2013).  During the penultimate year of my B.E. degree I interned with a medical device design and manufacturing firm in New Zealand, Fisher & Paykel Healthcare, where I designed components for its next generation range of Adult sleep apnoea devices (CPAP).  In the years following I moved into the fledging Infant Care division of the business, where I lead the design of several innovative life-saving infant resuscitation products. With success in the design arena, I transitioned into a research and patient engagement type role, based throughout Asia Pacific, to better understand the neonatal care market. After 5 years with Fisher & Paykel Healthcare, I then decided to venture out on my own. I moved back to my childhood home Papua New Guinea (PNG) and founded a non-profit start-up, to improve access to neonatal and maternal health products in rural PNG. Aside from my start-up, I also had a brief stint in our family business, a service provider to the oil & gas industries in PNG.

Casey Langwith

I graduated magna cum laude from Rice University in 2009 with a B.A. in Sociology and History. During college, I held summer internships in Washington, DC, including in the U.S. Senate. I returned to DC after graduation to work for the STOP Obesity Alliance (housed at The George Washington University) where I focused on developing innovative yet practical policy strategies to combat obesity. In Fall 2010, I joined The Lewin Group, a consulting firm specializing in policy research, planning, and modeling for public sector programs. At Lewin, my work centered on managed care, federal compliance, and analyzing program performance. I ultimately became the project manager for my primary engagement, which was with the State of West Virginia's Medicaid managed care program. My responsibilities included advising the State on implementation of the Affordable Care Act, designing a pay-for-performance program, and helping the State expand the program to cover new populations and benefits.

Rong Li

I graduated from Stanford University with an MA in International Policy Studies in 2012, concentrating in International Political Economy. Before that, in 2010 I obtained my bachelor's degree from Tsinghua University in China. Following my graduate study at Stanford, I started with the World Bank Group in Washington DC. As a consultant, I focused on the healthcare sector in East Asia and Pacific Region, and covered countries including China, Indonesia, Vietnam, Laos, and Mongolia. In that position, I traveled extensively in the region, and played both analytical research and project management roles. I monitored several healthcare lending projects financed by the World Bank, and provided health policies and strategies advice for country government clients. My other professional experiences also include a summer internship with the International Finance Corporation where I contributed to the Doing Business Report that measures doing business regulations around world.

Yi Liao

I graduated with honors from Princeton University in 2011, with concentrations in Chemistry and Materials Science & Engineering. During school, I studied abroad with the Princeton in Beijing program, as well as interned with the Pasteur Institute in Paris. I joined IBM as a business consultant and have worked on multiple strategy, implementation, and analytics projects with large healthcare/pharmaceutical and airline clients. My main experience that led me to HCM was a transformative healthcare innovation project that I helped lead from idea conception to pilot launch in the South Florida behavioral health system.

Joao Lima Neto

I was born and raised in Brazil. I graduated from Ibmec Business School (Belo Horizonte, Brazil) with a degree in Economics, and from l'École de Management de Normandie (Caen, France) with a double degree in Business Administration. My professional background is entirely focused on healthcare and finance. I started to work early (at the age of 17) and I have a lifetime relationship with healthcare: I have always been involved with my family business, Redemed, which is a franchise pharmacy chain that offers many products to its franchisees, such as a private label card, drugs distribution services, softwares and a prescription drug insurance plan. After graduation, seeking to learn how to attract capital and to manage it efficiently, I entered the financial market, where I worked for more than 4 years (2 of them at Itaú, Brazil's largest private bank). I have also always been involved with social business. Recently, I participated in many projects of Fundação Estudar and ProA (NGOs focused on education in Brazil), besides creating and leading a project, along with the Yunus Social Center in Brazil, to improve the access of drugs in poor communities.

Ryan Limor

I graduated from the Schreyer Honors College at the Pennsylvania State University in 2009 with degrees in Finance and Economics.  Following graduation, I worked as an analyst in the healthcare investment banking group at Bank of America Merrill Lynch.  After about a year, I decided to leave the company and joined the healthcare investment banking group at Goldman Sachs.  During my time in investment banking I worked on several acquisitions including the sale of Human Genome Sciences to GSK and the acquisition of Odyssey HealthCare by Gentiva.  After three years of investment banking, I joined G.I. Partners, a San Francisco based middle market private equity firm focusing on the healthcare, technology, financial service, and retail sectors.  While at G.I., I worked on several transactions in the healthcare and technology industries and completed three transactions: the sale of a skilled nursing operator in California, the acquisition of a cable and broadband company in the Pacific Northwest, and the acquisition of a data center operator in the Southeast.

Josh Magid

I graduated magna cum laude from Brandeis University in 2010 with a bachelor's degree in economics and I went on to earn a master's degree in finance in 2011. After graduating, I joined JSB-Partners, a boutique investment bank focused on the life sciences. At JSB, I advised numerous biotech companies on a variety of transactions. My primary focus was on assisting clients in completing partnerships for drugs to treat a wide range of diseases and I successfully completed deals for products to treat diabetes, pain, and oncology, among others.

Vidur Mahajan

In 2009, I graduated from L.T.M. Medical College in Mumbai, India with a bachelors degree in medicine & surgery (M.B.B.S.). In medical school, I wrote a paper sponsored by the Indian Council of Medical Research on the school lives of dyslexic adolescents – the paper was published in the Indian Journal of Medical Sciences. Post med-school, I worked as a medical intern for one year, initially at Government-run urban and rural health centres, and then at Sir Ganga Ram Hospital, a super-specialty charitable-trust hospital in New Delhi. Subsequently, in 2011, I joined Mahajan Imaging (MI), a chain of radiology centres founded by my father. At MI, I set up and operationalized two state-of-the-art medical imaging centres, launched new CT and MRI technologies, implemented an organization-wide Management Information System and developed a self-sustaining model for in-house clinical and pure-science research. I also worked towards creating differential pricing systems to subsidize the poor – at one of MI's centres all tests are done at one-third of market price. As a part of promoting scientific research at MI, I established a collaboration with Project Prakash by the Sinha Lab of Vision Research at MIT, Cambridge to study vision development in humans. I occasionally write for Medical Buyer and eHealth – two healthcare technology focused publications in India.

Mariam Malik

I graduated from the University of California, Berkeley in 2010 with a B.S. in Business Administration from the Haas School of Business (high honors). After graduation, I spent nearly four years in management consulting at L.E.K. Consulting in San Francisco. My primary focus was on short term strategy cases for private equity, life science, and healthcare services clients, with the exception of my 6-month swap to our London headquarters (ask me about British naval shipbuilding or the UK lottery if you would like). My cases were strategy based and relied heavily on integrating quantitative and qualitative research to address our clients' challenges. Cases ranged from bringing innovative medical devices and drugs to market, to assisting payers in designing and launching health plans, to strategizing growth plans for healthcare technology clients (i.e., ones that now power Exchanges). Outside of L.E.K., I led a non-profit called Youth Outreach & Developments in Literacy which fund-raises for schools in economically challenged areas of Pakistan and spreads awareness of the need for education.

Jim Martineau

I graduated from the Colorado School of Mines in 2007 with a B.Sc. in Engineering Physics and from Stanford University in 2010 with a M.S. in Computational & Mathematical Engineering.  After graduating from Stanford, I worked at ZS Associates, a global sales & marketing consulting firm where I focused on marketing & customer analytics for high tech and life sciences clients.  In one case for a large e-commerce client, I developed a novel method for quantifying the financial value of customer loyalty.  In another engagement for a global life sciences company, I served as temporary marketing science head for a $2B business unit comprised of 7 brands where I managed a team to analyze large clinical and claims patient level data sets to drive sales and marketing strategy.  From ZS, I joined Practice Fusion, the largest cloud-based EMR in the country, as a Data Scientist & Product Manager.  At Practice Fusion, I managed the data analytics team where we were responsible for developing and delivering analytic solutions for payer and pharma partners.  I was also the product manager for Practice Fusion Insight, a cloud-based analytics product designed for healthcare professionals that leverages real-time, real-world data to provide insight into clinical trends.

Matt Nix

I graduated cum laude from Tufts University in 2009 with dual degrees in Mathematics and Quantitative Economics. After working as an electricity market analyst for a year and a half, I moved to the health care field as a data scientist at athenahealth. I began my time at athenahealth streamlining both athenahealth's internal operations and the workflows of the health systems and medical groups that use athenahealth's billing service. For the past couple of years I have been the lead data analyst in support of athenahealth's marketing and research groups, learning as much as I can about the health care system and working on a ton of fun projects including creating a data-based section of athenahealth's company blog, building a syndromic surveillance system that is now supporting several public health departments and researchers across the country, developing an app that shows the wide range in contracted rates for a given procedure across different payers and care settings, and leading a hackathon team at Health Datapalooza in DC.

Matt Ostrup

I graduated from Bowdoin College in 2010 with a B.A. in Government and Legal Studies. Following graduation, I interned for a California State Senator prior to applying to and matriculating at UPenn Medical School. I was planning to focus on Orthopedic Surgery but my clinical rotations revealed an interest in healthcare processes and operations. Microscopic and macroscopic inefficiencies are rampant in medical operations, from daily rounding to departmental and hospital organization.  Addressing these issues drew me towards an MBA.

Kyung Woo (KW) Park, MD, PhD

I received an M.D. from Seoul National University College of Medicine in 1998 and went on to receive a M.Sc. and Ph.D. My clinical specialty is interventional cardiology (coronary stent and congenital heart disease procedures) and my research has been dedicated to vascular biology, antiplatelet pharmacologic research, and clinical trials of cardiovascular drugs. For my research accomplishments, I received the Wunsch Young Scientist Award in 2013. After receiving my M.D., I trained as an intern and resident in the Department of Internal Medicine at the Seoul National University Hospital (SNUH). After board certification in Internal Medicine, I served in the Republic of Korea Armed Forces as a Captain in the Army. During my service, I worked as a medical officer (cardiovascular specialist) and a medical liaison in the President's Medical Team. Coming back to SNUH, I trained as an interventional cardiology fellow and was appointed assistant professor of medicine in 2008 and associate professor in 2012. I also served as the deputy director from 2009 and as the executive director from 2012 of the International Healthcare Center, and was in charge of all inbound foreign patients coming to SNUH, which was approximately 15,000 outpatients and 1000 inpatients in 2013. I also served as the youngest member of my hospital's Board of Future Strategy and focused on restructuring the hospital's organization.

Christian Peña

I attended Brigham Young University (Provo, UT) from 2004-2006, 2008-2010 with a BA in English and Honors. During school, I worked as a Certified Nursing Assistant at a community care center providing care to mentally disabled adults. From 2006-2008 I served a humanitarian mission for the Church of Jesus Christ of Latter-day Saints in Belgium and the Netherlands, where I learned Dutch. I also completed an internship doing cancer research at the Center for Cancer Research (Bethesda, MD). Upon graduation, I was hired by the Ensign Group, completed my Administrator-in-Training Program to become a Licensed Nursing Home Administrator and became assistant manager of Lemon Grove Care and Rehabilitation (San Diego, CA). After a year, I switched jobs and began working with Leavitt Partners (Salt Lake City, UT and Washington, D.C.), a health care-focused consulting and private equity firm started by former Secretary of Health and Human Services Michael O. Leavitt. As a Senior Associate at LP, I focused on the long-term and post-acute care sectors as well as the medical products and services spaces (PBMs, pharma, medical devices).

Giulia Peterlongo

I was born and raised in a small town in the Italian Alps (yes, I do love skiing and hiking!). After graduating cum laude from Bocconi University in Milan in 2008, with a degree in International Economics and Management, I moved to London to receive an MSc in Political Economy from the London School of Economics. Upon graduation, I joined Matrix Insight Ltd, a boutique consultancy operating in London and Brussels. I worked in their health care practice, which I started leading when I was promoted to Senior Consultant 1.5 years after joining. Projects involved primarily assessing the impact of public health policies and initiatives in the European Union. In the summer of 2012, I was contacted by McKinsey&Company to join the Leading Systems Network, an entrepreneurial team working with regional health systems from across the world to improve outcomes through analytics and the exchange of best practices. After successfully concluding a 1-year global project on improving cancer outcomes, I was promoted to Health Care Specialist in the global McKinsey Health Care practice. In that role, I served primarily top pharmaceutical companies and helped set up the McKinsey Cancer Center. While at McKinsey I also participated in a community outreach project to support homeless people, a cause to which I am very close still today.

Patrick "Pat" Purdy

I graduated from Yale in 2007 with a B.S. in Biology. I was a member of Men's Heavyweight Crew throughout my time at Yale, captaining the team my senior year. Upon graduating, I worked at Euro RSCG Life, an advertising agency focused on pharmaceutical brands, in New York for three years in the strategic planning group. Interested by the world of finance, I shifted gears and joined Sagent Advisors, a mid-market investment bank, in San Francisco with the health care team. We worked primarily with development-stage biotech companies going through capital-raising or sale processes. After two years, I left investment banking to get my start in private equity at SFW Capital Partners in Rye, NY. The fund, at which I worked for two years, focuses on analytical tools and services, which includes instrumentation, software, information, and analytical services (health care accounted for roughly 40% overall).

Ankur Rathi

I graduated from the University of Illinois at Urbana-Champaign with a BS in Accountancy (High Honors) and BS in Finance (High Honors).  After graduating, I worked as an Investment Banking Analyst at BMO Capital Markets in the Mergers & Acquisitions group in Chicago.  While at BMO, I worked on various M&A transactions across industries, including a healthcare benefits administrator and an allied health focused, post-secondary education school.  After two years at BMO, I joined the private equity arm of Allstate Investments (investment arm of Allstate Insurance Company) as an associate to invest into private equity funds (as an LP) and co-invest directly into companies.  While at Allstate, I led the development of a private equity investment thesis in Latin America.  After approximately two years at Allstate, I joined Riverside Partners, a healthcare and technology focused private equity fund, in Boston.  While at Riverside, I completed diligence on and ultimately the firm invested into a healthcare IT point-of-care medical cart company.  I also reviewed investments ranging from specialty labs to reproductive tissue / cord blood banks.

Rishi Reddy

I graduated from Babson College with a B.S. in Management and concentrations in Finance and International Business. After graduation I joined boutique investment banking firm Harris Williams & Co. in their Boston office focusing on Tech M&A. During my time as an analyst I had the opportunity to work on deals in healthcare technology, primarily on the sell-side for companies in the EMR and billing software space. After a year of investment banking, I caught the entrepreneurial bug and left to start my own venture in the area of digital diagnostics. At DigiPath Solutions we focused on implementing digital pathology technologies into routine clinical practice. I learned a tremendous amount during my time running and growing my business. We eventually grew to an attractive size and were acquired at the end of 2012. I stayed through a transition period and then took a role as interim CEO for a Houston based start-up focused on web-based HIPAA compliant messaging throughout complex surgical procedures. I have also gotten involved with non-healthcare related start-ups through a consultancy / seed stage investment fund I launched called What's Next Ventures.

Brooksie Riley

I graduated from Stanford University in 2008 with a B.A. in Human Biology and Honors in Science, Technology and Society.  After graduation, I moved to Washington D.C. and spent a year at The Pew Center on the States, a division of the Pew Charitable Trusts, where I worked as a researcher on state policy issues including pensions reform and green business development. I left Pew to complete the post-baccalaureate pre-medical program at Johns Hopkins University in order to pursue a medical degree. After completing my pre-medical coursework, I moved to Philadelphia to work as a clinical research assistant at the Center for Health Incentives and Behavioral Economics at the Leonard Davis Institute. My research at LDI focused on incentivizing health behaviors and deploying home health monitoring technologies. In 2011, I began medical school at the Perelman School of Medicine at the University of Pennsylvania. During my first year of medical school, I spent a summer participating in telemedicine research through the UPenn-Bostwana Project in Gaborone, Botswana.

Philippa Rock, PhD

I graduated from the University of Cambridge in 2007 with a first class honors BA in Natural Sciences. Following my undergraduate degree, I completed my PhD in Psychiatry at the University of Oxford investigating the abnormalities associated with vulnerability to bipolar disorder. I moved from academia to industry in 2010 when I joined Cambridge Cognition to provide scientific consultancy to pharmaceutical and biotechnology companies regarding cognitive assessment in drug development. Through a 20 percent time research position maintained at Oxford, I co-chaired an international conference symposium on cognitive impairment in depression and published five peer-reviewed articles. In addition to my scientific role, I performed a market analysis of our pharmaceutical business to help shape the 2014 company strategy, and in January I moved to Chicago for two months to establish a US office with our new Chief Commercial Officer. More recently I played a pivotal role in both the scientific discussions and budget preparation for one of the largest studies the company had ever signed (worth $2.5m).

Alex Rosen

I went to college at Princeton University, graduating with an A.B. in Economics and a minor in Global Health and Health Policy.  While in college I served as Class President and conducted independent research in health economics, studying both child health and the effects of hospital ownership on the cost and quality of medical care.  After graduating, I began medical school at the University of Pennsylvania, where I served as a co-coordinator of a student run free health clinic in West Philadelphia and as a leader of the multidisciplinary healthcare quality and patient safety group.  I also worked with Penn faculty on health services research projects.
Kendall Rugg

I graduated from Georgetown University with honors in 2009 with a B.S. in International Economics. I continued my education at Johns Hopkins University, earning an M.A. in Economics in 2011. Thereafter, I joined Deloitte Consulting in D.C., where I worked for several healthcare clients. These projects included implementing health care reform provisions for a large insurance company, conducting an opportunity assessment on specialty drugs for a mail order pharmacy, designing a shared services strategy across a federal healthcare system, and conducting revenue cycle transformation for a hospital system. At Deloitte, I was actively engaged in the health plan community of practice, contributing to hot topics research and local training activities.

Deepa Shah

I graduated with honors from UC Berkeley in 2005, with degrees in Business Administration and Political Science.  My first career out of college was with Archstone Consulting, where I worked on marketing and operations strategy projects with clients in a variety of industries: insurance, pharmaceuticals, and airplane manufacturers, to name a few.  I stayed in a strategy role when I moved to Ross Stores, Inc.  At Ross, I was part of a 10-person strategic planning team that was responsible for setting high-level direction, testing, and executing new product, market, and operations initiatives.  The work was interesting, but I knew I wouldn't be in retail for the long run.  It was during my time at Ross that I became incredibly curious about the quality of care delivery in the US due to a string of negative family experiences, and for several months, I considered pursuing a medical degree.  After a lot of research and endless conversations with hospital leaders and medical professionals, I decided that I enjoyed strategy and operations work too much to practice medicine.  I ultimately moved on to an internal consulting group at Kaiser Permanente in Northern California, where I developed and managed our respiratory care delivery system, Medicare delivery system, and overall quality planning and investment cycle.

Vinay Shah

I graduated from Princeton in 2009.  At Princeton, I majored in the Woodrow Wilson School of Public and International Affairs and completed extensive coursework in molecular biology.  My senior thesis assessed a policy proposal intended to promote development of new vaccines for neglected diseases. Following graduation, I worked as a management consultant at Bain.  At Bain, I served corporate clients in the healthcare and consumer goods industries; I also spent a year conducting due diligence and strategy projects for various private equity firms. In 2012, I joined Longitude Capital, a healthcare-focused investment firm with ~$700M in assets under management.  At Longitude, I participated in sourcing, executing, and monitoring investments across multiple healthcare subsectors, including life sciences, healthcare IT, and healthcare services.  I also worked on multiple deal types, including venture capital, growth equity, buyout, and public investments.  One of the highlights of my time at Longitude was the opportunity to develop the firm's investment strategy in healthcare IT; this work led to an investment in Practice Fusion, a leading EMR and population health company.

Stacy Shelden

I graduated from Georgetown University in 2009 with a BS in International Politics with a focus on International Business Diplomacy.  After graduation, I joined Accenture's Strategy Practice as a Business Analyst in Washington D.C., where I worked primarily with health care organizations on a variety of management consulting engagements.  During my time at Accenture, my favorite projects were with health care providers, helping them change their business and operational models to improve patient experience and healthy outcomes. After 2 years at Accenture, I was promoted to Consultant, which gave me the opportunity to lead several consulting engagements and regularly present strategy recommendations to senior clients. I was also heavily engaged in Accenture's Georgetown Recruiting team and served as the Campus Lead during my last year at the firm.

Vijay Singh

Originally from New Zealand, I graduated from Duke University with a B.S. in Computer Science (2007). After a brief stint at UBS Investment Bank, I went to on to spend 5 years at Bridgewater Associates across several technology and operations groups, where I worked on everything from our algorithmic trading systems to our people analytics platforms. After enough Dealbreaker articles about Bridgewater's "unique" culture, I left to assume the CTO role at Renewal Care Partners, a long-term care startup based in NYC. There, I successfully expanded our services to include technology that improved the quality of long-term care we provided for seniors. To augment my healthcare startup experience, I subsequently joined BelHealth Investment Partners, a healthcare-focused middle-market PE firm in NYC, where I evaluated investment opportunities in niche healthcare markets. I've focused my nonprofit work on financial literacy (particularly for disadvantaged young adults) and volunteering with isolated/at-risk seniors.

Jessica Son

I graduated from Harvard with an AB in English and American Literature and Languages in 2004.  I worked for two years in the non-profit sector where I designed an implemented a health care education program for inner city teens in foster care prior to attending medical school at Columbia College of Physicians and Surgeons from which I graduated in 2010.  I did my residency in Internal Medicine at New York Presbyterian Hospital-Columbia to become a licensed and board certified physician in Internal Medicine in 2013.  While on the front lines of healthcare delivery, I realized that my aspirations were above and beyond what I could accomplish as just a physician, so I decided to pursue a career at the intersection of clinical medicine and management. To that end, I have been the medical director of a large multispecialty practice in the greater New York City area for the last year where I have witnessed the impact effective management can have on delivering efficient comprehensive medical care to a community.  An MBA is the next logical step for my long-term goals (yes, I really love school).

Bret Tenenhaus

I graduated Summa Cum Laude from Dartmouth College in 2009 after majoring in Economics and completing the pre-medicine track. Upon graduation, I joined Goldman Sachs' healthcare investment banking group in New York, advising on and executing M&A transactions and public market offerings for clients across the healthcare spectrum. In particular, I was fortunate enough to work on Johnson & Johnson's $21 billion acquisition of Synthes as well as the initial public offering of ExamWorks, a provider of independent medical examinations. I left Goldman in 2012 to join the Internet & Technology team at General Atlantic, a large global growth equity firm in New York. While at General Atlantic, I sourced, evaluated, and executed potential investments, with a focus on consumer internet, marketing services, and software.

Michael Thorsen

I graduated from Northwestern University in 2008 with a BA in Political Science.  While in school I worked part-time at Ravenswood Bank, a Chicago-based commercial bank, underwriting commercial loans and leading business development initiatives.  Upon graduating I joined Ravenswood Bank full-time and within three months was promoted to Credit Officer.  In that capacity I was responsible for loan portfolio performance and managing initiatives to increase yields, the restructuring and resolution of distressed assets (loans), as well as the risk management and regulatory compliance of bank assets.  After two years I wanted to further my career development by gaining international work experience and so I pursued an opportunity in risk management at Deutsche Bank in the London office.  Furthering my professional experience abroad was an incredible learning opportunity, both professionally and personally, and motivated me to pursue graduate studies in real estate at Columbia University.  Prior to matriculating at Columbia University I had an intensive internship at Eastdil Secured, a real estate investment bank, in the Chicago office where I focused on institutional sales for a variety of product types in the Midwest region.  I graduated from Columbia University in 2012 with a MSc in Real Estate Finance.  During graduate school I was a teaching assistant for a graduate course in alternative and distressed investments and for a graduate course in international investing in the United Kingdom.  After graduation I joined AEW Capital Management, a real estate investment advisory firm with $53.4 billion in assets under management globally, in the Los Angeles office.  While at AEW I focused on asset management for West Coast assets and worked on the asset management of over $1 billion in real estate assets and over $500 million in new real estate acquisitions.

Andrew Tiffin

I graduated from Queen's University (Canada) in 2010 with a Bachelor of Commerce.  After graduation, I joined the Monitor Group (now Monitor Deloitte) as a Consultant in Toronto, where I specialized in health care strategy and was subsequently promoted to Senior Consultant.  Some representative projects include a mental health drug launch in San Francisco, driving operational integration across Canadian provider networks and developing a new Health & Wellness business for a Kentucky payer.

Yi-Ning Tsai

I graduated from the University of Chicago in 2010 with a double major, receiving a BA with Honors in Economics and Psychology. After graduation, I joined PricewaterhouseCoopers ("PwC") Taiwan Deals Services as an Associate and was promoted to Senior Associate after 2 years. During my time at PwC, I worked on M&A advisory projects in various sectors, including healthcare, banking, and technology. I also helped draft PwC Taiwan's very first healthcare publication as a firm initiative. After PwC Taiwan, I joined a boutique private equity firm focusing on Greater China investment with a Taiwan angle and with a healthcare focus. Specifically, I built financial projection models and studied the applicability of hospital management best practices in Greater China to help the deal team evaluate investment merits. Over this period, I worked on a few large hospital related deals in China which fascinated me.

Neil Vangala

I graduated from Brown University in 2009 with a double major in Economics and Public Policy, After graduation, I joined the Healthcare Investment Banking team at Deutsche Bank in New York. During my second year in the group I worked on a team of three bankers responsible for the take-private of Envision Healthcare (fka EMSC), a multibillion dollar provider of outsourced ER services. In 2011 I moved to San Francisco to join Genstar Capital, a $4B private equity firm that invests in healthcare, technology and financial services companies. During my time at Genstar, I focused mainly on Healthcare and Technology transactions. I was directly involved with investments into eResearch Technology (provider of outsourced cardiac and respiratory reads), invivodata (provider of electronic patient recorded outcomes), Genworth (provider of technology enabled software and services to wealth managers) and Altegris (provider of consumer facing alternative mutual funds). Just before matriculating to Wharton, I took a job as a Senior Associate at Tritium Partners, a recently launched growth fund that spun out of Austin Ventures. I spent my time analyzing healthcare, internet and ecommerce companies.

Julian Vogel

I pursued my undergraduate studies at the University of St. Gallen in Switzerland, and completed a Bachelor of Business Administration. After graduating in 2010, I went straight to China. First, I learned Mandarin Chinese, and then I started to work for the multinational company SCA, a global manufacturer and distributor of hygiene products in its market entry phase in China. At SCA, I worked on projects across different functions in finance, strategy, and business development. I spearheaded the initiation of a new venture that focuses on delivering homecare services to elderly people in China. I developed everything from scratch; I secured financing, built the team, and managed the venture until it reached critical mass for a second round of financing.

Anat Volfovich

I graduated from the Hebrew University of Jerusalem in 2010 with an LLB (equivalent to JD), and an MBA majoring in finance and banking. After graduation, I joined S. Horowitz & Co. a leading law firm in Tel-Aviv, where I focused on commercial litigation. Soon thereafter, I was promoted to an Associate position, where I had the opportunity to work on high-profile cases in the banking, petroleum and communication industries. A personal medical experience a couple of years ago exposed me to the vast opportunities to influence lives through disruptive innovation in the healthcare industry, and I am grateful to join people who share the same interests!

Shalina Wadhwani

I attended the George Washington University, where I received a B.A. in International Affairs, focusing on Economics. I graduated Magna Cum Laude and with Special Honors for my thesis in 2011. I joined Deloitte Consulting and began securities consulting for the Department of Homeland Security. I then spent one year working with healthcare-focused federal agencies  (HHS, VA, MHS) to support the adoption of health IT and the promotion of nationwide health information exchange. During this time I also led various internal projects in Deloitte's Health Innovation Lab, including the creation of a Health IT Certification Program. In November 2012 I began to work in Global Corporate Strategy and Crisis Management for Deloitte Touche Tohmatsu Limited (DTTL) – the parent company to Deloitte. In this role I evaluated opportunities to expand Deloitte's scale and market penetration in priority and underserved markets and executed regional mergers and acquisitions. Over the last 3 years I have volunteered (and will continue to volunteer) with an India-based nonprofit aimed at identifying and funding innovations to enhance affordability and access to healthcare in India.

Joshua Zubin Warren

I graduated cum laude from the University of Pennsylvania in 2011, with honors in both Neurobiology and Economics. My honors theses covered anatomical and physiological aspects of obstructive sleep apnea, and  the U.S. biopharmaceutical industry's cumulative abnormal returns and research and development expenditures pre- and post-Medicare Part D. I am currently an MD/MBA candidate at the University of Pennsylvania. Over the past 2 years, I have been involved with the licensing and evaluation of promising innovations coming out of Penn through the Center for Technology Transfer. Additionally, I have worked with the Penn Biotech Group to consult for SR One, the corporate venture capital arm of GlaxoSmithKline, focusing on probiotics. This past summer I worked with the JMP Group conducting sell-side biotech equity research, focusing on the nonalcoholic fatty liver disease and cystic fibrosis areas.

Andrew Wyhinny

I graduated from Stanford University in 2011 with a BA in International Relations and a minor in Economics.  After graduating, I joined L.E.K. Consulting in its San Francisco office, and during my second year with the firm, I became a member of L.E.K.'s dedicated Healthcare Services Practice.  At L.E.K., I primarily focused on strategy, new product development, and operations for payors and providers.  I also worked on a number of cases for financial firms investing in the healthcare space (mostly HCIT and healthcare delivery).  My primary project was to help a Top 10 national insurer develop and launch new Medicare Advantage plans across five states which now serve ~15K members.  We also helped the client design new care management capabilities to better serve its members.  Another favorite project of mine was helping a leading academic hospital (with no previous insurance experience) develop its strategy for becoming a payor and building the capabilities necessary to offer its own health plan.

Pooja Yabannavar

I graduated from MIT in 2011 with a B.S. in Materials Science & Engineering. After graduation, I spent three years working as a consultant at Leerink Swann, a boutique healthcare-focused investment bank and consulting firm. While at Leerink, I delivered strategic analysis to global biopharma companies on topics including customer segmentation, financial valuation, landscape assessment, and organization design. One project I focused on extensively was identifying key opportunities in the Multiple Sclerosis market in order to help our client prioritize their portfolio of early stage assets.

Yan Yan

I earned an MD from the University of Pennsylvania in 2014 and a BS in Chemistry with highest honors and highest distinction from the University of North Carolina at Chapel Hill in 2009. I have worked part-time since late 2013 as a project manager at RadDx, a Philadelphia-based health IT startup, to develop software to enable hospitals to produce better, faster, and cheaper diagnostic radiology reports. I am currently coordinating the clinical validation study of our brain MRI module. Prior to RadDx, I completed a year of full-time clinical research in interventional radiology at the Hospital of the University of Pennsylvania, where I conducted retrospective and prospective studies on hemodialysis access treatments. I also interned in the molecular discovery research group at GlaxoSmithKline and the chromosome stability group at the National Institute of Environmental Health Sciences during college.

Mo Yang

I graduated summa cum laude from Boston University School of Management in 2009 with a B.S. in Business Administration. After completing a summer internship my junior year, I joined J.P. Morgan's Healthcare Investment Banking team in New York City as a full-time analyst. At J.P. Morgan, I executed six M&A transactions and eight debt and equity transactions for mid- to large-cap medical device, biotech, pharmaceutical, and healthcare services companies, including Medco's sale to Express Scripts and Sanofi's acquisition of Genzyme. After completing my two-year analyst program, I joined Cressey & Company, a middle-market private equity firm focused exclusively in healthcare services. While at Cressey & Company, I was responsible for performing industry research, monitoring portfolio companies, and evaluating potential investments in various subsectors within healthcare services. I helped execute two equity investments in a post-acute clinical outcomes benchmarking company and a for-profit healthcare education company, along with several debt financing transactions for portfolio companies. After completing my two-year Associate commitment, I was promoted to Senior Associate at Cressey & Company.

Bella Zhang

I was born in China and graduated from the Chinese University of Hong Kong in 2011, receiving a B.B.A in Accounting and Finance. In my undergraduate exchange at UNC-Chapel Hill, I took a class in consulting and really liked it. So after graduation, I joined McKinsey & Company's Hong Kong office as a Business Analyst. I served clients in various sectors, such as base material, agriculture, healthcare, financial institutions and infrastructure. I really liked projects on evaluating business models of private hospitals in China and innovating commercial model for multinational pharmacos. The exposure enables me to identify my interest in healthcare. In 2013, I chose an external secondment at Sanofi. There, I served as a manager at Asia Strategic Planning and Medical Device departments, and built a much deeper understanding of the industry through working directly with physicians and experienced colleagues at pharmaco.

Bernie Zipprich

After graduating from Harvard College in 2009, (A.B. cum laude in economics), I took a research job at the National Bureau of Economic Research, where I worked on the evolution of higher education, among other topics related to my interest in socioeconomic development. In summer 2010, I moved on to Oliver Wyman, where I spent much of my first year advising technology clients and developing a framework for "creating demand." This latter effort, in particular, convinced me that businesses succeed most when they create meaningful value for their customers. Moreover, I found this to be particularly true for healthcare. Inspired by this, in my second year, I began working increasingly with healthcare clients on issues related to the shift to value. In fall 2012, wanting to get a better feel for the industry's front lines, I took a leave from OW to work at Mount Sinai Hospital, at a public health group in New York, and to take premed classes at Columbia. Returning to OW that spring, I began working with the firm's Health Innovation Center, devising strategies for driving health transformation at-scale and for evolving OW's business model in tandem.
Click on covers to see e-books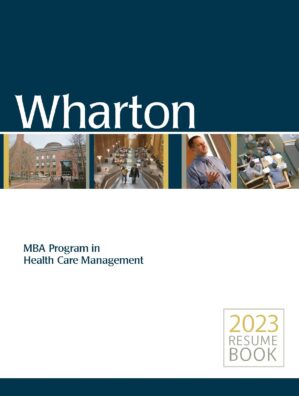 Resume Book 2023 (pdf)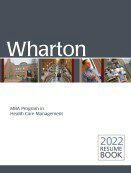 Resume Book 2022 (pdf)