HCM CLASS OF 2023 STATISTICS
Male: 60%
Female: 40%
Years Out of Undergraduate School
< 2: 0
2-4: 26%
5-7: 69%
8 <: 5%
Undergraduate Majors
Liberal Arts and Social Sciences 23%
Sciences 16%
Engineering 17%
Business and Economics 43%
Pre-Professional 1%
Graduate Degrees Held
MD: 4
Joint MD/MBA Program: 3
Joint JD/MBA Program: 1
Joint MSE/MBA: 1
HCM CLASS OF 2023 PROFILES
70 students
Rishi Bagrodia
I was born and raised in Los Angeles, temporarily leaving the sunshine for my undergraduate studies in Biomedical Engineering with a secondary in Computer Science at Harvard University. I spent my first two years holed up in a laboratory at the Wyss Institute conducting research in immunology, but quickly realized I much preferred interactions with humans versus human cell lines. As such, I left the pre-med track (and the snow) behind as I joined Bain & Company for a summer internship in Los Angeles my Junior year. Enjoying my first project, which happened to be in the pharmaceutical space, I re-signed with Bain after graduating college, and have been with the firm for the last four years. Of those four years, I spent three years in the Private Equity Group, evaluating buy-out deals across a variety of industries (healthcare, industrials, and music to name a few). My remaining time at Bain was filled with a six-month externship at Ginkgo Bioworks, where I created the business case for two subsidiary companies, and a six-month rotation in the Bain Healthcare Practice, where I focused on helping create and drive Bain's 3-year healthcare strategy.
Landon Baker
I grew up on Long Island and went to college at Duke. After graduation, I moved back to New York to work in investment banking at Morgan Stanley, advising clients in the power and utilities sector. After two years at Morgan Stanley, I joined Tailwind Capital, a New York-based middle-market private equity firm. While at Tailwind, I evaluated potential investments across the healthcare delivery, services, and products ecosystem and monitored the performance of Tailwind's healthcare portfolio. Outside of work, I serve on the Junior Board of a healthcare-centric nonprofit called The Challenged Athletes Foundation, which provides critical adaptive sports equipment and prosthetics to physically-disabled individuals.
Niki Bakhru
After surviving four years in the woods at Dartmouth College, I left for Boston to begin my career at Putnam Associates, a healthcare consulting firm. Fueled by Keurig coffee, I worked on cases ranging from hemophilia to oncology, from product launches to payer contracting strategies. Through it all, what I enjoyed most was the birds-eye view of the industry that came from working on cases across 10+ biopharmas, as well as the tremendous ownership that came from working on these cases in small teams. Following 2+ years in consulting, I grew curious about how digital tools can bridge gaps between the treatments our clients delivered and patients. I left to join Sanofi's Innovation Hub as a Digital Initiative Leader who did just that within R&D. Collaborating with start-ups and tech giants, I led pilots to introduce and scale innovative technologies that reduced time and cost in clinical trials while improving efficiency and patient experience. My role led me to appreciate the power of digital disruption in healthcare, spanning from drug development to care consumerization. Looking forward, I'm eager to explore how solutions like these can transform patient experience with care delivery.
Samuel Bennett
Born and raised in the UK, I have spent the last 10 years exploring the healthcare industry from various angles. My primary lens for this has been as a doctor in the UK – having also worked in hospitals across China, Japan and Kenya. Following medical school, I spent two years practicing as a doctor in Oxford followed by a further two years of trauma surgery in London/with the British Army (alongside a couple of ICU stints during the Covid waves). Inspired by working with amputees (civilian and military), I joined an early-stage upper limb prosthetic start-up (Mitt Wearables), designing their clinical trials and securing seed funding. It was here I caught the entrepreneurial bug, which led to founding a sports physiology start-up (Affinity Altitude), using altitude simulation to enhance the endurance performance of elite athletes and mountaineers.
Nicole Bleecker
I grew up in Bethesda, Maryland, where an early love of science and medicine led me to volunteer in emergency medical services and research internships at Columbia University and the Food and Drug Administration. I graduated from Emory University in 2016 with a B.S. in Neuroscience and Behavioral Biology. While at Emory, I completed a research science internship at the Uniformed University of the Health Sciences and a health policy internship at Medicaid Health Plans of America. After graduating, I moved to Boston, where I worked at Navigant Consulting – a mid-sized health care consulting firm. I worked in the Life Sciences Strategy Group specializing in life sciences business development, product commercialization / strategy and compliance implementation. My therapeutic areas of focus included rare disease, wound care, virology (HIV and HCV), neurology, women's health and ophthalmology. During this time, I helped spearhead major pro bono consulting projects with the National Alliance on Mental Illness (NAMI). My work with Navigant led me to Washington DC, where I later joined Ernst & Young's Commercial Life Sciences Team specializing in life sciences product strategy, due diligence and COVID-19 vaccine operations.
Chris Breen
I grew up in Seattle and California, but I consider Maine to be home. I graduated from Bowdoin with a degree in economics and have spent my professional career working across the healthcare space. I started my career at Jefferies in the NYC office working in Equity Capital Markets, before moving over to healthcare investment banking. After working on the IPO for Optinose, a specialty pharmaceutical company in the Philadelphia suburbs, I joined their finance team as a financial analyst focusing on forecasting, modeling, and budgeting. After a year on the finance team, I moved closer to the action in a commercial role, where I built out a specialty pharmacy distribution network and developed the market access analytics capabilities for the launch of their first commercial product, XHANCE.
Jess Brock
I grew up in the suburbs of Chicago, IL and Denver, CO and graduated from the University of Notre Dame with a B.S. in Applied Math (ACMS) and Economics. After graduation, I moved to Chicago and worked for a small investment group focused on early-stage startups. In 2018, I moved to Philadelphia, PA and pivoted to consulting in the life sciences industry at ZS Associates. At ZS, I focused on developing commercial strategy and expanding the therapeutic portfolios of emerging biotech and larger pharma companies, particularly in immunology and oncology.
Shubham Chatterjee
Born in India and raised across 3 continents, I studied Chemical and Biological Engineering at Princeton and was on the pre-med track. I decided becoming a physician wasn't the right path for me, but I still wanted to explore the healthcare industry more broadly, and hence joined the Boston Consulting Group after graduation. After nearly four years as a consultant, I was able to glimpse several facets of healthcare: medtech pricing, payor strategy, Federal COVID response, pharma supply chain, and more. During my time, I was lucky to specialize in supporting a CAR-T product launch, which sparked my interest in cell and gene therapies, and for next-generation therapeutics more broadly. To explore this further, I completed a summer internship at a start-up, Generate Biomedicines, where I evaluated the potential of their platform in cell therapy. At UPenn, I will be combining my Wharton HCM degree with a MSE in Bioengineering from the Penn School of Engineering.
Chris Chen
Before Wharton, I worked at Kadiant, a startup healthcare provider of essential services and therapy to children diagnosed with autism. I was a member of the company's executive leadership team and led the scaling and professionalization of clinical operations. I am most proud of helping 150+ children get off of our waitlist and start receiving therapy in the fall of 2020. Prior to Kadiant, I worked at Ares Management, where I evaluated investment opportunities and supported portfolio companies across healthcare services, consumer & retail, and financial services. Prior to Ares, I worked at Morgan Stanley,  where I helped banks, insurance companies, and specialty and fintech lenders evaluate M&A opportunities and raise capital.
Kate Cheney
I grew up in upstate New York and moved to Washington, D.C. to complete my undergraduate degree at Georgetown University. After graduating in 2016 with a B.S.B.A. in Finance, I went on to work at Credit Suisse as a research analyst on a high yield trading desk. There, I covered a variety of industries, including healthcare, for a little over two years. Craving an entrepreneurial and healthcare-specific path, I pivoted to working at health tech startups. I worked as a Strategic Partnerships & Operations Manger at TrialSpark, a startup focused on reimaging the clinical trial and life sciences industries. Most recently, I spent a few months working at Springtide Child Development, a series A company focused on providing care to children with autism spectrum disorder (ASD).
Jill Dolowich
I was born and raised in Long Island, New York and attended Yale University, where I graduated in 2016 with a B.A. in Economics. At Yale, I was initially pre-med, but ultimately decided to pursue the business side of healthcare. After college, I worked as a generalist investment banking analyst at Centerview Partners, a boutique M&A firm in New York City, where I gained experience conducting financial analysis on companies across a wide range of industries. Following Centerview, I joined Blue Wolf Capital Partners, a middle-market private equity firm based in New York City. At Blue Wolf, I mainly focused on healthcare and specifically worked with provider-based and healthcare technology businesses. I was fortunate enough to evaluate and execute deals as well as monitor portfolio companies across the post-acute care space including inpatient rehabilitation and skilled nursing facilities.
Philip Fleischman
I grew up in the DC metro area and went to college at Harvard. After graduating, I moved to NYC and worked in investment banking for Credit Suisse's M&A group. My group at Credit Suisse advised on transactions across industries but I was most interested in deals involving healthcare companies and decided to pursue a healthcare investing role as a next step. Following two years in New York, I moved to the Bay Area to work in the healthcare group at TA Associates, a global growth private equity firm. At TA I originated, sourced, and executed investments across healthcare subsectors and supported our portfolio companies on various growth initiatives. I was able to study a broad range of healthcare niches at TA including data interoperability, consumer-directed healthcare benefits, risk adjustment, clinical trial software, and payments.
Lauren Gardanier
After graduating from Yale, I started my career as an Associate Consultant at a life-sciences consulting firm, Putnam Associates, where I worked on client strategy projects for pharmaceutical companies. Seeking a role in product development that would pair strategy with implementation, I transitioned to the healthcare technology space by joining athenahealth in 2016. At athenahealth, I focused on the development and launch of a product to improve access to clinical patient data through industry-wide data sharing initiatives: CommonWell Health Alliance and Carequality.  As Product Owner, I worked cross-functionally with internal athenahealth teams (engineering, UX / design, marketing, and others) and had the opportunity to collaborate externally with stakeholders at healthcare companies across the industry through CommonWell and Carequality. I then transitioned in 2018 to a Senior Product Manager role at OM1, a digital health start-up in Boston, which focuses on utilizing real-world evidence to measure and improve patient outcomes. In addition to working in product management for OM1's data platform and data products, I also had the opportunity to help scale the company over the past few years by developing new cross-functional processes and being actively involved in hiring for product management and engineering.
Leland Garrahan
After graduating from UVA, I began work in Accenture's government healthcare practice, where I focused on HCIT implementation and applications of artificial intelligence in civilian health.  In 2019 I joined L.E.K.'s Boston office, where I dedicated to the Life Sciences practice and have been involved in growth strategy, asset valuation, and market development for a range of clients across biopharma and financial investment firms. I am also heavily involved in early-stage VC through Princeton's Nassau Street Ventures, where I advise on deal sourcing, due diligence, and deal execution across verticals.
Mehul Gaur
I grew up in Troy, MI and graduated from the University of Michigan in 2016 with a BBA and a BA in Economics. After graduation, I began working in Investment Banking at J.P. Morgan advising companies on M&A within the healthcare, energy, and technology sectors.  Following J.P. Morgan, I joined GIC's private equity team, focusing on the healthcare sector.
Christopher Ghadban
Prior to joining Wharton, I was Senior Strategy & Innovation Associate with AstraZeneca's Emerging Innovations Unit. In this role, I catalyzed early-stage bio-innovation by scouting and establishing collaborative research projects in areas such as bioelectrics and next generation cell and gene therapies. I also led AstraZeneca's global startup mentor program and devised strategies for open and external innovation. Separately, I was Director of GapSummit 2019, the annual conference that brings together emerging and established biotech leaders from around the world. Before AstraZeneca, I founded Ghadban Consulting to advise over a dozen biotech and tech companies. The experience provided exposure to numerous functional roles as I led small teams to design and implement organic growth, business development, and operational effectiveness strategies. Select projects: co-authored business plan to raise $6.69M in Series C-financing; aided in 7-figure divestment of bacterial diagnostic; oversaw cybersecurity acquisition; VC associate for a biotherapeutics accelerator.
Ty Gill
After graduating from college, I began working as a Project Manager for Steward Medical Group. At first, I was tasked with reviewing and updating the company's policy manual. While this wasn't the most stimulating work, it provided me with a fair amount of free time during which I taught myself how to code. By the end of my first year, I had created a new role for myself in the company as a systems developer. Since then, I have worked with senior leadership to build mobile and web applications to optimize Physician Onboarding, Transitional Care Management, Patient Experience and Access, Employee Training, and Mergers/Acquisitions.
Dana Green
I studied civil and environmental engineering at USC after growing up in Reno, NV, where I spent much of my time in the mountains around the Tahoe area. After graduating I moved to San Francisco and worked as an engineer on several projects including a ten story hospital where my nephew was later born. After two years of building I went to Stanford and earned a Master's in Management Science. I then joined L.E.K. Consulting and spent 3 years in their healthcare arm, where I consulted on go-to-market strategies and conducted due diligence for private equity firms. During that time I was exposed to multiple areas of healthcare including biopharma, med-tech, and payor & provider services.
Kelsey Hayes
I grew up in Minnesota and am a proud Midwesterner, moving to Ann Arbor for undergrad to study business at the University of Michigan. Outside of class, most of my time was spent co-founding and scaling a women's empowerment organization and grappling with the emotional rollercoaster that is Michigan Football. After a transformative summer conducting clinical research in a Minneapolis emergency department and an internship at DaVita, I joined Boston Consulting Group (BCG) in their Chicago office. At BCG, I've served payer, provider, and public sector clients. In 2019, I took an 8-month sabbatical to work in product at Clarify Health Solutions, a big data analytics startup. Most recently back at BCG, I spent 14 months driving governments' strategic responses to COVID-19. In each of these experiences, I became increasingly fascinated and frustrated with the systematic misalignment of incentives that drives unequal access to care.
Jasmyn Howell
Originally from Westchester, NY, I attended Spelman College in Atlanta, GA, where I majored in Economics. During college, I volunteered with a mobile food market that provided nutrition education and supplied fresh and affordable food to low-income communities in Atlanta. I managed event logistics and facilitated workshops on budgeting, meal planning, and disease prevention across Atlanta.  Eager to continue learning about the healthcare space, after graduating from college, I joined Deloitte Consulting LLP where I've spent the last 4.5 years providing strategic support to payers, providers, and federal health agencies. I've worked alongside these clients to assess consumer engagement strategies, improve care staff coordination, and implement data and analytics platforms to ultimately support their delivery of higher quality and more personalized care. I also spent 6 months working within Deloitte's social impact arm, Monitor Institute, where I drove the design and implementation of a series of justice and equity grantmaking and mission investment strategies for a large U.S. based family foundation.
Jasmine Jones
I grew up in Lansing, MI and attended Northwestern University for undergrad. I completed a Public Health in Europe study abroad program in Paris my junior year, which really illuminated my desire to work in the healthcare space. After graduating with a degree in communication studies and integrated marketing communications, I joined Booz Allen Hamilton where I worked as a communications consultant for federal healthcare agencies, such as the FDA, CDC, NIH and VA. After two years I wanted to gain more experience in the U.S. private healthcare sector so I transitioned to Weber Shandwick, a communications and marketing services firm where I have spent the last five years working in public affairs, corporate communications and advocacy relations for biopharmaceutical companies. I am passionate about diversity, equity and inclusion (DEI) and during my time at Weber Shandwick, I founded a youth exploration program in partnership with the Chicago social impact organization My Block, My Hood, My City to host vocational events for teenagers in Chicago Public Schools. I was also the Central Region lead for DEI across four Midwest offices and a member of the U.S. Internal Structural Inequities Task Force. Over the past six years, I have also been a mentor for first-generation college students.
Albert Katz
Born in Moscow, Russia, but raised in Miami, FL. I recently left a start-up healthcare services company called Spine and Wellness Centers of America, or SWCA for short. I acted as the CFO/COO of a small 17 person, 3 location operation. At SWCA I got exposure to every facet of a small multi-clinic practice, such as: negotiating with insurance carriers, choosing and implementing company benefits, expanding into new locations, purchasing real estate, acquiring and managing debt, creating an accounting system from scratch, acquiring other clinics, etc. Within 3.5 years our company grew to become the largest privately owned pain management practice in Florida, running a 120+ person operation with over 12 locations.
Jaclyn Kawwas
Born and raised in the suburbs of Detroit, Michigan, I attended the University of Michigan to pursue my undergraduate degree in Biomedical Engineering with an International minor. During undergrad, I have held a variety of internships with GE Healthcare as the most recent. After graduating, I moved to San Francisco to work as a research and development engineer at Medtronic in their Cardiovascular group. For the past four years, I have been designing and developing medical devices for coronary artery disease and hypertension. My experience focused mainly on catheter technologies throughout many phases of the product development cycle including commercialization. During my time at Medtronic, I have been passionate about innovation and intellectual property, which led to 8+ provisional patent applications. Additionally, I have led innovation initiatives that expanded multiple business units and sites globally to encourage internal innovation and intellectual property generation.
Noah Klag
I grew up in the suburbs of Philadelphia and graduated magna cum laude from Williams College (go Ephs!) with a B.A. in Economics and Psychology. After four years as a varsity ice hockey player at Williams, I decided it was time to hang up my skates, and I began my career as an investment banker at J.P. Morgan. During my time at JPM, I primarily covered chemicals companies and was fortunate enough to work on sell-side divestiture for Sherwin Williams in the most interesting chemicals' sub-vertical: paint. My experience working with the executive team of the divested entity gave me an appreciation for the day-to-day responsibilities of a management team. After learning the basics of corporate finance and financial modelling, I decided to focus on my career passion of healthcare. I joined Pfizer in corporate strategy; most recently my efforts were focused on ensuring adequate supply of the COVID-19 vaccine and arming executive leadership with a new, real-time COVID analytics tool. These initiatives have given me a deeper appreciation for how a healthy society is dependent on continuous innovation in the healthcare space.
Rahul Lakhanpal
Born and raised in New Jersey, I attended Georgetown where I was pre-med and graduated as a Human Sciences major. At college, I conducted genetics research at Georgetown Medical School, and healthcare economics research at the Brookings Institution investigating the correlation between financial burden and Medicaid expansion. After college, I moved to New York City to complete my analyst years in healthcare investment banking at RBC. Following two years in NYC, I made the cross country move to San Francisco where I worked at a growth equity / venture capital investment firm, Revelation Partners. At Revelation, I was a healthcare generalist and invested in companies spanning the digital health, healthcare services, medical devices, diagnostics & life sciences tools, and biotech industries. After an enjoyable three years investing, I joined my family's digital health company, SpectraMedix, to receive operational experience before Wharton. SpectraMedix sells software to payers and risk-bearing providers facilitating their transition to value-based care. Our product suite comprises of a VBP contract modeler (to model and financially reconcile value-based care contracts) and a full analytics suite for quality improvement and cost reduction. At SpectraMedix, I spearhead finance, partnerships, and assist the C-suite with the strategic vision.
Jenna Landen
I'm from Fresno, California (raisin capital of the world, seriously) and moved across the country to attend the College of William & Mary where I majored in Chemistry and performed undergraduate research in Organic Synthesis. After graduating, I completed an accelerated computer science course through NYU. To mix these interests, I started my career in healthcare technology consulting at IBM in New York City where I focused on building strategies for the application of artificial intelligence in healthcare for clients that ranged from major health plans to large hospital groups. Next, I moved to West Monroe where I continued my work in healthcare technology consulting, while shifting my focus to mergers & acquisitions in the life sciences and provider spaces. I focused primarily on strategic assessments and diligence of target companies for private equity firms as well as post-acquisition transformations. Shifting to M&A allowed me to gain a new perspective on the healthcare landscape and get an inside view of some of the most innovative players in the space.
Wilson Ma
I was born in Beijing, China and spent the early part of my childhood in Vancouver, B.C. before moving to the northern suburbs of Georgia. I graduated from Washington University in St. Louis in 2017 with a BSBA in finance and moved to Chicago, where I joined Citigroup as an investment banking analyst focused on industrial M&A transactions. After two years, I decided to pivot away from working with industrial parts manufacturers and start my journey in healthcare. I've spent my past two years at Cressey and Company, a middle-market healthcare private equity firm focused on services and IT. During my time at Cressey, I specialized in a variety of sectors including home and community-based services, hospice, home health, specialty distribution, and eye care. Most recently, I have been focused on social determinants of health, evaluating Medicare supplemental benefits expansion and quality improvement through a focus on non-traditional health benefits, most notably nutrition.
Zaid Malhees
I have spent the last five years at Optum and DaVita, working with numerous communities across the United States and abroad who suffer from underdeveloped and/or unsustainable healthcare infrastructure. On a global scale, I have helped build digital health care programs that provide care for patients in rural communities, as well as launched healthcare education and intervention efforts to combat chronic disease in underserved regions. In the United States, I have led efforts to transform medical groups across the country from the outdated fee-for-service model to the proactive value-based care model which prioritizes patient health outcomes.
Shalin Mandowara
I grew up in a small city in western India – Udaipur (a.k.a. The city of lakes). After completing my B.Tech in Biological sciences and Bioengineering with a minor degree in Industrial and Management engineering from IIT Kanpur, I started my career at an early age startup – Porter. Navigating through the challenging problems of last-mile transportation in India, I started setting up teams and customer service operations from scratch and gained an appreciation towards entrepreneurship and startup culture. That's when data and analytics intrigued me and 2 years later I joined McKinsey & Company as a product analyst. Since past 4 years with McKinsey's Healthcare Systems and Services practice, I have served a multitude of US insurance clients across all lines of business, helping them in growth strategy and analytics related topics. As part of McKinsey, I travelled to the US multiple times and I thoroughly enjoyed meeting people from across the globe and learning about diverse cultures.
Daniel Mansuri
I started my career at Biogen in corporate strategy. I accepted my job when the stock was $384 per share and left when the company at $271 per share a mere 18mo later, so that was a strong start to my strategy career. I then went to Bioverativ (the Biogen spin-off) and did BD work there until it was acquired by Sanofi in early 2019. At Sanofi, I worked as a member of the Corporate Venture arm, supporting and leading a number of deals over my tenure.
Matthew Markham
I am a finance professional. To spice that up a bit, following ~4 years in banking and private equity, I decided to not only invest in technology companies, but also run them. The learning curve in operations was truly humbling, but rewarding in the sense I have on-the-ground technology company experience, which has immensely helped my understanding of these businesses. I hope to take my experiences into future investing and entrepreneurship, whatever opportunity that entails.
Amer Masalha, MD
I was born in Padova, Italy, but raised in Kafar Qara- a small Arab-Israeli village in the northern district of Israel. I graduated in 2011 from the Technion (Israel Institute of Technology) with a B.Sc. in biomedical engineering and in 2018 from Tel Aviv University with an MD degree. I completed a 1-year medical internship (US equivalent- 1st year of residency) at Bnai Zion Medical Center- a 450-bed hospital located in Haifa city. Later, I have practiced emergency medicine at Terem- a community urgent care provider. Besides the clinical practice, I contributed to the research and publication of 3 clinical studies in the fields of cardiology and ophthalmology. In 2019, I joined Diagnostic Robotics- a digital health startup developing a medical-grade AI platform- as a project manager. Later, I was promoted to lead the medical data science team. As part of my responsibilities, I partnered with data scientists and product managers to conduct big data analysis based on datasets including millions of historical medical records for the development of machine learning (ML) predictive models. In this position, I had an active part in the R&D process from mining medical data for building high-quality datasets to measuring and evaluating ML models' performance.
Kunal Mehta
Grew up in West Texas and have spent most of my career across a couple unoriginal finance roles – initially industrials investment banking and then healthcare and technology investing at Warburg Pincus, a New York based private equity firm.
Danilo Moreira Simões
After pursuing engineering degrees from Universidade de São Paulo (Brazil) and École Nationale Supérieure d'Arts et Métiers (France), I started my career as a management consultant at L.E.K. Consulting. In four years at L.E.K., I worked on 20 projects, coordinating half of them as the case team leader. I started by helping a European dialysis company assess the Brazilian market, acquire eight clinics, invest in hemodialysis, and reduce treatment costs. I became passionate about improving healthcare delivery and access as I finally understood the reasons behind the public health system's deficiencies that I witnessed growing up. Then, noticing the lack of business publications on dialysis in Brazil, I wrote my thesis on the challenges and opportunities for new entrants, which prompted the former president of the Brazilian Nephrology Society to invite me to speak at her annual dialysis conference. Since then, I have assessed Brazil's epidemiology data and developed strategic plans for Healthcare services, Biopharma, and Wellness companies. In addition, I supported several M&A transactions with commercial & vendor due diligence and corporate growth agendas in other sectors (e.g., Veterinary services, Water & Waste Mgmt., Consumer Goods & Retail, Education, Industrial products, etc.)
David Mui
Born in Harbin, China but raised in Brooklyn, New York, I stayed on the East Coast for college and graduated summa cum laude from NYU with a degree in psychology. After graduating, I joined the NYC Teaching Fellows and served as a 6th grade math teacher for over a year. Before coming to medical school at Penn, I also spent a year traveling the world, visiting over 40 cities in 25 countries and 3 continents, eventually starting my own travel blog. During medical school, I was heavily involved in global health research, looking at cardiac outcomes and healthcare disparities in China. I founded the Penn Pals language immersion program, a digital inter-school collaboration connecting medical students from China and the US to practice their medical English and Chinese to provide better clinical care to patients. I also worked with Embedded Healthcare, an early-stage digital health startup to implement a new utilization management platform to optimize value-based care metrics for outpatient providers. Before starting at Wharton, I will also be working with Penn's clinical informatics department to implement new telemedicine practices and consults in the new patient pavilion.
Gregory Muir
I graduated from The Wharton School in 2016 with concentrations in Finance and Accounting. After graduating I followed the well-worn path to NYC and worked in Stifel's healthcare investment banking group where we provided capital raising and advisory services. After working there for two years, I joined the team in Philadelphia at 1315 Capital to invest in commercial stage healthcare companies across the services, medtech and specialty therapeutic verticals. The past few months prior to attending Wharton I have transitioned to an operating role in the finance and strategy department of a VC-backed company providing geriatric focused primary care through a virtual and at-home model.
Peter Mullen
I grew up mostly in the Minneapolis suburbs, outside of a brief three-year stint in Guadalajara, Mexico pre-elementary school. I graduated from Duke University in 2016 with a B.S. in Neuroscience. After school, I joined Amundsen Consulting in Boston, a small firm advising pharma/biotech companies on their market access and commercial strategy. My projects ranged from forecasting the opportunity for a new product launch to strategic planning for a product in the later stages of its lifecycle. Over the last year, I have been in Chicago with Assembly Health, which provides tech-enabled products and services to long-term care communities and physicians. Here, I had the opportunity to found and grow the company's data analytics department, helping to streamline reporting across divisions and business units. I also led the modernization of a data product, with a focus on improving access and usability while increasing value to our customers.
Kutay Muslu
I was born and raised in Platteville, a small college town in southwest Wisconsin. Growing up, I found the intersection of biology and technology fascinating and attended Johns Hopkins University as a Biomedical Engineer. After graduating, I joined the Boston Consulting Group, where I supported companies in the Healthcare, TMT, and Private Equity sectors in addressing questions of M&A, growth strategy, and sales and marketing. Following BCG, I spent a brief year as a growth equity investor with Revolution Growth, working with entrepreneurs pursuing Internet and Software startups, before joining Vector Capital – a tech-focused private equity firm. At Vector, I cover application software and work across a variety of industries including Healthcare.
Kevin Nguyen
I grew up in Orange County, CA and studied Biology and Economics at University of Southern California. At USC, I was introduced to CRISPR-Cas9 in a molecular biology lecture and watched in awe as biotech companies sought to leverage the technology to cure genetic diseases. That real-world translation motivated me to build my career in early-stage biotech. After graduating, I moved to San Francisco to join Evercore's Life Science team where I covered small-to-mid cap biotech companies. I then transitioned to 5AM Ventures, an early-stage life science VC firm, where I supported the evaluation and execution of investments across therapeutic areas and modalities. In this role, I partnered closely with 5AM portfolio companies to drive BD and financing strategy and managed internal firm initiatives.
Kienan O'Brien
I was born in Boston, Massachusetts before moving down south to Roswell, GA shortly thereafter. I couldn't resist those Boston winters though and returned north to attend Boston College before starting my first full time position as a management consultant at Accenture in 2016. I began my career by working primarily with consumer goods and retail clients. I loved working with consumer-focused companies but found myself getting most excited about the healthcare thought leadership work I supported. I made the switch to the Children's Hospital of Philadelphia (CHOP) working as a strategic advisor for research and clinical programs that received funds from CHOP's new internal accelerator. My position gave me the opportunity to work with cutting-edge programs including those creating novel gene therapy, CPR guidance medical device, concussion therapies, and more. Most importantly, I was able to do work that had a direct impact on patient care such as clinic optimization and commercializing novel therapeutics. Through my work I discovered my passion in bridging the gap between the amazing ideas generated across the healthcare spectrum and bringing them to patients.
Samir Patel
I grew up in the sleepy suburbs of Tampa, Florida (Go Bucs/Lightning/Rays!). For undergrad this Florida man ventured into the freezing clutches of Harvard to study engineering (shocker) after which I pursued a career in quantitative finance (not a shocker) trading emerging market credit (singlehandedly destroying the efficient market hypothesis). Having become enamored with the Fitbit concept, I decided to take my data and software engineering skills and apply them to mechanical engineering in a grad program at Stanford, where I quickly realized that AI is what's up (and more welcoming of such skills). I then took on a role at SAP as the Product Manager for Conversational AI where I learned just how analog the world's most modern companies are. Deciding that these companies needed an intervention in business intelligence (BI), I then started working on my first company Intexxio building financial BI for investors before I had a truly life-changing conversation about the role of data in life sciences. Since then and for the long-haul, I'm on a mission to redefine the way the life sciences industry incorporates automation into its workflow via my current company, Cerebella. 30 years from now, this Florida man will hopefully have brought the biotech industry into the digital age.
Kate Pattison
Born and raised in Seattle, I moved out east for college to study economics at Yale. As the daughter of a physician, I have always been curious about improving healthcare systems to make care more patient-centered and economically efficient. Studying in London and Paris only furthered my curiosity in healthcare's intersection with welfare systems and economics, exploring the spectrum of international models. After graduating, I spent several years in management consulting at a boutique firm, The Ripples Group, in Boston as a generalist across public and private sector clients in healthcare, retail, manufacturing, and a more. My healthcare projects involved strategy and operations for entities such as Medicaid, Boston Medical Center, mobile healthcare, and Departments of Health. I spent the past year in corporate strategy at a major retailer known for its customer-centric service.
Clare Peaslee
I've worked at Unum Group, a Fortune 250 insurance and workplace benefits provider, for 7 years.  I spent the first 4 in a leadership development program, in which I rotated through multiple departments (underwriting, IT finance, corporate strategy) and developed an appreciation for how employee benefits contribute to people's wellbeing and ability to weather through health challenges.  Next I spent 2.5 years as a Finance Director and led planning and reporting for Unum's Group Life Insurance business, oversaw financial governance of the internal investment portfolio, and controlled the innovation fund.  Along the way, I became interested in the behavioral healthcare space after observing people I care about struggle to find mental health support. I took on volunteer positions to learn about the industry and push for accessibility, and in 2019 I pitched the concept of a mental health solution to Unum leadership.  I led the design and build of the new solution, which includes digital preventative care, virtual coaching and therapy, and workplace education, and launched it in the market before coming to Wharton in 2021.
Sarah Powers
I grew up on Bainbridge Island, WA and graduated from Claremont McKenna College with a B.A. in Economics-Accounting and Psychology in 2013. After graduating, I joined DaVita's Redwoods Leadership Development Program, a year-long general management training program, and subsequently worked on DaVita's International team. Of the 3 years working for International, I spent 1.5 years working on building our finance and accounting operations in Malaysia and India. When my husband and I relocated to Boston, MA, I transitioned to MassHealth, Massachusetts' state Medicaid program, where I was a Director of Special Projects and focused on reducing fraud, waste, and abuse across the agency's operations. After two years at MassHealth, I joined Bicycle Health, a startup delivering online treatment for Opioid Use Disorder, where I was the first hire. As Bicycle Health's Head of Operations, I oversaw our growth to over 3K patients across 20 states and led our people, revenue, and clinical operations teams.
Gulmira Propper
I was born in the Xinjiang Uyghur Autonomous Region of China (more specifically, in the city of Urumqi) and moved to the U.S. by way of Japan when I was seven years old. In the U.S., I spent most of my childhood in Nashville, TN before venturing to the East Coast where I attended Brown University. I graduated from Brown with degrees in Economics and Health & Human Biology and spent my first year out of school at CMA Strategy Consulting, a boutique consulting firm focused on the tech, media, and telecom industries. After CMA, I joined the Strategy and Corporate Development team at a Diagnostics and Life Sciences-focused company called PerkinElmer Inc. Over the last three years on this team, I have worked on various projects to evaluate opportunities for both the organic growth of PerkinElmer (e.g. entry into new areas such as Consumer Diagnostics) and inorganic growth (mergers and acquisitions).
Caitlyn Rand
I grew up in Connecticut and attended the University of Pennsylvania, where I graduated with a B.A. in Health and Societies and a minor in Chemistry. As an HSOC major, I studied health and medicine through the lens of anthropology, history, and sociology. After college, I joined EY-Parthenon's Corporate and Growth Strategy practice in New York City. Concentrating within EY-Parthenon's healthcare consulting practice, I have worked on market and growth strategy assessments on behalf of a variety of technology, digital health, and insurance companies. I have also advised private equity and corporate clients on commercial due diligence engagements across the healthcare IT, provider, and pharma spaces. During the past year, I have had the opportunity to support several clients in navigating the unique challenges facing the healthcare industry as a result of the coronavirus pandemic.
Turner Rapp
As someone living with type 1 diabetes, I've been involved in fundraising and advocacy efforts since I was diagnosed at age 10. In college, I worked in Novo Nordisk's Government Affairs Office, advocating for legislation benefitting patient interests. After graduating from Colgate, I went to work full time with Deloitte Consulting in their Customer Strategy & Applied Design practice across a variety of projects, building new business units for healthcare clients and supporting more traditional strategy projects. Prior to business school, I accepted a tech strategy role at Xandr to gain exposure to what I saw as a crucial competency area for the future of all businesses and to experience an enduring relationship with a single organization. In this role, I led market intelligence and several components of strategic planning and product & platform strategy.
Mattew Romano
I grew up in Stuart, FL and ultimately went to college in the Midwest where I studied Mechanical Engineering at the University of Notre Dame. In a family of three doctors and three nurses, I am somewhat of a black sheep by not being a clinician, but my goal has always been to enter the healthcare industry in some way. After graduating in 2014, I pivoted away from my original thoughts of engineering and designing prosthetics. Instead, I decided to start my career in healthcare consulting at Huron where I could work more closely with caregivers and optimize the care patients receive in the hospital. This was a Monday – Thursday travel role where I was in the hospital, working with clinicians to improve hospital operations and clinical performance (e.g., clinical variation, length of stay management). Three years later, I joined Kaufman Hall and shifted my focus from operations to strategy in an effort to think more broadly about how healthcare is delivered and the challenges facing providers. In this role, I worked with health system executives across the country on a number of different topics (e.g., consumerism, pricing, growth strategy).
Monique Sager
I grew up in a suburb of Boston and graduated from the University of Pennsylvania where I studied the history and sociology of science and technology. As an undergraduate, I was torn between my interest in business and my obsession with women's health. In the summers, I led groups of Penn students on pro-bono consulting projects to the Phillipines and Ghana, and during the year, I wrote papers on our changing utilization of technology in the delivery room. After graduation, I initially worked in consulting, but quickly realized my heart was in healthcare.  I left to become an early employee at Flatiron Health, where I helped to grow our West Coast business and guide physicians in complying with changing Medicare regulations. Though I loved the startup environment, I hadn't quelled my craving for clinical medicine, and decided I would need to pursue my MD. I matriculated to the Perelman School of Medicine of the University of Pennsylvania in 2018. I have since worked for Penn's Center for Digital Health, helped lead HealthX (our medical entrepreneurship student group), and have conducted a multiyear research project on intercepting medical misinformation on social media. I realized halfway through medical school that I did not, in fact, want to be an OBGYN, but would rather focus on the psychiatric aspect of women's health. I'm now pursuing a residency in psychiatry with fellowship training in reproductive psychiatry afterwards.
Emma Schmidt
I grew up in Philadelphia and attended a Quaker school for twelve years. I went to Yale College, where I majored in Classics (Latin & Greek) and was pre-med; I also ran a catering company focused on local, seasonal food. Within medicine, my interest was epidemiology and obesity, with a particular interest in how access to food and local/regional/global food systems can contribute to health outcomes. I realized I didn't need to be a physician to make change in this space, and a yearlong fellowship with a non-profit encouraged me to look to the private sector for organizations making significant and lasting impact. Before Wharton, I spent four years at BCG, with a majority of my work in the healthcare sector (MedTech, Pharma, Public Sector healthcare delivery). For the COVID-19 pandemic, I had the opportunity to work with public sector clients on crisis response and healthcare delivery, an experience I hope to build on with future work in healthcare delivery and public/private sector collaboration.
Michael Schmidt
I was born and raised in Minneapolis, Minnesota and attended college at the University of Notre Dame. After graduation, I joined and spent three years at MTS Health Partners, a New York-based boutique investment bank serving the healthcare industry. At MTS, I primarily advised healthcare services companies and financial sponsors on M&A and financing transactions. After MTS, I joined the healthcare investment team at The Vistria Group, a private investment firm based in Chicago, where I spent another three years. At Vistria, my responsibilities included evaluating and executing investments, supporting portfolio companies on value creation initiatives, and developing new investment themes. My work spanned the healthcare eco-system, but I focused on provider businesses and companies offering outsourced services to providers and biopharma.
Krishna Shah
From premed to finance…here we are. I started my career in consulting because I had no idea what I wanted to do, but knew I wanted to get paid. I spent 2 years at Accenture consulting for Life Sciences clients and realized I had a passion for healthcare, specifically making it more accessible for underserved populations (original, I know). I loved the people I met in consulting, but being part of such a large company was tough, so I transitioned to private equity at BBH Capital Partners, where I spent 2 years in Portfolio Operations working with our portfolio company CEOs and executives on strategic and operational initiatives geared towards driving (usually financial) value. I spent most of my time in our healthcare portfolio, learning how providers serve patients and the pain points the industry faces. It made me interested in healthtech, and as one of the few women on my team and across our fund, made me particularly interested in women's health. Somehow I've come full circle with wanting to enter healthcare on the industry side, basically making my mom's dreams come as close to true as possible to have some sort of healthcare professional in the family.
David Spiritos
I grew up in Olney, Maryland and attended Northwestern University, where I graduated magna cum laude with a BA in Economics and Mathematics. After college, I stayed in Chicago to work for Robert W. Baird investment banking, focused on M&A within the consumer sector. After two years, I wanted to pivot industries and joined Northlane Capital Partners, a middle market private equity firm investing in healthcare and business services, based outside of Washington, D.C. During my time at Northlane, I evaluated and managed investments in the healthcare benefits, behavioral health, healthcare IT, and life sciences verticals.
Cate Stanton
I grew up in Chicago and then attended Middlebury College in Vermont, another mostly cold and snowy place, where I majored in geography and minored in political science. After I graduated, I joined the Venture for America fellowship and spent three years working at Protenus, a Series D health tech company in Baltimore. As an early employee, I played a key role in developing our sales, marketing, and biz ops strategies and teams, and then led special projects as Chief of Staff to Protenus' founder and CEO. My work included overseeing a $17M Series C fundraising round in collaboration with the CEO and organizing the company's annual user conference. Most recently, I worked at Mount Sinai Health System in NYC on the Commercialization Team. There, I transitioned a health center from in-person to virtual care during the height of the COVID-19 pandemic and helped stand up and then manage a new advisory services business line that provides COVID-19 medical and safety guidance to leading companies and firms.
Mia Steck
I grew up in Wellesley, Massachusetts and graduated from Dartmouth College in 2017 with a B.A. in Economics and Earth Sciences, a deep appreciation for deep powder, and a few too many sub-freezing practices out on the water. After graduation, I moved to New York to start as an Analyst at Kepler Cannon. Over my four years at the firm, I became a Senior Consultant and project lead, with a focus in financial technology product launch and management, and a sub-focus in tracking down the best restaurants for team dinners in Nebraska and Mississippi. Starting in January 2020, I also served as an EMT for Park Slope Volunteer Ambulance Corps., covering much of the western side of Brooklyn throughout the pandemic (and building close relationships with both the local crews and the local bodegas). I'm now a Crew Chief, engaging both as a provider and as an orientation trainer for the organization, and will continue to support remotely throughout my MBA.
Michael Temple
I was born in Charlotte, North Carolina and attended Duke University, where I graduated in 2016 with a B.S. in Economics and a minor in Chemistry. After considering med school, I began my career in healthcare investment banking at SVB Leerink, where I helped advise companies in the healthcare technology, pharmaceutical, physician services, lab services, and payer services sectors. After two years at SVB Leerink, I pivoted to a private equity role at Pamlico Capital to learn more about scaling healthcare technology businesses. At Pamlico, I worked closely with four healthcare companies in the Specialty EHR/PM, patient payments, revenue cycle management, and animal health sectors, as well as with software companies outside of healthcare. Gaining exposure to effective leadership styles, software development, and common obstacles to growth was very rewarding.
Camille Trangsrud
I've spent my entire professional career within the Human Capital practice at Deloitte Consulting. I started as a Summer Scholar intern in 2013 and left as a Manager in 2021. During those 7 years, I worked on a number of traditional Human Capital consulting projects – I served as PMO for large ERP implementations, led systems testing for said ERP implementations, led process redesign for HR transformations, stood up shared services centers, and created knowledge and content strategies for HR functions who were drowning in paper. My clients have ranged from the smallest of regional healthcare providers to the largest of Fortune 500 companies, and I've traveled across the country to serve them.
Jayati Verma
I grew up in Princeton Junction, NJ and graduated from Columbia University, where I studied applied mathematics and biology. My healthcare experiences at Columbia – from cardiac arrest outcomes research in New York to community-driven, HIV prevention work in Gulu, Uganda – taught me that health is impacted by, and impacts, many dimensions beyond just medical such as social, economic, and more. Wanting to address these broader factors, and continue learning about healthcare, I pursued healthcare consulting post-graduation. I have spent the past four years at Strategy&, part of the PwC network, advising healthcare clients – primarily providers – on growth, patient/consumer experience, and product/service strategy. My most memorable project was helping a healthcare system design direct-to-consumer products! This past summer, I interned at Belle, a start-up that provides in-home, preventive foot care and partners with health plans to offer this service to members, building deep-rooted relationships and improving health outcomes.
Emily Wang
I grew up in Killingworth, Connecticut and graduated from Harvard College with a major in Economics and secondary in Global Health and Health Policy in 2017. While in college, I spent time working with a HIV/AIDs non-profit in Tanzania and a preventative healthcare startup in China. Since graduation, I have worked as a life sciences consultant at Simon-Kucher & Partners in New York City as an advisor to pharmaceutical and biotechnology companies. In my four years there, I created strategies for multiple innovative drugs, focused mainly on global and US pricing, contracting, and market access, and completed initial product launch planning and market landscape assessments. My experience has spanned a broad range of therapeutic areas, including oncology, cardiovascular disease, and mental health, as well as most major healthcare markets, including the US, EU-5, Canada, and Japan. Some of my recent projects include the assessment of the feasibility of value-based contracting for a top-selling oncology drug in integrated delivery networks, and development of a market access strategy for a maternal health drug in lower middle-income countries.
Shang Wang
I was born in Shanghai, China and was raised in Highland Mills, NY (best known for our gigantic outlet mall). I then moved to Boston to attend Harvard College, from where I graduated in 2015 with a degree in Government and a secondary in Economics. By that time though, I had already realized there was a bit too much red tape in policy for my liking and started my career as a consultant with Bain & Company in Boston. At Bain, I initially spent a good deal of my time within the private equity group before eventually focusing on healthcare, working on ~15 cases in total during my 3 years there. I then moved to RubiconMD, a digital healthcare startup based in New York that works to democratize access to specialist expertise, serving initially as Manager of Strategic Projects before transitioning into the Chief of Staff role for my last 1.5 years. At RubiconMD, my responsibilities ranged from driving overall company strategy, supporting our Series C fundraise, managing our board of investors, and driving various cross-functional projects. These ranged from installing OKRs, to creating and leading an employee engagement task force, to driving research to better understand the financial, regulatory, legal, and operational implication of new reimbursement codes set by CMS.
Alex Warshauer
I grew up in Warren, NJ and graduated from Boston College in 2016 with a B.S. in Biochemistry. As a junior and senior, I served as president of Boston College EMS, a student run organization providing 8000 man hours of coverage to Boston College annually.  After college, I obtained my MD from the University of Pennsylvania Perelman School of Medicine in 2018, where I was involved in medical education and helped run a clinic providing free surgical consultations to underserved populations in Philadelphia. I am currently in my 4th year (of 7) of General Surgery residency at Penn, where I serve as our administrative chief resident and participate in trauma and medical education research.
Alex Wess
I grew up in suburbs of New York City before attending Washington University in St. Louis and receiving a BA in Psychology with minors in Public Health and Healthcare Management. After graduating, I moved to Washington, DC to join the Alliance for Health Policy as a Health Policy Intern, where I focused on competition issues in healthcare and briefed senior policy staff on congressional hearings. Soon after, I joined Aledade, a digital health company that helps independent primary care providers remain independent by succeeding in value-based care models. In typical start-up fashion, I held a number of roles over my 5.5 years at Aledade as the 65-person company I joined grew to 500+ employees, accountable for 1.2 million patients across the country. As Aledade's first recent graduate hire, I served as the executive assistant to the CEO, recruited and mentored the next class of recent graduate hires, led day-to-day HR functions and organized a Summit on Healthcare Markets in partnership with the Brookings Institution. I then moved to Chicago and worked remotely for Aledade's Adoption & Practice Success team, partnering with our most complex new practices to onboard them to our technology and population health workflows. In my last two years at Aledade, I led our efforts to impact specialist costs and referrals, piloting new interventions and digital health solutions to improve access to high-value specialist care. I left Aledade with a deep appreciation for primary care providers' commitment to their patients and communities and the central role they can play in improving the American healthcare system.
Travus White
I grew up in Jacksonville Beach, Florida, and then spent the next 9 years in Gainesville at the University of Florida, where I completed a Bachelors of Science degree in Psychology followed by medical school. I initially matched into Obstetrics and Gynecology, spending a year in Houston before realizing that I really missed taking care of children after they left the delivery room. I then spent an incredible 3 years in Los Angeles for my pediatrics residency at Children's Hospital Los Angeles, where my research focused on educating physicians on the impact of patients' spiritual beliefs on medical decision-making. I am now a Pediatric Cardiology Fellow at The Children's Hospital of Philadelphia and plan on practicing outpatient cardiology. While in fellowship, I have served on the Graduate Medical Education Committee and have focused a lot of my "free time" on quality improvement initiatives within the Cardiac Center, specifically optimizing the patient transfer process between units. The COVID-19 pandemic shifted a lot of my personal career aspirations and nudged me towards pursuing an MBA, while also giving me the opportunity to participate in multiple research projects looking at the virus's impact on telemedicine and pediatric cardiac diagnostic testing.
Eric Winter
I completed my undergraduate degree at Muhlenberg College – a small liberal arts school in Allentown, PA. At Muhlenberg I majored in neuroscience and minored in religion studies. I was a member of a research laboratory that studied the olfactory systems of bumblebees; eventually this was nicknamed "beesearch" by my friends. While in college I also took classes in aerial acrobatics and later performed with the Circus Workshop, a student-founded organization that subsequently evolved into a professional circus company in New York City. After graduating college in 2016, I spent two years working at Jordan Health, a Federally Qualified Health Center in Rochester, NY. As a member of the Practice Transformation Team, I was responsible for developing and implementing team-based visit structures, patient-facing employee roles, and care-augmenting technology solutions to prepare our organization for a new "value-based" Medicaid reimbursement model. I started medical school at Penn in the summer of 2018, and have focused my research efforts on patient risk prediction and quality improvement. I am now taking a year out to pursue my MBA at Wharton.
Taylor Worthy
I was born and raised in the Boston suburbs and then went to Brown University, where I double majored in Public Health and Business. After graduating, I joined UnitedHealthcare as a Business Analyst. During the 12-month rotational program, I analyzed claims data to inform denial management initiatives with provider partners and used patient journey mapping to develop consumer experience design. After the program concluded, I pursued a role at sister company Optum, where I spent the following three years as an Analyst and then Senior Analyst in the provider growth market. As part of Optum's Solution Design team, I performed operational assessments and due-diligence activities at health systems to inform long-term strategic partnerships. My role focused on revenue cycle management, where I analyzed client data and worked with their staff to assess opportunities to implement Optum solutions and technology into the deal structure. Over the past year, I've worked closely with Optum's Finance teams to develop revenue lift models and cost savings based on proposed investments. During my time at Optum, I contributed to five diligence efforts that contracted into multibillion-dollar strategic relationships.
Jessi Izhakoff Yellin
I was born in New York City and grew up in Miami, FL before leaving the South Florida sunshine to attend Harvard. At Harvard, I studied biology and statistics, and in 2015 I graduated cum laude and with honors. After college, I moved across the Charles River to Boston to work for Health Advances, a boutique healthcare strategy consulting firm. I spent six years at Health Advances advising medical device and pharmaceutical companies and their investors on items such as commercial strategy, market sizing, and valuation.
Alex Yoo
Originally from Raleigh, North Carolina, I made my way up to Philadelphia to attend the Roy and Diana Vagelos Program in Life Sciences and Management at the University of Pennsylvania. I graduated in 2015 with degrees in Ecology & Evolutionary Biology and Environmental Policy & Risk Management. After spending my academic years learning about marine biology and environmental laws, I decided to join a boutique strategy consulting firm focused on life sciences called Putnam Associates. I packed my bags and continued northward to Boston where I spent several years working with drug developers to design market access strategies and assess patient / commercial opportunities across a myriad of therapeutic areas. I left Putnam Associates to join Vynamic, a healthcare management consulting firm based out of Philadelphia, where I shifted my focus to product launch strategy and diversity, equity, and inclusion (DEI) strategy. Most recently, I helped to navigate leadership conversations and develop training materials on DEI for various business units within a global pharmaceutical company. Outside of work, I am active in Penn First Plus, a group that promotes the inclusion and excellence of first-generation, low-income students and alumni at Penn.
Alex T. Zhang
I am currently pursuing a JD / MBA. Prior to the last year of law school, I was an associate at Athyrium Capital Management, a healthcare private equity and special situations investment manager. There, I spent three years helping evaluate debt and equity investments and managing portfolio company investments. Prior to Athyrium, I was an investment banking analyst in the restructuring group at Rothschild. I worked on a number of transactions involving recapitalizations, exchange offers, distressed M&A, special situations, prearranged bankruptcies and Chapter 11 proceedings.
Jasmine Zhang
I was born in Beijing and raised in Singapore and Canada, where I graduated from the University of Waterloo with a B. Math in 2016. After graduation, I moved to New York to start my career in consulting at Oliver Wyman, where I  worked on projects across industries that have taken me around the globe from the rural Midwest to Saudi Arabia. I eventually gravitated towards healthcare given the vast number of opportunities for impact, and I spent the better part of the past three years consulting for payers, helping design products, develop sales and marketing strategies, and implement risk-based provider contracts. I am hoping business school will allow me to expand my understanding beyond the payer perspective to better grasp the complexities of the entire healthcare ecosystem.
Julie Zhu
After graduating from Harvard in 2016, I spent two years in healthcare investment banking at Bank of America Merrill Lynch, two years at Morgan Stanley Capital Partners (MSCP), a private equity fund, and spent the year prior to Wharton on the Investment team at Diagram, a Canadian venture builder.
Click on covers to see e-books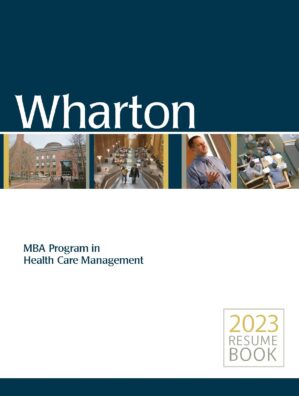 Resume Book 2023 (pdf)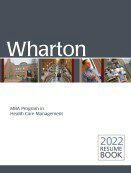 Resume Book 2022 (pdf)