HCM CLASS OF 2020 STATISTICS
Male: 49%
Female: 51%
Years Out of Undergraduate School
< 2: 0
2-4: 32%
5-7: 61%
8 <: 7%
Undergraduate Majors
Liberal Arts and Social Sciences 17%
Sciences 25%
Engineering 21%
Business and Economics 33%
Pre-Professional 4%
Graduate Degrees Held
MD: 2
DMD: 1
Joint MD/MBA Program: 10
Joint JD/MBA Program: 2
HCM CLASS OF 2020 PROFILES
72 students
Jenna Ackerman
Born and raised in Miami, I graduated summa cum laude from Penn with a B.A. in Economics with Distinction. Following graduation, I joined the Applied Analytics team within Berkeley Research Group's Healthcare Performance Improvement practice. At BRG, I focused on the design and implementation of analytical tools for hospitals to improve performance and reduce operational costs. After three years, I transitioned to a consulting role with The Chartis Group, a management consulting firm that specializes in the provider space. At Chartis, I have worked with academic medical centers, clinically integrated networks, and community health systems in population health management capabilities development, payor-provider partnerships, performance improvement, and patient access.
Prateek Agarwal
I was raised in Flemington, New Jersey and after attending The Lawrenceville School for high school, I graduated from Harvard University in 2015 summa cum laude and Phi Beta Kappa with an A.B. in Molecular and Cellular Biology and a secondary field in Economics. I then matriculated at the Perelman School of Medicine at the University of Pennsylvania. During medical school, I have conducted both translational and clinical neurosurgical research, with a particular interest in employing systems-level interventions to improve patient outcomes while simultaneously reducing cost. I have also engaged in organized neurosurgery as the 2018 MISSION Fellow, which allows me to participate in the American Association of Neurological Surgeons (AANS) Young Neurosurgeons Committee (YNC) and research system/practice issues relevant to neurosurgery. Outside of my neurosurgery related endeavors, I am co-founder and Head of Marketing & Management of Sanguis, an early-stage startup that is developing a cost-effective, at-home neutrophil monitoring device for patients receiving chemotherapy.
Sophie Alpert
I grew up in Brooklyn, NY and graduated from Bowdoin College in 2013 with a B.A. in Mathematics and Economics. After graduating, I joined Cowen and Company's healthcare investment banking team in San Francisco, where I worked on mergers and acquisitions and capital markets transactions for early-stage life sciences, medical technology and healthcare services companies. After two years at Cowen, I joined Collective Health, a software and services startup focused on the administration of health benefits for businesses that self-insure. As a Senior Operations Specialist, I was responsible for the claims classification system, which translated medical codes on claims into medical benefits, and the accuracy of claims processing. I also scaled the stop-loss (reinsurance) reporting program and helped determine the product requirements for the spending accounts product.
Daniel Astrachan
Born and raised in New Haven, CT, I moved south in 2008 to Nashville, TN to attend Vanderbilt University and gain an appreciation for southern hospitality. There I majored in Human and Organizational Development and minored in Corporate Strategy. After graduating in 2012, I began my career in the health and benefits consulting group at Aon Hewitt, where I helped launch the first private insurance exchange and consulted on large employer benefits designs and offerings. Driven by a desire to influence individual health more directly, in 2014 I joined VAL Health, a behavioral economics-based consulting startup, as a Strategic Account Manager for their digital incentive platform. My role expanded greatly during my time there, eventually including client relationship management, product development, engagement strategy consulting, and data analytics.
Matt Baker
I am from New York City and graduated magna cum laude from Brown University in 2014 with a B.A. in Economics while simultaneously completing the pre-med requirements.  After graduation, I joined Citi's Healthcare Investment Banking Group in New York and worked on a variety of M&A and capital markets transactions in the biotech, medical device and healthcare services sectors.  Following my 2-year analyst program at Citi, I joined Apax Partners, a global private equity firm, as part of the firm's Healthcare group.  While at Apax, I evaluated deals across the healthcare landscape and worked closely with three portfolio companies.
Sheyda Bautista-Saeyan
I grew up in Boston, MA and graduated from Brown University in 2014 with a degree in Biology. Outside of the classroom I helped start the first Iranian students association on campus and a volunteer organization that provides health screenings to uninsured RI residents. After Brown I moved to DC where I worked at a quasi-consulting firm called CEB. I started as a strategic researcher writing about the top trends and initiatives for C-Suite members. After a couple years I moved internally to our New Product Development team where I helped launch a consulting offering to Chief Finance Officers at midsized companies. Soon after I joined the team, my company was acquired by Gartner and I was invited to jump on the integration team and became the product manager for a new consulting offering for General Counsel & Chief Compliance Officers.
Elisabeth Berger
Born and raised in the small town of Orinda, CA (think "Berkeley"), I graduated from Brown in 2014 with a B.S. in Biomedical Engineering and an honors thesis on starting an eyewear start-up. During my time at Brown, I had the opportunity to intern close to home at Bay Area-based RelayHealth (then McKesson owned; now a part of Change Healthcare) and returned upon graduation to work as a Product Manager. RelayHealth is a health information exchange (HIE) and data aggregator software that facilitates the interoperability and large scale data analysis of clinical data within disparate computing systems of large health networks. During my 3.5 years at RelayHealth, I was Product Manager of the functionality to consolidate each patient's many health records into one longitudinal aggregate version, and of the HIPAA policy service that  ensured the right user was able to view the right data for the right purpose of use. This past November, I transitioned into the start-up world as a Product Manager at precision oncology software start-up, Syapse. My work at Syapse focused on making data available, accurate, and useful for oncologist clinical decision support and as "Real World Evidence" for pharmaceutical research. Common across my two past work experiences, I've learned about the technical and mental roadblocks to sharing healthcare data between entities.
Joe Blundo
I grew up in a small town outside Boston, MA called Winchester, until heading to Exeter, NH for boarding school. In 2009, I matriculated from Exeter to Babson College, a small business-focused college in Wellesley, MA, where I graduated Summa Cum Laude with concentrations in both finance and economics. After college, I headed to downtown Boston to work for a sell-side M&A advisory firm called Harris Williams. Harris Williams' technology practice is known for its strength in HCIT advisory, and I spent two years as an analyst in their HCIT and broader vertical software teams. Subsequently, I was hired by a venture capital / growth equity firm called Technology Crossover Ventures, or "TCV," to focus exclusively on HCIT investing. As it happens, I was recruited alongside a new Vice President at TCV, who happened to have been a recent graduate of the HCM program at Wharton. During my experience at TCV, I was responsible for sourcing and prosecuting investments in the healthcare industry, largely focused on software and tech- / data-enabled services companies.
Hannah Bogardus
I grew up in Woodbridge, Connecticut, and graduated from Bowdoin College in 2013 with a BA in Biochemistry. After graduating, I moved to Boston, MA to work in academic research at Boston Children's hospital while pursuing my medical school applications. After realizing that I wanted to be involved in the business side of the healthcare industry, however, I transitioned to healthcare consulting. I first worked at a boutique consulting firm, Health Advances, where I developed commercial strategy for pharma, biotech, medical device, and diagnostics companies. After 2.5 years at Health Advances, I moved to PricewaterhouseCoopers Health Industries – Pharmaceuticals & Life Sciences consulting practice, where I worked to improve efficiency and effectiveness of R&D operations within large pharma companies.
Shane Bouchard
After growing up in the Greater Boston area, I graduated from Harvard College in 2014 with an A.B./A.M. in Chemistry, magna cum laude, and a secondary field in Economics. During college, I also had the opportunity to intern at several biopharma companies, including Alnylam, Agios, and Novartis. After graduating, I further pursued my interests at the intersection of science and business by joining Clarion Healthcare, a boutique life sciences strategy consulting firm in Boston. During my time at Clarion, I gained experience spanning several therapeutic areas and advised biopharmaceutical clients on engagements including evaluating business development and licensing opportunities; crafting commercialization strategies; and developing enterprise scale-up and launch plans. I also worked on an extended engagement with a top-10 pharmaceutical company to develop, operationalize, and enhance a patient support program to drive adherence for a new diabetes medicine.
Frederic "Beau" Brace
I grew up outside of Chicago and graduated from Cornell University in 2013 with a B.S. with Honors in Industrial and Labor Relations. After graduation, I worked for Lazard Frères & Co. as an investment banking analyst in New York. At Lazard, I was a part of the Global Healthcare Group, advising large-cap clients on mergers, acquisitions and restructuring transactions, primarily focused on diversified pharmaceutical and biotechnology firms. After two years at Lazard, I joined Sheridan Capital Partners, a middle-market healthcare private equity firm in Chicago, as an associate. During my three years at Sheridan, I focused primarily on the provider space, working on buy-and-build strategies in orthodontics and dermatology, as well as on the ambulatory surgery center space.
Andrew Bravo
I'm originally from Lenox, MA, located in the remote but scenic Berkshires of Western Massachusetts. I graduated from Williams College in 2015 with a double major in Chemistry and Economics. For the past 3 years, I've worked as a management consultant at Bain & Company, advising clients within the health insurance, medical device, retail, grocery, and private equity sectors. I also worked for 5 months as a Program Manager at 3Derm, a teledermatology startup in Boston, where I managed business development, built telemedicine networks throughout Massachusetts, and developed new applications for the company's existing business model.
Jordan Brown
I grew up outside of Dallas, Texas and went to the University of Pennsylvania for college, where I ran D1 track and studied Health and Societies, a liberal arts major examining the structure and systems of healthcare. Following Penn, I worked in Piper Jaffray's healthcare investment banking group in New York, where I primarily focused on equity and M&A transactions in the biopharma, tools and diagnostics and healthcare services sectors. After banking, I joined the business development team at Retrophin, a mid-size biotech company, where I evaluated pharmaceutical assets for acquisition in the rare disease space. During this period, I also had a year-long stint part-time consulting for a two-person digital health startup. Following this, I joined Northwell Ventures, the corporate venture arm of Northwell Health, where I invested in early-stage companies that could provide strategic value to the health system. In the summer prior to business school, I interned at a healthcare growth equity firm.
Will Burton
I was born and raised in Bountiful, Utah and graduated from Brigham Young University in 2014 with a degree in Chemistry and a minor in Spanish.  I played soccer for the University team, and in between my college years, took a two-year break to go on a LDS church service tour where I lived in Puebla, Mexico. There I worked on service projects, learned Spanish, and ate tacos!  I started my career at DaVita, where I worked almost exclusively on the integration and strategy for its recently acquired business, Healthcare Partners.  I focused primarily on re-contracting affiliated physician groups serving our Medicare Advantage patients and new market strategies.  After several years on the corporate strategy team, I moved into an operating role for one of our subsidiary medical groups in Colorado.  There, I ran one of our primary care sites as a manager, and shortly thereafter, stepped into a director role with oversight over all of the primary care, pediatric, and gastroenterology business where I led turnaround initiatives.
Evan Cairo
I grew up in Armonk, NY and graduated cum laude from Wharton undergrad in 2013 with a BS in Economics and a Concentration in Finance. After graduating, I joined Deloitte Corporate Finance's healthcare investment banking group in New York, where I worked on a variety of M&A transactions across the healthcare sector. During my three years at Deloitte, I completed M&A transactions on behalf of Medtronic, Astellas, Magellan Health, and Northwell Health. After Deloitte, I joined Moelis Capital Partners (now known as NexPhase Capital), a middle market private equity firm based in New York. During my two years at Moelis, I focused on healthcare services investments. I managed our investment in WIN Fertility, the leading fertility benefits manager in the US, and I completed a new investment in Clearway Pain Solutions Institute, an interventional pain management platform based in the Southeast.
Amanda Chin
After spending my entire childhood in the small NYC suburb of Short Hills, NJ, I left the Garden State to move to Philadelphia for college at the University of Pennsylvania. I graduated magna cum laude with a B.A. in Biochemistry in 2015 and have continued my Penn journey at the Perelman School of Medicine. After my junior year of college, I took a summer internship in the division of Life Sciences at Navigant Consulting during which I worked with key players in the pharmaceutical and medical device industry in market analysis, strategic planning, and business development. During medical school, I pursued research with the Department of Cardiac Surgery exploring clinical outcomes and economic implications of new devices for transcatheter aortic valve replacement, and plan to continue clinical research during my time at Wharton in vascular surgery. I am also passionate about promoting gender equality in leadership within the field of surgery, and have served on the board of the Elizabeth Blackwell Society and the Agnew Surgical Society at Penn Med.
Will Choi
I was born in Virginia and raised in Scarsdale, NY. I attended Wesleyan University, playing for the storied hockey program (with 0 NESCAC playoff wins in history prior to my arrival), and graduated in 2013 with a BA in Economics. I started out as an Analyst in the healthcare investment banking group of BMO Capital Markets in Boston and it took me all of seven months to accept that I can't stand Bruins fans or the absence of an acceptable bagel / slice of pizza. I moved back to NY and joined the healthcare advisory group at Perella Weinberg Partners, working on M&A transactions for medtech and life science tools / diagnostics clients. After PWP, I joined Vestar Capital Partners, a middle market private equity firm in NY, where I worked on several platform investments and add-on acquisitions in the healthcare group, primarily in the payer services space.
Rita Costiv
I moved to Brookline, MA at the age of twelve from Chisinau, Moldova. I graduated from Northeastern University with a BBA in Finance and Marketing. Whilst at Northeastern, I co-founded a home healthcare company, Longevity Care, Inc., providing caregiving, nursing and case management services to elderly and/or disabled patients. Upon graduating I transitioned to the company full time to support its development in a very saturated market. After gaining knowledge in healthcare start-up operations, I was eager to explore healthcare on a larger scale leading me to an Operations Manager role at East Boston Neighborhood Health Center. At EBNHC I co-managed the operations of the Family Medicine department in the largest U.S. continental nonprofit community health center providing accessible, affordable, and high-quality health care to over 250 patients daily. This role provided experience with provider template optimization, analyzation of patient panels, redesign of workflows, and development of strategies tackling patient to provider access.
Will Davenport
I was born in Miami and grew up in the West Palm Beach area with my parents and now 19-year-old sister, Holly. I graduated in 2015 from Yale University with a BA in Molecular, Cellular, and Developmental Biology, after which I returned to South Florida. After a few months pursuing professional golf, I joined the Boston Consulting Group in January 2016 as an associate in the Miami office. During the next year and a half, I worked primarily in the Healthcare practice area, where I helped optimize supply chain operations for major pharmaceutical companies and develop new R&D capabilities for biotechs. In August of 2017, I moved to Australia for 11 months, where I worked in the BCG Melbourne office, primarily in the financial services space.
Elizabeth "Ducky" Duckworth
I grew up in Chicago's northern suburbs and graduated magne cum laude from Claremont McKenna College in 2014 with a dual economics-biology major. Following graduation, I moved cross-country to Baltimore, MD, where I performed viability assays at a biotechnology start up. For the past three years, I have been enrolled at Penn's Perelman School of Medicine. At Perelman, I have been involved with leadership of Medical Student Government, with a focus on student life and behavioral health, as well as a number of student interest groups, including serving as the VP of Labs for Penn HealthX. In that capacity, I dispersed a $10,000 budget in support of student-led healthcare startups.
Katherine Dunnigan
I grew up in Tampa, FL and spent five years at the University of Florida pursuing my B.S. in Biological Engineering and my M.S. in Biomedical Engineering. While at UF, my research focused on osteoarthritis in the knee and identifying earlier predictors of the disease. Upon graduation, I worked in Accenture's Life Sciences practice for 3 years, helping big pharma companies develop strategies to comply with global serialization requirements. Wanting to be closer to the point of care, I took a job in Advisory Board's strategy consulting group. In this role, I worked with various health systems across the country to develop strategies for price transparency, service line growth, joint venture evaluations and more, providing insight into the many challenges across the healthcare industry. While in DC, I was a co-committee chair of grant research for STEM for Her, a foundation focused on creating opportunities and experiences that encourage girls and young women to pursue STEM-related careers.
Jennifer Fernandez
I grew up outside the greatest city in the world, Philadelphia. After moving to Washington, D.C. to pursue my B.A. in International Studies and Business Administration, I stayed in the capitol following graduation in 2013 and began working for the Biotechnology Innovation Organization (BIO). At BIO, I worked to connect biotech start-ups with investors, funds, and pharma partners through industry events. In early 2015, I joined Deloitte Consulting's Federal practice. As a Consultant, I primarily supported projects across the Military Health System (MHS) to enhance patient-centered primary care services and improve patient safety and clinical quality practices and standards. During my 3.5 years with Deloitte, I focused on developing performance management capabilities across the Federal health sector to encourage more accurate reporting on healthcare safety, quality, and access.
Annie Fox
Growing up in Boston, Massachusetts, I graduated from Amherst College in 2014 with a BA in Neuroscience. After graduation, I joined the Neurology Department at Brigham and Women's Hospital in Boston, conducting a longitudinal clinical brain-wave study. A year later I transitioned from health research into the health tech startup space, joining Genoa Telepsychiatry (formerly 1DocWay), a telemedicine startup in New York focused on improving access to psychiatry services across the States. After two years at Genoa, managing and growing the company's physician recruitment strategy and operations, I moved to Lusaka, Zambia in 2017 as a Global Health Corps Fellow. As a GHC fellow, I worked with Population Council, a health research non-profit, leading the design and implementation for a country-wide evaluation of a health program aimed at augmenting Zambia's family planning availability. Simultaneously, I served as Director of Growth for a for-profit startup in Nairobi, Kenya, focused on leveraging feature phones to increase rural Kenya's access to family planning information and services.
Charles Gage
I was born in Washington, DC and raised just outside the city in Chevy Chase, Maryland. I moved to North Carolina for school, graduating Phi Beta Kappa from UNC-Chapel Hill in 2013 with a BS in Business Administration, a second major in Economics, and a minor in History. After graduation, I moved back to DC, where I worked in the Healthcare practice of Huron Consulting Group. At Huron, I worked with large health systems, academic medical centers, and physician groups on post-acquisition integration strategy, performance improvement, and technology implementation projects. I spent the summer between graduation and starting at Huron in Tanzania volunteering at the Maasai Joy Children's Centre, an elementary school near the base of Mt. Kilimanjaro, and I have been on the advisory board of the organization since then.
Reena Glaser
I am originally from Long Island, New York (specifically Smithtown if you are familiar with the area!). I graduated summa cum laude from Princeton University with an AB in Psychology and certificates in Neuroscience, Gender & Sexuality Studies, and Theater. I have worked for the past 3.5 years at Deloitte as a Strategy Consultant in their Federal Health practice in Washington, D.C. and hold a Certification in Patient Experience (CPXP). I have advised six executive-level clients from provider, payer, life sciences, and public health agencies at the local, state, and federal levels. I also founded the nonprofit skills-based volunteering team within Deloitte's Women's Initiative. By building partnerships with three nonprofits serving women and girls in the DC community, we provided leadership roles to over 70 female junior practitioners at Deloitte.
Jan Gong
I am originally from Long Island, New York, and graduated from Harvard in 2015 with an A.B. in Chemical and Physical Biology and a secondary in the Classics. After college, I started medical school at Penn's Perelman School of Medicine and recently completed my third year. During medical school, I interned at H.C. Wainwright as a biotech equity research associate and RTW Investments as a biotech analyst, where I conducted basic science due diligence and fundamental analysis on potential investments in the gene therapy, hematology/oncology, and neurodegenerative disease spaces. I have also worked on several research projects investigating the mechanisms of oncologic and immunologic disease processes with the goal of uncovering potential drug targets.
Mike Greenberg
After growing up in the SF Bay Area, I attended college here at Penn where I graduated from the Vagelos Life Sciences and Management dual-degree (BA & BS) program in 2012. During undergrad at Penn, I majored in Biological Basis of Behavior in the College and Finance in Wharton. After graduating, I spent three years as a management consultant in New York at Leerink Partners, a boutique healthcare-focused firm. At Leerink I delivered strategic analyses to biopharma companies on topics including financial valuation, pricing & market access, competitive landscape assessments, and business development & licensing strategy. After three years in New York, I then moved to Boston to join PureTech Health (formerly PureTech Ventures), a hybrid venture capital and biotech company investing in and developing next-generation medicines. During my time at PureTech I was responsible for evaluating new investment opportunities, managing growth strategy projects and operations for existing portfolio companies, and developing capital allocation strategies to support investment decisions and long-term growth for the firm. One project I worked extensively on was the initial investment, launch, and IPO of a new PureTech portfolio company, resTORbio (NASDAQ:TORC), a clinical stage infectious disease company.
Chris Greeno
Originally from Edina, MN, I graduated cum laude from Williams College in 2014, where I studied Biology and Economics, and captained the varsity swim team. Post-grad, I headed to Boston to work at a boutique life-sciences consulting firm, Clarion Healthcare. During my 3.5 years at Clarion, I focused primarily on go-to-market strategy, market access, and revenue forecasting for a wide range of clients, including pre-revenue biotech, digital health, and top-5 pharma, across numerous therapeutic areas. On the side (more importantly?), I was the co-chair of the social committee and long-time curator of the office beer fridge. Outside of work, I've spent the last year co-founding a recreational axe-throwing business in Everett, MA which, while the business has little overlap with healthcare, has been a great intro to entrepreneurship.
Alex Hariri
I grew up in Bernardsville, NJ and graduated from Princeton University in 2013 with an A.B. in Ecology and Evolutionary Biology where I specialized in epidemiology and completed field research in Kuching Malaysia for my senior thesis. This past year, I earned my Masters in Biotechnology from Georgetown University. Following my graduation from Princeton, I moved to New York City where I worked in scientific publishing at Scientific American Magazine. As an editorial researcher I worked on the Worldview Edition as well as several issues devoted to major health care topics. After Scientific American, I spent some time at biotech start up spun out of Oxford University. Most recently, I have been working as a project leader and associate director of business development at LifebankUSA, a leader in placental and cord blood stem cell banking. While there I have been focused on the creation of novel programs, which provide access to donor-directed cell banking services for families battling a number of diseases currently treatable by cell therapy or under clinical investigation such as autoimmune diseases and autism. I have also been working to update and refocus the marketing strategy of the company to distinguish us from the overcrowded market.
Elston He
I grew up in Castaic, California, and graduated cum laude from Harvard College in 2013 with a A.B. in Philosophy. After graduation, I worked on the high yield research desk at Citigroup, covering project finance assets for two years. I then moved to Guggenheim Partners as an investment associate, focusing on opportunistic private credit and structured equity investments in various industries, including healthcare technology and the payor provider space. Prior to starting the dual degree JD/MBA at Penn, I worked at Roivant Sciences incubating and launching Datavant, a big data focused startup optimizing clinical trial processes. I continue to work at Roivant Science's corporate venture capital division, focusing on technologies that improve the drug development process.
Andres Hernandez
I grew up in Miami, FL and graduated summa cum laude from the University of Central Florida in 2015 with a B.S. in Biomedical Science. At UCF I found an interest in the underserved population and invested countless hours in migrant farm worker camps/free healthcare clinics and grade schools as a medical translator and mentor, respectively. Upon graduation from UCF I matriculated into medical school here at Penn. In my first year of medical school I worked with Twine, a Wharton based analytics start-up, just as they were getting off the ground and was fortunate to be mentored by the company's founders. I am also passionate about research and have published multiple cost analysis papers within the field of plastic surgery. At Penn I have served as a Course Representative and am currently our class Treasurer. During my clinical rotations I developed an interest in understanding the impact that healthcare systems and insurance models have on the delivery of healthcare to the underserved community I worked with for so many years.
Scott Heyman
Born and raised in San Diego, I moved east for college at Johns Hopkins University where I graduated Phi Beta Kappa with a B.A. in Public Health Studies and a minor in Economics. After graduation, I moved to DC to work at Compass Lexecon where I worked in antitrust regulatory and litigation matters. I then transferred to FTI Consulting's Center for Healthcare Economics and Policy (parent company of Compass Lexecon) where I used economic analysis and modeling to assist hospitals and healthcare systems with regulatory, policy, and population health issues. I primarily focused on patient choice modeling – using historical patient care data to predict where patients would seek care in the future – applied to health system strategy and antitrust projects.
Olivia Jew
As a native of the San Francisco Bay Area, I attended Stanford University and graduated Phi Beta Kappa with a BA in Human Biology with Honors in 2014. At Stanford, I worked on several global health projects and spent a summer designing health education materials for a non-profit children and women's clinic in rural Guatemala. I also spent a summer interning for a start-up called HealthTap as it prepared to launch its mobile app. After graduating, I worked as a full-time instructor teaching physiology, molecular biology, and health policy to sophomores at Stanford. I then hopped across the country to start my medical training here at Penn's Perelman School of Medicine. I served as Vice President of HealthX, a student group that produces events focusing on the intersection of medicine, healthcare management, and entrepreneurship. I also served as Treasurer for a student-run free clinic in West Philly. I have worked on several projects in telemedicine and quality improvement, including a pilot for a mobile teledermatology app at the Children's Hospital of Philadelphia now being profitized for use throughout the hospital system.
Yiqin Jiang
I was born in Shanghai, China before coming to the US when I was five, growing up in the suburbs outside Worcester, MA.  I went to undergraduate at Williams College, graduating magna cum laude and majoring in Biology and Psychology with a concentration in Neuroscience in 2013.  I then joined a boutique management consulting firm, Palladium, focusing on strategy execution.  At Palladium, I worked across a range of industries, from rail to enterprise software to government, but garnered a focus in healthcare.  Specifically, I've consulted for major health insurance companies, medical publishing, and the Qatar Ministry of Public Health.  After an acquisition, I joined a team developing new consulting services for helping companies develop and implement strategies to intentionally create positive social impact with a financial return, targeting large health product companies.
Sam Kahn
Born and raised in Miami, Florida, I graduated from the University of Florida in 2013 with both an M.S. and B.S. in Finance. Following graduation, I joined the Mergers & Acquisitions group at Jefferies in New York. While working in investment banking, I advised on a broad range of transactions across various industries, including healthcare services. After surviving my first two snowy winters, I traveled west to San Francisco and joined the Private Equity team at GI Partners. During my three years at GI, I focused on evaluating and executing upon investment opportunities in the healthcare IT and healthcare services sectors.
Kathryn Kelley
I grew up just outside Boston in Wellesley MA and then attended Harvard College where I studied Human Evolutionary Biology, Government, and Chinese. After graduating cum laude in 2014, I joined Trinity Partners, a healthcare consulting firm headquartered in Boston. At Trinity, I worked with a range of domestic and international pharmaceutical, life sciences, and health-care delivery organizations on strategic initiatives, roadmap launch planning, and performance testing projects in oncology, orphan diseases, medical devices, and gene therapy. After three years at Trinity, I attended the Yenching Academy at Peking University in Beijing, China to pursue a fully-funded Master's degree in Chinese Studies. My thesis focused on the international regulation of germ-line editing (changing the DNA of embryos) with a focus on the US and China.
Garrett Klein
I grew up in a small town in Ohio that is ~30min east of Columbus and graduated from the University of Pittsburgh with a degree in Industrial Engineering in 2013. After school, I joined McKinsey's Pittsburgh office as a business analyst and bopped around the US doing consulting projects for two years. In my third year with McKinsey, I pursued an international secondment (fancy word for externship) at a healthcare IT / anti-counterfeiting social enterprise in Mumbai, India. Following that I took five months off to "Eat Pray Love" where I attended a silent mediation retreat and stayed at a yoga ashram in India, motorbiked Vietnam, traveled the rest of SE Asia & Hong Kong, learned to dive, and went surfing in Bali. After all of that fun, I locked myself to my desk in private equity for two years at Advent International. At Advent, I spent my time focused on the healthcare sector, investing in healthcare services, med tech, and pharma businesses. I also led initiatives at two of our portfolio companies: ATI Physical Therapy, the largest pure-play PT company in the US with 700+ clinics, and Genoa Healthcare, the leading pharmacy focused on serving the needs of the behavioral health community.
Zach Laskin
I grew up in Bryn Mawr, PA, just a stone's throw and 20 minute drive away from Penn's campus. I left the east coast to study finance, healthcare management and international business at Washington University in St. Louis. After graduation, I helped support BlackRock's technology platform, and then transitioned to Citigroup, as a member of the internal M&A team focused on divesting legacy Citigroup financial businesses. In 2016, I started at Pomona Capital, a private equity secondaries firm, where I focused on investments in seasoned private equity funds. I didn't particularly focus on healthcare, but I reviewed multiple practice consolidation transactions as a part of our investment diligence process. More recently, I interned at Eden Health, a tech-enabled concierge medicine startup focused on providing primary care to employees. There, I worked on the firm's pricing strategy for PEOs and individual employers as well as claims data analysis.
Andrew Lay
I grew up in a small town in western Tennessee and graduated from Duke in 2013 with a dual major in biology and history (not the most common of combinations!). After graduation, I moved to the DC area and have spent the last five years working for MAXIMUS Inc., a company that focuses on program management and consulting for public sector health and human services programs. I came on board right as the Affordable Care Act was being implemented, and I spent my first year with the company helping stand up the technical infrastructure and customer service operations for the Connecticut, Vermont, and New York state-based health insurance exchanges. After that, I worked on a wide array of projects, ranging from implementing a new integrated long-term care program in Kansas to helping Virginia plan ahead for their recent Medicaid expansion. For the last few years, I have led my own team within the company's U.S. health organization focused on identifying adjacent markets for development and investigating targets for either strategic partnerships or acquisition.
Harrison Lee
Raised in Oakland, California, I moved to the East Coast to attend Princeton University, where I graduated magna cum laude and Phi Beta Kappa in 2015 with an A.B. in Chemistry and a certificate in global health policy. After college, I came to Penn to pursue my goal of becoming a physician and have since completed 3 years of medical school. During this time, I found a passion for the systems-level challenges in healthcare, and I was excited by the opportunity to improve lives and drive change on a larger scale. In my first year, I volunteered at the United Community Clinic in West Philadelphia, where I was fortunate to become the lead medical coordinator in 2016, and I spearheaded several quality improvement projects to increase efficiency and expand services at the clinic. The following summer, I interned at the Penn Center for Health Care Innovation, where I designed and tested strategies to improve the value of time spent during primary care office visits, a project that has spawned several pilots across various departments in the Penn Health System.
Scott Lever
I grew up in Livingston, NJ and graduated from Penn State University in 2012 with a B.S. in Finance.  After school, I joined the Marwood Group, a strategic healthcare consulting firm HQ'd in NYC.  I began as an analyst and Chief of Staff to the Chairman/CEO where I managed strategic projects for the C-suite and supported consulting and M&A diligence engagements for our healthcare investor and provider clients (PE firms, hedge funds, payors/providers).  In 2014 I was promoted to Vice President and focused on business development, strategic partnerships and new growth initiatives.  My work exposed me to 50+ healthcare subsectors within Payors/Managed Care, Post-Acute Services, PBMs & Distributors, and Physician/Outpatient Services.  Noteworthy achievements include leading the go-to-market strategy for a new Marwood consulting division and developing a capitated radiology insurance product for subsidiary company US Imaging.  In addition to my core work, I led the firm's summer analyst program where I mentored and supervised over 75 summer analysts.
Shuaiqing Liu
Born and raised in Beijing, China, I graduated cum laude from UNC-Chapel Hill in 2013 with a B.S. in Public Health and a second major in Mathematical Decision Science. After interning in both Chinese and US CDC during school, I decided to explore the corporate world and thus joined Aon consulting helping employers saving healthcare cost. As an actuary, I helped my clients with annual renewal process, spinoffs, and M&A benefits due diligence, with a strong focus on total cost of care analysis, risk quantification, and benefit plan design/redesign and pricing. In addition to the traditional actuarial analytics and consulting services, I served as the lead project manager for Aon Health technology industry vertical to promote wellness in Silicon Valley and find programs to reduce costs. Given my background, I also helped several firms headquartered in China successfully branch out in the US, including Alibaba.  As a fellow at the Society of Actuary and a member at the American Academy of Actuaries, I serve as the external relations coordinator for the Public Health Task Force of the Society and sits on the Healthcare Delivery Committee at the Academy.
Thomas Marder
I grew up outside Boston and graduated cum laude from Dartmouth College in 2012 with a BA in Neuroscience. As an undergrad, I worked in a behavioral neuroscience lab and completed an honors thesis on learning and memory. Initially planning a career in scientific research, I took a position at the Joslin Diabetes Center, where I investigated a diagnostic imaging test for Alzheimer's disease in diabetic patients. After two years at Joslin, I was eager to learn about the commercialization of scientific developments, so I joined Putnam Associates, a boutique life sciences strategy consulting firm in Boston. In my four years at Putnam, I supported dozens of pharmaceutical companies on commercial strategy engagements ranging from product launch planning to lifecycle management strategy. My project work focused mainly on the oncology space, and I most enjoyed working on market access strategies for some of the first approved cell and gene therapies.
Morgan Matthews
Born and raised in Sarnia, Ontario, Canada, I moved to the United States in 2010. I subsequently graduated from Harvard in 2014, having achieved an A.B. honors degree in Human Developmental and Regenerative Biology. Following my time at Harvard I joined Putnam Associates, a life sciences, strategy consulting firm located in Boston (and San Francisco). During my time at Putnam I served global biopharmaceutical and biotech clients, driving to actionable, strategic insights through rigorous data analysis and primary market research (with physicians, patients and payers, both US and ex-US). My work spanned the product life cycle and a variety of disease areas, including: vaccines, oncology, CNS disorders, autoimmune, infectious, cardiovascular and rare disease. Putnam also afforded me early leadership exposure, as I lead teams as a project manager (consultant).
Danny McDonough
After growing up in Milwaukee, WI, I moved to the east coast to attend Georgetown University, where I graduated magna cum laude with a B.S.F.S. in International Economics. I first gained exposure to healthcare during my summer internship at Credit Suisse in the firm's investment banking M&A group and subsequently joined Credit Suisse's investment banking healthcare coverage group for my full-time two-year analyst program. I maintained my focus on healthcare as I transitioned from investment banking to private equity and moved back to the Midwest, joining GTCR's healthcare group in Chicago in 2015. Over the past three years, I helped GTCR evaluate investment opportunities across the healthcare space but developed a particular expertise in healthcare's life science tools and diagnostics subsector, as I executed transactions involving companies that manufacture reagents for tumor pathology, genomic analysis, and biologic drug development. While in Chicago, I enjoyed helping to organize and approve grant funding for public schools as a member of Chicago Foundation for Education.
Jennifer Morganroth
I grew up outside of Philadelphia and graduated from the University of Pennsylvania in 2013 with a B.S in Economics and English with a focus in cinema studies. After graduation, I worked on concussion research at NYU Langone Medical Center. In that role, I developed the primary database for concussion research registry and sideline testing in youth athletes. I left my research role to complete a post-baccalaureate at Bryn Mawr College, and am currently a medical student at the University of Pennsylvania. During medical school, I volunteered at University City Hospitality Coalition free clinic and spent a summer investigating immunotherapy in transplantation. In addition, I participated in Health X Labs to create an online platform called Spectrum Scores to connect LGTBQ+ patients with physicians who are competent in their needs. I am currently exploring research opportunities in neurology while at Wharton.
Elizabeth Morse
I grew up in the Maryland suburbs of Washington, D.C., and graduated from Dartmouth in 2015 with Honors in Biology with a concentration in Molecular Genetics, a minor in Psychology, and a certificate in Global Health.  While an undergraduate, I worked in an immunology lab at the National Cancer Institute and did a marketing internship at Eli Lilly. After college, I joined ClearView Healthcare Partners, a life science strategy consulting firm in Boston.  At ClearView I worked with pharmaceutical and biotech firms on market opportunity assessments, commercial due diligences, and indication/pipeline prioritizations. I was co-chair of the firm's Women LEAD (Leadership, Empowerment, and Development) committee, and was involved in corporate responsibility initiatives. I also volunteered with Community Servings, the Boston Healthcare for the Homeless Shelter, and the Greater Boston Foodbank.
Diana C. Mosquera, MD
I was born in Cali, Colombia and moved to New York City with my family at the age of 12.  I graduated Phi Beta Kappa from SUNY Stony Brook in 2009 with a B.A. in Economics. After completing an AmeriCorps HealthCorps fellowship focused on improving cardiovascular and diabetes health outcomes in the South Bronx, I attended Weill Cornell Medicine, earning my M.D. in 2014.  In June 2018, I completed a four year residency in Anesthesiology & Critical Care at the Hospital of the University of Pennsylvania. As a resident physician I was selected to the Healthcare Leadership in Quality track, a program designed to prepare residents for leadership careers in healthcare quality improvement, informatics and patient safety, through participation in clinical leadership teams and implementation of a quality improvement initiative. Caring for patients in an acute hospital setting and understanding the economic pressures faced by patients and physicians further defined my interest in improving health outcomes through health care delivery system redesign and value-based purchasing. I am currently an Attending in the Department of Anesthesiology and Critical Care at Penn Medicine and will continue working while at Wharton.
Misha Nasrollahzadeh
I was born and raised in the suburbs of Detroit before moving out to Stanford, where I studied Management Science and Engineering with a focus in Organization, Technology, and Entrepreneurship. After graduating in 2013, I joined Palantir Technologies on their budding healthcare team, where I focused on business development and product management for payor and pharma clients. During my time, I helped sign our first $10MM contract with a top-3 payor, built our first healthcare fraud investigation platform, designed an interface to operationalize clinical trial recruitment processes, and trained case managers on how to identify and outreach at-risk patients. I also had the opportunity to build out Palantir's first Paris office, while expanding our scope of work with a global insurance company. Palantir gave me the healthcare bug and after 2.5 years I jumped over to the consumer side and joined Castlight Health in product management. Castlight is a health benefits navigation platform that helps self-insured employers provide a solution to their employees to better access, utilize and find relevant care. I built our first employee benefits discovery product, co-developed our cost transparency offering with Anthem, and will ship our new market offering in August, which combines healthcare transparency and wellbeing into one platform.
Kristen Nehls
I grew up right outside Philadelphia and graduated from Dartmouth in 2014 with a BA in Molecular Biology. While in undergrad, I spent all 4 years working in various biology labs, focusing on identifying new therapeutic targets in cellular pathways often disrupted in cancer. After graduating, I left the bench and went to explore business disciplines outside of biology. I joined Oliver Wyman's New York office and worked as a management consultant in a number of industries ranging from financial services and fine arts to logistics management and telecommunication, largely focusing on leveraging consumer analytics to drive better marketing and operational decisions.
Ilana Nelson-Greenberg
I grew up in Brooklyn, NY, graduating with honors from Brown University in 2010, where I majored in Development Studies (developing countries – not babies or money!) with a focus on global health. I then spent a year in Kibera, Kenya, one of the largest informal settlements in Africa, as the Health Services Director for Shining Hope for Communities, an organization dedicated to women's empowerment. There, I helped open the Johanna Justin-Jinich Community Clinic.  The following year, I went to work at Partners In Health (PIH) where I worked on their Development team before becoming a Program Coordinator for the Haiti team.  In that role, I helped with the opening of Hopital Universitaire de Mirebalais, traveling between Haiti and our Boston offices. Once the hospital opened, I worked more broadly with the Haiti team, supporting Zanmi Lasante (the Haitian sister organization) throughout the Central Plateau. It was during my time at PIH that I decided I wanted to become a doctor; I completed my pre-med requirements at Bryn Mawr and joined the entering class of Penn Med in 2015.
Natalie Pancer
I was born in Barranquilla, Colombia (where Shakira is from!) and moved to South Florida when I was eight years old. I attended Yale University and graduated in 2014 with a major in Biomedical Engineering. After graduation, I moved to New York City and worked at Beghou Consulting, where I conducted sales and marketing data analysis for mid-size pharma and biotech companies. After about a year, I joined Pfizer Consulting & Execution, the company's internal consulting team. There, I worked on a variety of strategy and process improvement projects across the company in areas such as early stage research, clinical trial innovation, R&D compliance, and digital marketing.
Alomi Parikh
I grew up in Holmdel, New Jersey, and went to college at Princeton, where I majored in chemistry with certificates in global health & health policy as well as neuroscience. At Princeton I was involved in various public health initiatives including a push to vaccinate all students against a dangerous outbreak of meningitis B. Since then I have been enrolled as a medical student at Penn, where I have developed an interest in ophthalmology. In medical school I have served in various leadership roles for United Community Clinic, a student-run clinic in West Philadelphia. I have also had the opportunity to pursue my passion for improving patient care at the systems level by participating in and designing several quality improvement initiatives at UPHS hospitals.
Arpan A. Parikh, MD
Born and raised in Northeast Ohio, I attended The Ohio State University as a member of the 7-year BS/MD program. I earned my BS in Biology Summa Cum Laude with honors in 2010 and went on to earn my Doctor of Medicine (MD) degree from the Ohio State University College of Medicine in 2013. I matched into the adult psychiatry residency program at Mount Sinai-St. Luke's/West Hospitals in New York City, and fostered my passions for both clinical medicine and teaching while there. Following residency, I accepted a faculty position as Medical Director of the Addiction Institute at Mount Sinai-St. Luke's, where I led an outpatient addiction psychiatry clinic on the Upper West Side of Manhattan. In addition to the clinical responsibilities of caring for my patients, I spearheaded initiatives to reduce the stigma and barriers to care that patients suffering from substance use disorders face. Outside of my core work, I continued to teach and supervise medical students and psychiatry residents across the Mount Sinai Health System and worked to examine issues related to wellness and burnout amongst medical trainees.
Niyoshi Patel
I was born and raised in Philadelphia. In 2012, I graduated with honors from the University of Pennsylvania (I obtained a B.S. in Economics and a B.A. in Biology through a dual degree program called the Life Sciences and Management Program). After school, I moved to New York City, where I worked in healthcare private equity at Great Point Partners and Athyrium Capital. At these firms, I was able to source, diligence, and execute a number of deals across the healthcare spectrum. I then entered industry and joined the business development team at Purdue Pharma, where I completed acquisitions to help the company transition away from its heavy reliance on opioids. Outside of work, I provided pro-bono consulting services to various biotech startups in NYC.
Parth Patel, DMD
I grew up in Philadelphia, Pennsylvania, and graduated cum laude from The University of Miami in 2011 with a BA in Economics. I then went on to enroll at the University of Pennsylvania School of Dental Medicine, in which I recently earned my Doctor of Dental Medicine degree in May 2018 and completed clinical externships in London and Tokyo. During my first year of dental school, I co-founded Smile Culture Dental- a consumer-focused dental support organization with two current multi-specialty locations in Greater Philadelphia.  At Smile Culture, our clinical team now includes 15 talented doctors and I currently spend the majority of my time in an administrative capacity, handling financials, our growing human resource needs, marketing campaigns, and opportunities to continue scaling our DSO and providing patient-centric care to more communities. Clinically, I plan to practice part-time and continue to advance my dental expertise and skill set. Outside of Smile Culture, I am a proud Fellow at The Kairos Society and Committee Member at Young Friends of Philly Fights Cancer.
Jason Peterson
I grew up on the sunny beaches of Tampa, Florida and was introduced to the brutality of northeast winters while attending undergrad at Yale where I studied history and biology. After a short stint at an international eye nonprofit I earned an MPH from Columbia focused on healthcare policy. I then proceeded to not use that degree while working in portfolio management. I eventually learned the error of my ways and returned to healthcare; first as a healthcare stock analyst and then as a healthcare technology entrpreneur in Texas. Most recently I started the corporate venture capital practice at a healthcare tech company called Roivant Sciences where I focused on the software/hardware of life science innovation.
William Perry Craighill Rice
I am a Virginia native who graduated Cum Laude from Northwestern University in 2015 with a degree in Economics. From there, I immediately took a job at McKinsey & Company as a Business Analyst. At the Firm, I did a random walk, exploring everything from finance to fashion to healthcare. During my second year at McKinsey I focused on provider work, during which I served some of the largest healthcare systems in the United States. I then took a third year rotation with McKinsey's Healthcare Analytics and Delivery to understand the cross-section between big data and health care.
Lora Rosenblum
I grew up in the Boston suburbs (go Pats) and graduated cum laude with Distinction from Penn with a BA in Health & Societies and a minor in French. After graduating, I moved to Center City Philly to work as an analyst for Wells Fargo's Healthcare Financial Services team, serving not-for-profit hospitals and healthcare systems. Ready to leave Philadelphia after six years, in 2014, I moved to New York and joined the team at Oscar Insurance when it was ~100 employees strong. At Oscar, I worked on our Service Operations team, which entailed building & managing our complaints division as we expanded to new states and scaling our customer service team to increase how efficiently we resolved issues for our customers and provider network. After two years at Oscar, I transitioned to Flatiron Health, where I helped form our Operational Excellence team. At Flatiron, I focused on a variety of internal consulting projects, identifying and executing against opportunities to help support the company's rapid scale. Projects of mine have included: building Flatiron's offering for MIPS (a government-run reimbursement program); product managing a customer KPI dashboard; and supporting our comms strategy after the Roche acquisition.
Ying Ying Shi
I was born in Shanghai, China, and raised in Cochabamba, Bolivia. In 2012, I completed my studies with Best Student Awards from BA in Economics (Bolivia) and MSc. in Finance (France). After graduation, I worked at a healthcare M&A boutique in Tuttlingen, Germany, a town where over fifty percent of the world's surgical equipment is manufactured. During that time, I managed multiple sell- and buy-side M&A projects for both multinational and innovative medical device companies. Later, I worked as Chief Organization Manager of the first German big data start-up that offered solutions for healthcare and financial organizations. Finally, I joined Accenture's Global Corporate Strategy and M&A team and led cross-border carve-out and integration projects for global medical device and pharmaceutical corporations. During these last two and a half years, I worked on the front line in China, Hong Kong, Singapore, Switzerland, the Netherlands and Germany, helping clients across various functions (customer service, quality and regulatory affairs, finance, etc.) complete M&A transactions while continuing to serve customers.
Romana Sohail
Born and raised in Lahore, Pakistan, I graduated from Lahore University of Management Sciences with a major in Mathematics. After school, a cold email (and 8 phone interviews) took me all the way from Lahore to Philly to work for Cigna, where I assessed the impact of the Affordable Care Act on the health insurance business and helped develop new US healthcare products. As my project ended, I moved to Singapore to work for Mercer as a regional healthcare consultant focusing on healthcare cost containment projects for clients all across Asia. I also completed an M&A secondment with eBay Inc. and got to work on the spin-off as the company split into two parts (eBay and PayPal). After Mercer, I took a corporate development role with AXA (a large insurance company). I joined AXA at a time when the company was looking to aggressively grow the healthcare line of business, and I was involved in acquiring several health insurance businesses. My responsibilities spanned M&A strategy, and deal execution for both long-term operating agreements and acquisitions. Most recently, I worked with TVM Healthcare (a 1.8 billion PE firm) to shape their investment thesis in the health insurance space. I have also finally completed the never-ending series of actuarial exams and after spending way too many evenings studying, recently qualified as a Fellow of Society of Actuaries, USA (Healthcare Track).
Evan Strother
I grew up in the Washington D.C. area and graduated from Duke in 2013 with a B.S. in Civil Engineering. During my internship and after graduation, I worked at McKinsey & Company as a Business Analyst out of the Atlanta Office. Apart from a few odd-ball consulting projects (e.g., New Zealand Dairy Business), I spent the majority of my time focusing on technology and healthcare provider operations. After McKinsey, I moved to San Francisco to work at YouTube as a Product Specialist. I worked on the mobile apps and recommendations (i.e., the enabler of your "YouTube rabbit holes"). Over the past year, I worked at FFL Partners, a private equity firm, as an Operating Associate. At FFL, I focused on improving the performance of many of our healthcare service companies.
Rishi Taggarsi
I grew up in the Bay Area, CA, and graduated from UC Berkeley in 2013 with a B.A. in Political Economy. After graduation, I worked in San Francisco at L.E.K. Consulting, where I advised national health insurers, hospitals, digital health companies, and PE/VC firms on strategic issues such as market entry, new product development, valuation, and commercial due diligence. I also hopped across the pond to the London office on a half-year stint to help European clients forecast the financial impact of Brexit. Last year, I moved to NYC and joined CipherHealth, a growth stage digital health company that provides care coordination solutions to physician practices. As a Strategy & Analytics Lead, I worked closely with the C-Suite at hospitals on improving the patient experience and reducing readmissions. Beyond work, I am passionate about enhancing the human-centered approach to end-of-life care and advised the leadership teams of two nonprofit hospice agencies.
Aaron Thomas
I grew up in Houston, TX and then attended Brigham Young University, graduating summa cum laude in 2012 with a BS in Business Management and a Minor in Music. I moved to New York and spent 2.5 years as an investment banker in the Natural Resources Group at Goldman Sachs, predominantly focusing on power, energy, and renewables companies. I next joined Cohen Private Ventures, Steven Cohen's family office, as a private equity associate. Although a generalist, I spent significant time evaluating venture and private equity deals in the healthcare industry. My investment experience ranged from early-stage telehealth and patient engagement software companies to later-stage cost management and payment integrity companies.
Jennifer Thornton
After growing up in the Boston area, I graduated from MIT in 2015 with a BS in Biological Engineering and a minor in Philosophy. The majority of my undergrad days were spent in a biological research lab until I put down the pipette to explore an interest in business, pivoting to management consulting. I stayed in Boston post-graduation to work as a consultant for the Boston Consulting Group, where I've largely focused on healthcare casework. My projects at BCG have included mergers, due diligences, and strategy work for pharmaceutical, med tech, and global health companies.
Shilpa Topudurti
Originally from the Chicago area, I graduated in 2014 from the University of Rochester with a BS in Molecular Genetics. After graduation, I attended the London School of Economics for my Masters in International Health Policy. While in London, I worked with McKinsey's Center for Health Outcomes to complete my dissertation analyzing outcomes-based contracting schemes between life sciences suppliers, payers, and providers. At McKinsey, I was staffed on multiple consulting engagements within the Pharmaceuticals & Medical Products practice, primarily related to market access strategy and commercial product launches across Europe. I returned to the United States to join the Corporate Strategy team at the Advisory Board Company, a provider focused health care research, technology, and consulting company. My work concentrated on redefining the firm's overall growth strategy and commercializing new technology products, specifically in the areas of post-acute care and clinical decision support. Most recently, I have focused on integrating the Advisory Board and Optum Analytics technology product portfolios and establishing the joint technology business strategy following the firm's acquisition by Optum.
Nina Underman
I grew up in Carmel, Indiana, where I ate a lot of corn and played a lot of soccer. I then attended Bowdoin College in Maine, where I played ultimate Frisbee & killed goldfish in a basement neuroscience lab. After graduation in 2015, I moved 15 minutes south to Portland and have spent the past 3 years hiking & expanding my Midwestern palette to include seafood. To fund this lifestyle, I've worked at MaineHealth, a health system of 10 hospitals serving 70% of Maine's patients. My job was project-based, but the overall goal was to keep the doors of Maine's rural hospitals open. Lots of rural hospital financing, operations, and service delivery strategy. I also ran our all-payer claims data set and never set up my voicemail.
David Wang
I grew up in the San Francisco Bay Area and moved east for college. In 2014, I graduated from Duke University, summa cum laude and Phi Beta Kappa with a B.S. in Economics. Upon graduation, I started my career in New York, working in healthcare investment banking, first at Jefferies and then at Morgan Stanley. Afterwards, I joined the Private Capital Group at MSD Partners, an investment firm associated with Michael Dell and his family. At MSD, I evaluated private equity investments across many industries, but took an affinity to exploring the healthcare landscape. I also worked with portfolio companies, including one serving the clinical trial space. Outside of work, I enjoy helping Alzheimer's patients and volunteer with CaringKind, a NYC-based Alzheimer's support organization.
Sarah Weber
I graduated from Williams College in 2011 with a major in psychology and a minor in neuroscience. I began my career with 2 years of clinical research at Boston Children's Hospital. But I was intrigued by healthcare roles outside of academia and so I took an analyst position at a start-up called Marketing Evolution. There, I helped to optimize pharmaceutical marketing campaign spend and strategy. I've spent the last 3 years performing sell-side equity research at Piper Jaffray, an investment bank in NYC. Our team focused on publicly-traded biotech companies developing new drugs for CNS and orphan indications.
Daichen Wei
I graduated from University of California, Berkeley with a B.A. in Economics. After college, I joined KPMG Advisory Services practice in San Francisco. When I first joined KPMG, I focused on analyzing large and complex datasets to detect key patterns, identify risks, and recommend business solutions. I later applied these skill sets to serve the needs of pharmaceutical companies in matters related to compliance with government regulations and contracts. For example, I have worked on projects to advise manufacturers regarding government drug pricing calculations, strategies, and methodologies and to develop tools that measure drug utilization performance across consortiums.
Richard Woo
Born in Brazil and grew up in the Midwest, I went to Rice University where I graduated in 2013 with a B.A. in Mathematical Economic Analysis. After graduating, I joined J.P. Morgan's healthcare investment banking coverage group in San Francisco where I worked on capital markets and M&A transactions for biotechnology, pharmaceutical and medical device clients. In 2015, I joined HealthCor Partners, a late-stage venture / growth equity investment fund where I was responsible for sourcing and evaluating new investment opportunities in the digital health, specialty pharmaceutical and medical device sectors as well as monitoring existing portfolio company performance. After HealthCor, I joined Amgen as a Strategic Planning and Operations Manager in the Device and Final Drug Product Technologies group, where I managed resource forecasting, performance metrics and development timelines across the Amgen product portfolio.
Schuyler Yost
I grew up in Denver, Colorado and graduated from Colgate University in 2011 with a degree in English and Economics. I co-founded Oxeon Partners, a healthcare executive search and investment firm in NYC in the Fall of 2011, where I built teams for clients like Evolent Health, Landmark Health, and the Advisory Board Company. In 2015 I joined the Founding Team of one of my clients–Quartet Health–a mental health technology company in New York. As Quartet's Chief People Officer, I oversaw Recruiting, Human Resources, and Culture as we scaled from 5 to 150 people and raised funding from GV (formerly Google Ventures), Oak HC/FT, and F-Prime. I had the opportunity to spend the summer before Wharton working at the Center for Medicare and Medicaid Innovation within CMS, where I focused on building a proactive recruiting strategy and cultivating a high-performance culture. I've also done independent consulting work for Aetion, Caredox, and the Breakfast Revolution (non-profit founded by recent Wharton grad).
Click on covers to see e-books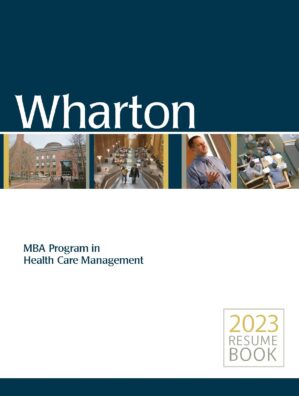 Resume Book 2023 (pdf)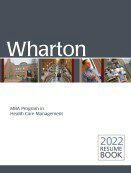 Resume Book 2022 (pdf)