HCM CLASS OF 2022 STATISTICS
Male: 40
Female: 33
Years Out of Undergraduate School
< 2: 0
2-4: 39
5-7: 28
8 <: 6
Undergraduate Majors
Liberal Arts and Social Sciences: 18
Sciences: 17
Engineering: 11
Business and Economics: 26
Pre-Professional: 1
Graduate Degrees Held
MD: 2
Joint MD/MBA Program: 5
JD: 1
Masters of Engineering: 4
Masters of Accounting: 1
Masters of Computer Science: 1
Masters of Infomatics: 1
Masters of Asian Studies: 1
Doctor of Nursing Practice: 1
HCM CLASS OF 2022 PROFILES
73 students
Emily Albert
Born and raised in the suburbs of Philadelphia, I moved to western Massachusetts to attend Amherst College. I graduated in 2015 with a major in Psychology and a focus in Pre-Med. Although I decided not to pursue a career as a Physician, I knew I was passionate about healthcare and began my career at Huron Consulting Group (NYC) upon graduating. During my five years at Huron, I worked in the healthcare practice focused primarily on workforce management and productivity optimization at hospitals and health systems of various sizes, from large academic medical centers to small community hospitals. My work involved collaborating with executives and department leaders to design and implement process improvement initiatives to reduce expenses and improve patient throughput. While I focused primarily in the Emergency Department and Ancillary areas of the hospital, my experiences ranged the hospital continuum. This role helped me to gain a deep understanding of hospital operations and further reinforced my desire to focus my career on solving difficult problems in care delivery.
Thania Amberiadis
I grew up in San Jose, CA and graduated from U.C. Berkeley's Haas School of Business with a B.S. in Business Administration in 2015. I spent the first two years of my career in investment banking at Lazard, where I focused on M&A deals in the consumer, retail, and healthcare industries. After Lazard, I joined Ares Management's private equity team, where I had the opportunity to meet with management teams, develop financial plans and advise portfolio companies on strategic growth objectives. While at Ares, I evaluated private and public investment opportunities in the behavioral health, physician staffing and women's healthcare verticals. This led me to seek out an operational role at Bright Health, one of the fastest growing national health plans closely aligned with leading health providers. As the second hire in a growing corporate development team at Bright, I was presented with an opportunity to work directly with senior operators in the health insurance space to build a consumer-driven plan focused on the individual.
Tim Baker
Another consultant…sort of. As I'm sure many HCM students were, I was pre-med through college, but decided that practicing medicine wasn't something I could picture myself doing long-term. Having no business background, I somehow convinced a consulting firm to hire me.
I spent the next ~4 years working within the Health and Life Sciences practice of Oliver Wyman, a global management consulting firm, based in the NYC office. I worked with large regional payers, international pharmaceutical manufacturers, and several US-based hospital systems on projects typically focused on digital transformation and advanced data analytics.
The project that ultimately drove me to leave consulting was working for a "startup" that Oliver Wyman built and ultimately sold called Practicing Wisely. I worked as one of the lead product managers on the team for about a year, where I developed a more technical and process management skill set. I loved the start-up atmosphere where everything that needed to get done was seemingly possible if you just roll up your sleeves and figure it out. I'm hoping business school will allow me to continue developing my business toolkit, but more importantly, introduce me to creative, interesting people that like to solve tough problems.
Alexander Beschloss
I was born and raised in Washington, D.C. (in the actual city), after which I attended Williams College where I majored in Biology, pitched on the Varsity Baseball Team, and served as a Junior Advisor. During summers in college, I had the opportunity to investigate pathogenic factors of the JC virus at the National Institutes of Health, study post-operative bone healing in spine fusion surgery at Johns Hopkins, and serve as an intern to US Senator Ed Markey, focusing on healthcare policy and environmental projects. After college, I spent time at Stanford working on basic science research using CRISPR technology to investigate cartilage regeneration and at Global Oncology, a non-profit, developing a web-based interactive map to facilitate international oncological partnerships. Since then, I have spent the past 3 years as a Medical Student at Penn. While at Penn, I have pursued healthcare utilization research in spine surgery with Dr. Comron Saifi, investigated the role of drug repurposing in treating COVID-19 with Dr. David Fagjenbaum, helped develop a medical education curriculum on COVID-19, and designed and led the 2018 PennHealthX annual conference.
Anjali Bhatla
I grew up in Harlingen, Texas, and graduated from Rice University in 2017 with a dual major in Health Sciences and Policy Studies. While in college, I discovered my interest in advocating for underserved populations and working in the health policy arena. I founded END7 at Rice to advocate for the eradication of the seven most common neglected tropical diseases that affect more than one billion individuals. In addition, through work at the Baker Institute for Public Policy, the Ministry of Health in Nicaragua, and the Centers for Strategic and International Studies, I focused on how to build global health care systems. After graduating, I worked for the Department of Health and Human Services as a Truman Scholar where I worked on building the agency wide budget and legislative agenda. I then started my medical education at the Perelman School of Medicine at Penn. While in medical school I have focused on research that can affect the national conversation on healthcare delivery, through work conducted through the Leonard Davis Institute and the Cardiovascular Outcomes, Quality, and Evaluative Research Center. I currently serve on the board of Doctors in Politics, a political action committee that aims to support and encourage physicians to run for office.
Wilson Brace
I was born in Boston, but at the age of three moved overseas and was raised in England (with no accent to show for it). Fifteen years later, I returned to the U.S. and attended Duke University where I studied Biology, spending time in research labs studying monkey brains and mantis shrimp punches. After graduating, I joined Bain & Company as an Associate Consultant. During the following two and a half years I worked on cases including product strategy in the orange juice industry, assessing the potential impact of AI on radiology providers, as well as a six month stint in our private equity group performing corporate due diligence on healthcare-related deals. These experiences showed me how business thinking could lead to industry-level change, and sparked my desire to radically change the healthcare industry in order to make it more accessible and more affordable for everyone. Since then, I've been an Extern at Ginkgo Bioworks, a Boston-based biotech unicorn helping build a COVID-19 testing company, Concentric by Ginkgo, that will provide large-scale testing for schools and businesses.
Alexander Bronder
I was born in Washington, DC and have also lived in Detroit, the SF Bay Area, rural France, New Hampshire, Chicago, and Philadelphia. I studied Biological Sciences and Performance Studies at Northwestern University, where I graduated summa cum laude in 2015. I started my career as a management consultant at Oliver Wyman, where I focused on healthcare growth strategy and business model transformation for payers, providers, and related services such as EMRs and hospital facilities management. I also rotated through a product development lead role for an internal startup, Practicing Wisely, creating measures of appropriate care to evaluate physician practice. I left to gain operating experience at Versant Health, a private equity-owned vision insurance company, where I worked as a Senior Manager of Corporate Strategy. There, I drove value creation planning, led transformation initiatives, and launched our first company-wide online retail network. Over the past 4 years I have also volunteered as a mentor for low-income, highly-motivated college students.
Nicole Carpenter
I grew up in Westchester, NY, and graduated from Georgetown University in 2015 with a B.A. in Psychology and Women's & Gender Studies. At Georgetown I was pre-med, but decided post-graduate to pursue the business side of healthcare. After graduating, I joined a healthcare advisory and software firm, Kaufman Hall, as a management consultant and supported strategic and financial planning projects with numerous health systems. After a year, I transitioned to a similar role in at The Chartis Group, a management consulting firm focused in the healthcare provider space. In my 4 years at Chartis, I worked with academic medical centers, integrated delivery networks, and a research organization on a variety of projects, including strategic planning, provider partnerships, patient access, and behavioral health strategies.
movement.
Ping Chin
I was born in Taipei, Taiwan, but spent most of my childhood in Shanghai, China. I graduated in 2016 from Northwestern University with a degree in Anthropology. During college, I focused on biocultural anthropology and was fascinated by how people and communities interact with their healthcare system, which lead me to pursue a career in healthcare. Post-undergrad, I joined DaVita in Denver, Colorado and primarily led operations projects for their primary care business, DaVita Medical Group, which was acquired by Optum in 2019. Working in operations, I partnered with physicians across the business to build clinical and process solutions impacting patient experience.
Adam Cohen
I was born and raised in Abington, Pennsylvania, a suburb of Philadelphia. I graduated with high honors from the University of Virginia with majors in Biomedical Engineering and Economics. Following undergrad I further developed my technical skills by pursuing a masters in Biomedical Engineering at Duke University. Internships during this period in both engineering and business elucidated my interest in the intersection of these fields in the life sciences and led me to a job in life sciences strategy consulting at Health Advances, a boutique firm in Boston. Here I learned a great deal about the biopharma and medtech industries while also building leadership skills as I rose to the role of Engagement Manager. After four years in consulting, a desire to work with early stage technologies and to learn operations more broadly led me to my current role as an Associate at Broadview Ventures, a venture capital fund investing in seed-stage biotech and medtech companies. In this role I have contributed to the technical as well as business decisions that set the trajectory of our portfolio companies for years to come and have gained an appreciation for the what it takes to lead these ventures.
Gregorio Concha-Toro
I recently left an early-stage start up called Eleanor Health to sail from Australia to England for six months before Wharton (this was interrupted half-way due to COVID). At Eleanor Health I helped tackle the opioid crisis by assisting with operations and product development. I loved the operations and business development aspect of my role and not so much the product aspect. I helped launch their first outpatient clinic and selected operational products, such as EHRs.
Before Eleanor I was at Deloitte Consulting. I was very unsure of what I wanted to do when I graduated college so naturally I went into consulting to delay making any career commitments. I started my career in the strategy practice, focusing on providers. However, I also was exposed to a wide variety of projects from wind turbines OEMs to group purchasing organizations. After two years, I moved into Doblin, Deloitte' human-centered design / innovation group (super vague), designing new business models. I launched one new business that received $3M in venture funding.
Anumita Das
I grew up in Boston, MA and graduated from Harvard College, where I studied economics and health policy. After graduation, I spent two years on the healthcare investment banking team at Goldman Sachs, advising companies on M&A, debt, and equity transactions across the healthcare ecosystem, though predominantly in the biopharma industry. For the past two years, I've worked in impact investing at Bain Capital, investing in mission-driven companies that deliver both social and environmental impact alongside competitive private-equity style returns. I've spent most of my time in the health and wellness space within sectors ranging from geriatric care and fertility to clean beauty and healthy food contract manufacturing.
Brian Downey
Born and raised in Riverside, Connecticut, I attended the University of Michigan where I received Bachelor's and Master's degrees in Biomedical Engineering. In undergrad, I worked in an MRI lab researching cardiovascular physiology in animals. In graduate school, I led a startup team that partnered with Michigan Medicine to develop medical devices for complex retinal surgeries.
After graduation in 2017, I moved to Cambridge and spent three years working in R&D at Vericel, one of the only commercial-stage tissue engineering companies. I began in the research group, identifying new cell therapy product opportunities for sports medicine markets. In 2018, I moved to the development group. I led projects to improve the user experience for surgeons using Vericel's cartilage repair product by developing new surgical instruments and methods. I also spent many hours in a clean room bunny suit, implementing process development initiatives in manufacturing.
Roshan Dutta
I was born in Mumbai, India and was raised there until I moved to Baltimore at the ripe old age of five. I graduated from Dartmouth College in 2016 with a BA in Economics and Asian/Middle Eastern Studies. Upon graduation, I joined PJT after its spinoff from Blackstone as an M&A banking analyst, where I focused on executing TMT deals. Afterwards, I joined BlueMountain Capital as a private equity associate, where I was investing in healthcare services and HCIT companies out of a $6B pool of capital. I've been fortunate enough to work on buyouts in the home health / hospice and medical transcription sectors, and growth investments in women's health and durable medical equipment.
Brandon Faresich
I grew up in New Jersey and attended the University of Notre Dame for undergrad, where I graduated magna cum laude with a BBA in Finance and minored in Art History. For two years I worked in the Financial Sponsors Group at Bank of America as an Investment Banking Analyst in New York advising private equity firms on LBOs, IPOs, refinancings and dividend recapitalizations across multiple industries. With a mom that works as a physical therapist at a LTC facility, senior care and a passion to improve the quality of care for vulnerable populations is in my DNA. This passion led me to join the healthcare group within Court Square Capital, a middle market private equity where I evaluated and executed investment opportunities multiple healthcare sectors, including the pharma value chain, HCIT, home health and many others.
Allie Griswold
In the last few years, I have worked in both consulting and the start-up space for women's consumer health. I started out as a Business Analyst at McKinsey focused on healthcare clients, especially around revenue cycle management (in my opinion the unsung hero of healthcare systems and a surprisingly delightful conversational topic). I spent my third year at McKinsey working with the Global Managing Partner (CEO) on special projects and speech writing. From there, I co-founded Athena Club, a D2C women's body care company focused on accessible, high quality products. We started in the feminine care space and expanded into 10+ holistic self-care products from vitamins to razors. I led the operations, supply chain, B2B sales, social impact, accounting plus seemingly a million other things needed to run a 5-person brand new start-up. I have spent the last year advising Athena Club at a high level and working with the new CEO of McKinsey on strategic projects such as McKinsey's firm-wide COVID response.
Drew Guerra
I grew up in Durham, NC, and graduated cum laude from Northwestern University in 2016, with majors in Economics, Psychology, and Theatre, and a minor in Creative Writing. After graduation, I worked in Deloitte's health strategy practice, supporting international and national health and development agencies, state Medicaid agencies, foundations, non-profits, health systems, and insurers. Midway through my time at Deloitte, I took a sabbatical to work on the Center on Budget and Policy Priorities' health policy team. I'm planning to complete a dual-degree MPP at the Harvard Kennedy School, and am pursuing a career where I can contribute to improvements in access to affordable, high quality care for all.
Jodie Ha
I was born and raised in San Diego and went to Stanford University, where I graduated in 2014 with a major in Human Biology and minor in Art History. In 2013, I worked as an internal strategy and technology consultant in Kaiser Permanente (KP) Information Technology in Los Angeles. I developed joint IT and business strategies for the portfolios of mental health and wellness, community health, and data and analytics. 5.5 challenging yet rewarding years later, I sought to build upon my skills of technology-focused strategic development and relationship management not just internally with KP, but with external and more cutting-edge stakeholders. I moved to San Francisco, CA and joined Kaiser Permanente Ventures as an Associate on the Strategic Engagement team. In this role, I've partnered closely with our portfolio companies, helped to integrate these early-stage startups into KP, and connected KP to the healthcare innovation ecosystem. Through these two jobs, I've spent a total of 7 years at KP and still have yet to leave California (apart from college work/study and vacations). At KP, I was also the national president for the company's largest business resource group, genKP, a 5,000+ member group with a focus on professional development. I also serve on the Advisory Board for the Oakland Public Education Fund.
Harrison Han
I grew up in Thousand Oaks, CA, a suburb an hour north of Los Angeles (assuming good traffic conditions). I then trekked across the country to attend Dartmouth College, graduating with a B.A. in Economics, a minor in Government, and a general disinclination towards cold weather.
After graduating, I joined ZS Associates in New York as a management consultant. I have spent the last four years partnering with biopharma companies to tackle a wide variety of commercialization challenges, including commercial due diligence, go-to-market customer engagement model design, and patient and provider targeting strategy. Most of my experience centered on rare disease or first-in-class product launches, which has given me a deep appreciation for the value of bringing innovative therapies to patients with high unmet need.
Lastly, I co-led our office's CSR initiative, organizing our first "ZS Cares Day" and leading pro-bono engagements (most recently, evaluating funding and corporate partnership strategy for a US literacy-focused non-profit).
Maguire Herriman
I grew up in Westampton, New Jersey and graduated summa cum laude from Princeton in 2016 with a degree from the School of Public and International Affairs. After college, I took a gap year fellowship in New York working at a non-profit called New Alternatives for Children, which provides foster care management for children with special medical needs. I then enrolled in the Perelman School of Medicine at Penn. During medical school, I've conducted research with the Center for Health Incentives & Behavioral Economics, co-coordinated a health policy seminar series, and served as project manager for a Google-Penn Medicine collaboration to build a chatbot for COVID-related questions.
Andrew Hosbein
After college I moved to Chicago to work for Robert W. Baird's investment banking group, focusing on M&A transactions in the consumer products sector. After two years at Baird, I moved to NYC to join a client from one of our transactions, Avista Capital Partners, as an associate. During my time at Avista, a healthcare-focused middle-market private equity firm, I evaluated and managed investments in specialty and generic pharmaceutical companies. Following my two years at Avista, I sought to learn more about how to execute on and create the value that we signed up for in investment committee. For the last year I have lived in Dallas working in operational finance and business development at EyeCare Services Partners, helping acquire practices and improve center-level performance and vendor contracting.
Vahid Hoshmand
I grew up in Nutley, New Jersey, a small NYC suburb best known for its endless array of pizza options. In 2016, I graduated from Penn with BSE and MSE degrees in Bioengineering as well as a minor in Engineering Entrepreneurship. After graduation, I moved to Boston to join Putnam Associates, a life sciences strategy consulting serving global biopharma companies. During my 30+ engagements at Putnam, I helped drive actionable insights in areas including pricing and contracting strategy, value-based care, product opportunity assessment, and patient engagement. Outside of my usual client-facing work, I also enjoyed leading a multi-year, firm-wide initiative to build new analytical platforms and capabilities that now support the majority of our projects.
Garrett Howard
I grew up in Boulder, Colorado and graduated from the University of Colorado with a double major in Finance and Accounting in 2016. I then moved to San Francisco to begin working at Lazard, a boutique investment bank. At Lazard, I gained experience conducting financial analysis for M&A and licensing transactions for large biopharma, medtech and services companies. After a year in investment banking, I made the transition to venture capital, joining Longitude Capital as an Investment Professional. Over the last three years I have worked with two other colleagues to build out Longitude's Health Solutions practice, which focuses on investing in companies that have novel models of care or create value for payors, providers or life sciences companies through technology. The group has grown from 1-2 deals per fund to a sizable portion of Longitude's capital commitments. Over my tenure, I helped develop our investment thesis and deploy capital in the novel models of care, chronic disease management, eClinical solutions, clinical decision support and digital therapeutics verticals.
Alexander Hsu
I was born and raised in Northville, Michigan, and attended the Ross School of Business at the University of Michigan, where I received my BBA and MAcc. After graduation, I joined BDO's healthcare advisory practice in New York, working with clients in the payor and post-acute care space on restructuring and turnaround engagements. Following two years at BDO, I decided to join McKinsey & Company's healthcare practice, where I served clients across all areas of healthcare on a variety of strategic and operational opportunities. In my two years at the firm, I gained valuable exposure across the healthcare value chain, working with payors, providers, HCIT, GPOs, REITs, and healthcare investors. After four years in consulting, I joined Regal Healthcare Capital Partners, a healthcare services focused private equity firm investing in the lower middle market. Over the past year, I worked closely with our autism portfolio company, helping lead it through an integration and transforming the company's finance function, and evaluated potential add-on acquisitions for the company.
Jack Huang
I am a MD/MBA student passionate about healthcare innovation. I grew up in Allentown, PA, and graduated from Harvard University in 2016. While at Harvard, I founded HealthPALs, a team of student community health workers serving as both peer health navigators and advisors to our campus healthcare system. I also worked in quality improvement at the Massachusetts General Hospital, helping implement an electronic referral system and assessing patient experiences during transitions of care. Before starting medical school, I worked as a health policy research analyst at the Harvard T.H. Chan School of Public Health. Since coming to Penn, I have continued health policy work with the Leonard Davis Institute of Health Economics. I also helped launch PennCOBALT, a digital health platform supporting the mental health and well-being of the Penn community during COVID-19 and beyond.
Connie Jao
I grew up in Orange County and graduated from the University of Southern California where I majored in business. After graduation, I moved to New York to join J.P. Morgan's investment banking group, and then to San Francisco to work at KKR, an investment firm. Those roles exposed me to a variety of industries, but I was most excited to work with healthcare companies that leveraged technology to improve quality of care. Looking to explore the intersection of healthcare and technology, I spent a few months consulting a medical device distributor in Rwanda before joining Ediom, a healthcare data analytics startup (now part of Vizient), which aims to increase hospital supply chain transparency. As a product manager, I helped build and commercialize our first data product that identifies price discrepancies in medical devices and drugs.
Christopher Johnson
After graduating from Indiana University's finance program, I spent 2 years in middle-market private equity at LDI, Ltd. in Indianapolis. I became interested in building businesses in a more direct role, so I moved to Los Angeles to join an early-stage healthcare company co-founded by New Enterprise Associates called Radiology Partners ('RP'). During my 5 years at RP, I helped scale the organization from 200 employees to more than 5,000. RP provided cross-functional experiences in operations, leadership, M&A, strategy, and technology. I also studied computer science at UCLA part-time, and am now completing my master's in computer science remotely at the University of Illinois.
Christine Kanoff
Ever since I graduated from college, or really ever since I was in college, I've tried to determine exactly what I wanted to do in healthcare. For me, that meant – to be a doctor and go to medical school, or to find another way to work in the industry. After realizing I needed a break from the pre-med world during my senior fall, I decided to apply for consulting jobs and ended up working at Bain after graduation. I thought my time at Bain would be quick and would help me decide what I ultimately wanted to do more clearly. 4 years and two offices later (Boston, NYC), I was back to the same position – to pursue medical school or not. Over the last year, I've worked at the Pacific Neuroscience Institute on a innovative treatment for cognitive decline and helped them launch several different "Centers for Excellence" within the first year. I've taken six different science courses and volunteered at a free clinic as a way to get more experience 'on the frontline'.
Charlie Kolisek
After college, I worked in investment banking at J.P. Morgan as part of the Leveraged Finance and Healthcare Investment Banking groups in Chicago and New York, respectively. Following J.P. Morgan, I joined The Carlyle Group's Healthcare Private Equity team in New York.
David Kornberg
I grew up in Jericho, New York, before graduating from Duke University with a B.S.E in biomedical engineering in 2015. After undergrad I spent three years at Deloitte Consulting where I specialized in data analysis and strategy across diverse industries including healthcare, technology, retail, media, and social impact. While at Deloitte I also worked on pro bono projects for nonprofits, helping to launch a patient advocacy group for homocystinuria and a national service journalism program. Eventually I tired of the road warrior lifestyle and decided to explore my passion for technology by moving across the country and working at Google. Over two years in Silicon Valley I held product and growth marketing roles on G Suite and Google Pay. In these roles I worked closely with product and business development teams to build new products and grow our user base through deep customer insights and user focused design.
Tal Krause
I started working at McKinsey in Germany right after my undergrad. When I joined, they asked me which industries I was interested in. I said: "anything but insurance" – and, of course, I spent the first half year at an insurance company. Fortunately, my next project was for a pharma company, and I loved it. From that point on, I only worked in pharma and healthcare. I tried to go through all functions in those 2.5 years: For my first pharma client, I did projects in marketing & sales, corporate strategy, production, and a commercial due diligence. Afterwards, I spent six months on a customer experience project at a healthcare payor, mainly to learn about Design Thinking. There, I did nothing but customer interviews, ideation workshops, and app prototyping. I followed that up with an R&D and Medical Affairs strategy, to also see the scientific side of the industry. My last project was in MedTech procurement, which I mainly did to round-off my toolkit – and to be staffed during the lock-down. Overall, I think I have developed a good understanding of the European healthcare industry, and I hope this will be a useful addition to our class.
Jung Lee
After graduating from Penn I joined Putnam Associates, a Boston-based life sciences strategy consulting firm. While there, I advised pharmaceutical and biotech clients on a variety of commercial strategy engagements—ranging from drug pipeline investment evaluation to pricing and market access strategy—with a focus on oncology and vaccines. In 2017 I moved to San Francisco to join Collective Health, which is a technology platform that helps self-insured employers administer healthcare services to their workforce. At Collective, I led our partnership development function for pharmacy benefit managers (PBMs), and helped guide Collective's broader market expansion strategy through defining new lines of business, as well as identifying and evaluating acquisition targets. Soon after getting June's acceptance call, I left Collective Health to join RubiconMD, which is an eConsult platform that allows primary care physicians (PCPs) to solicit clinical guidance from a network of top-tier specialists. During my time at RubiconMD, I've had the opportunity to establish the New Products and Partnerships function, and also led the development and launch of a new product that aims to help PCPs treat behavioral health conditions. As the country strives to manage through the pandemic, working at RubiconMD has provided a meaningful opportunity to contribute towards our healthcare system's COVID-19 response and its adoption of digital care delivery modalities.
Allen Levitas
After growing up in Northbrook, IL, I attended the University of Michigan where I graduated with high distinction from the Ross School of Business in 2016 with a B.B.A. After graduation, I returned to Chicago to work at William Blair as an investment banking analyst. While at Blair, I worked on numerous M&A and capital markets transactions in the Consumer & Retail industry. Following two years at Blair, and wanting a change in industry focus, I joined Linden Capital Partners, a Chicago-based private equity firm focused exclusively on the healthcare industry. While at Linden, I evaluated investment opportunities across the healthcare landscape, primarily focusing on healthcare services. During my two years at Linden, I completed a platform acquisition, executed a transformative add-on, and monitored multiple portfolio companies. In addition to my professional endeavors, I started a foundation with my brother devoted to improving care, outcomes, and research for lymphoma and leukemia diseases.
Jingyi Liu, M.D
I am a physician turned healthcare entrepreneur! Having never taken a finance/business/economics class, I 'accidentally' started a digital health company during medical school. I absolutely fell in love with the experience of leading a company to fulfill unmet healthcare needs. I learned more about the world of biotech after spending a summer at a biotech-focused hedge fund. In the past year, I have been cementing my perspective as a healthcare provider as a resident physician at Stanford. I decided to fully transition my career to focus on building innovation in the biotech/pharma space.
David Lowe
I spent the first 4.5 years of my career working for a healthcare private equity firm based in Greenwich, CT. I spent about half of my time sourcing, structuring, and executing new healthcare investment opportunities and the other half supporting our firm's existing portfolio companies. The firm invests in outsourced pharmaceutical services, healthcare IT, and provider-based businesses. The portfolio companies I supported were in subsectors that included real world evidence, topical dermatology, contract manufacturing, healthcare staffing, and clinical research.
Shane Maloney
I grew up in New Berlin, Wisconsin, a western suburb of Milwaukee, before moving an hour west to attend college at the University of Wisconsin. This included a semester abroad in London my senior year, during which I visited nine countries and discovered my love for traveling. After graduating with a BBA in Finance, I moved to Chicago, where I started my career as an investment banking analyst in Goldman Sachs' Global Industrials Group. After spending two years at Goldman, I left to join The Vistria Group, a middle-market private equity firm that invests at the intersection of the public and private sectors. I spent two years there as an associate, evaluating and executing investment opportunities across a range of pharmaceutical and healthcare services sectors, including behavioral health, home health & hospice, primary care, and social determinants of health.
Kristina Mani
I grew up in Staten Island, the borough of NYC which arguably has the best pizza and gave me the fun fact that I took a boat to get to high school every day. Heading up to the woods, I went to Dartmouth College, where I studied neuroscience and explored global health opportunities. Through public health and consulting internship experiences, I realized I was most interested in working at the intersection of business and science to help bring novel products to market. After graduation, I moved to Boston and spent the last four years working at Health Advances, a boutique life sciences strategy consulting firm, where I have worked with pharma, biotech, medical device, and diagnostics companies to help develop commercial strategies for innovative technologies.
Marco Marni
I grew up in Pavia, a small university town in Northern Italy. I moved to Milan to get my Bachelor of Science and Master of Science in Energy Engineering from Politecnico di Milano, the best technical university in Italy, graduating summa cum laude in 2017. I also got a second Master of Science in Engineering summa cum laude from Politecnico di Torino and a degree from Alta Scuola Politecnica, an advanced multidisciplinary curriculum on Innovation. In early 2018 I joined the Kearney Milan office as a management consultant. Here I got extremely passionate about the healthcare sector and I became a core member of the European Kearney Health practice. My work focused on supporting pharmaceutical and biotech companies in projects on corporate and growth strategy, product go-to-market strategy, commercial excellence and digital transformation across several European countries. In Kearney I also led initiatives to develop AI-powered tools enhancing pharmaceutical companies commercial performance and increasing diagnosis rate of rare diseases.
Jamie Marvil
Although I was born and raised near the sunny beaches of Southern California, I made my way to the snowy Midwest for undergrad where I attended the University of Notre Dame. While at Notre Dame, I majored in Accounting and Economics and was a four-year member of the Track & Field team. Upon graduation, I joined McKinsey & Company as a Business Analyst in hopes of receiving broad exposure to a variety of industries and functions. In doing so, I found a passion for healthcare and spent much of my two-year tenure working with major healthcare providers on growth strategy and cost optimization initiatives. From there, I took a secondment opportunity at SoftBank where I engaged with startups to address talent-related challenges and to support scaling efforts in new geographies.
Elana Meer
When I place my pinky on Iraq, and stretch my hand across the globe to place my thumb on London, my index finger falls on Moscow, but somehow, I landed in Los Angeles. As an Iraqi Jew brought up in the US by British and Canadian parents who fled Iraq, I love exploring, traveling, learning about different cultures and places, and of course, all food. I went to Princeton University for Undergrad, where I graduated phi beta kappa, Summa Cum Laude with highest honors in Neuroscience. In college my interest in the complexities of cognitive biases and decision making under uncertainty led to my college thesis exploring how neuro-economics can help elucidate psychiatric diagnoses. After college, I moved to Philadelphia, where I started medical school at Penn. In medical school, I became more involved with the intersection between healthcare technology and innovation, working with PennHealthX, PennHealth-tech, the innovation office, and multiple device teams and companies. These experiences helped me hone my interests further in the complexities of healthcare decision-making with the goal of improving healthcare delivery by utilizing new and existing technologies in innovative ways.
Priyanka Melgiri
Originally from Dallas, Texas, I left the Lone Star State to study Economics at Northwestern University. Post-graduation, I joined the healthcare investment banking group at Jefferies in New York, where I worked on a number of M&A transactions and debt/equity financings spanning the sector. I subsequently joined EW Healthcare Partners, a healthcare-focused growth equity investment fund. During my three years with EW, I spent most of my time investing in the medical technology, pharmaceutical, and HCIT spaces, and worked with portfolio companies on bolt-on acquisitions, operational enhancements, and capital restructurings. Before joining Wharton, I completed a pre-MBA internship with Zoetis in their Corporate Strategy team, where I spent the summer focused on the companion animal sector.
Rachit Mohan
A native Texan, I grew up in Dallas before moving cross-country to New York City to attend Columbia University. I graduated in 2017 with a B.S. in biomedical engineering with a focus on tissue engineering and computer science. During college, I interned at various healthcare and life science companies including a machine-learning-based startup, Spectral MD, a biotech startup incubator, Harlem Biospace, and a mid-sized diagnostic analyzer manufacturer, Ortho Clinical Diagnostics. After graduation, I moved to Washington, D.C. to join Booz Allen Hamilton's federal practice as a healthcare management consultant. At Booz Allen, I have supported projects for the Veteran's Administration (VA), Centers for Disease Control (CDC), Army Medical Command (MEDCOM), Navy Bureau of Medicine (BUMED), and the Defense Health Agency (DHA). Most extensively, I developed strategy, policies, and implementation plans for a transformation of the military health system focused on improving patient outcomes, reducing costs, and creating a consistent, more modern patient experience. Recently, I also supported the military's COVID-19 response and its phased approach for resuming operations.
Allison Morrison
I have worked as a nurse practitioner with Baptist Healthcare's outpatient group practice in the primary care and urgent care settings in an underserved area of downtown Memphis for the past 6-7 years. My primary interest areas are geriatrics and women's health. I'm also passionate about understanding and addressing the social determinants of health. My experience as a nurse practitioner has been richly rewarding yet extremely challenging. COVID-19 has presented unprecedented challenges especially when it comes to patient care. Our office has shifted to a hybrid format where we try to see many patients virtually for their routine appointments. I helped train many of the physicians and nurse practitioners on how to perform a visit in a virtual environment. Sometimes training providers on e-health platforms was more challenging than treating COVID patients! Though seeing 10-15 COVID patients daily, I have somehow miraculously remained COVID-free (thankful for PPE) and hope that I can say the same at the end of first semester in Philadelphia! I also serve have leadership experience serving on Baptist Healthcare's system-wide "Advanced Practice Council" which works with the administration and makes recommendations for how best to utilize the 1000+ nurse practitioners and physician assistants within the system. In addition to my roles with Baptist Healthcare, I have worked in student health at Rhodes College and the University of Memphis.
Andre Mota
I grew up in a multi-cultural family on the vanilla outskirts of Sacramento, CA. I graduated cum laude from UC San Diego in 2015 with a B.S. in General Biology and minors in Global Health and Business. To this day, I'm convinced that I still belong on the beach. Passionate about healthcare reform, I completed an M.S.P.H. in Health Policy at Johns Hopkins in 2017, where I interned on Pfizer's global policy team and T. Rowe Price's life sciences equity research team. After grad school, I worked at Manatt Health, a policy and strategy consulting firm, where I advised healthcare (payor, provider, life sciences) and emerging companies. To explore an itch for investing and entrepreneurship, I worked part-time at Clockwork, an early-stage investing and portfolio monitoring firm. In 2019, I entered Penn's JD/MBA program, with the hopes of building regulatory and strategic solutions in healthcare. Most recently, I worked on the M&A team at the law firm Cravath and on the growth and strategy team at Healthify, a Series B SDOH startup.
Nivi Nagaraj
I grew up in Rochester Hills, Michigan and graduated from Dartmouth College in 2016 with a B.A. in Biomedical Engineering. After graduation, I moved to Boston to start as an analyst at ClearView Healthcare Partners, a strategic life sciences consulting firm. Over the course of four years, I became an Associate Principal and a member of the company's extended leadership team. I developed clinical and commercialization expertise across a range of therapeutic areas with a specific focus in oncology, rare disease, and women's health. I have led numerous consulting engagements from early-stage opportunity assessments to life cycle management projects with established and emerging biopharma companies. I also led the advanced training program for employees and spearheaded the creation of the company's diversity & inclusivity initiative.
Hannah Plon
I was born and raised in the Philly suburbs and then went to Wesleyan University, where I gleefully studied Earth & Environmental Science. Right after college, I joined JDS Therapeutics, a small healthcare company focused on developing natural products for women's health and unique ingredients to sell into the sports nutrition industry. And then I never left! I started in product development research, helping with clinical trial design and developing new formulations, and also began learning about regulatory affairs (which became a big interest of mine). I then expanded into managing new product launches and business development around in-licensing opportunities. I've spent the last six years working primarily in R&D and Regulatory Affairs, but since JDS is a small company, I've been lucky in having the chance to work on a variety of projects – from medical marketing to patent filings strategies and overseeing manufacturing tech transfers. I had the opportunity to manage a few early-stage drug development programs, which is where I found my passion for working on therapies for health conditions that don't yet have effective treatment options.
Anna Purk
I was born in Chicago, but grew up in Salt Lake City, Utah before heading back to the Midwest to attend the University of Illinois at Urbana-Champaign for college. I graduated from Illinois in 2016 with a B.S. in Mechanical Engineering and a minor in Technology & Management. After college, I joined Deloitte's Technology Consulting group in Chicago where I worked for 4 years prior to Wharton. At Deloitte, I worked for state government and life sciences clients and focused on the design, development, and delivery of custom mobile applications. I managed the implementations of a mobile app for Medicaid/FoodStamp recipients and a digital therapeutic application for migraine patients. These opportunities helped develop my passion for digital health solutions and consumer health technology that improve patient experiences.
Nini Ren
I'm from Wakefield, MA, a small town outside of Boston, and went to Harvard for undergrad. I graduated cum laude with High Honors in 2016 with an A.B. in Chemistry and Physics and a secondary in Economics. For my thesis, I worked on a computational simulation of organic chemical reactions using quantum chemistry models. After graduation, I decided to stay in Boston and work for L.E.K. Consulting, starting off as a generalist before dedicating to the Life Sciences Practice. I helped advise clients on strategic issues such as growth strategy, product launch readiness, commercial expansion, commercial due diligence, and product valuation. For the past year, I supported one of the largest biopharma mergers ever in the industry, contributing to the organizational design of the BD and strategy team as well as operationalizing the new strategy team. I'm also passionate about social impact and served as the Knowledge and Innovation Director of Inspire, Inc., a non-profit consulting group of pre-MBA consultants across 20+ cities in the U.S.
Taylor Rose
I grew up in Bronxville, New York, a small town about 25 minutes outside of New York City. I attended MIT for college and after cycling through many majors, graduated as a double major in Management Science and Political Science. After college, I worked as a business analyst at McKinsey in DC, where I focused predominantly on strategic operations for pharmaceutical companies and financial institutions. Continuing my exploration of the Acela corridor, I then moved to Philadelphia to work at the Children's Hospital of Philadelphia (CHOP). At CHOP, I partnered with innovative research and clinical programs to accelerate growth. I quickly became interested in cell and gene therapy through my work with the CAR-T program. In the fall of 2019, I decided I wanted to learn more about the operations of the hospital and academic research. I changed roles and became the Program Manager of the CuRED program, a group of 10 physicians, scientists, and business people working to deliver and develop gene therapies to cure several rare blood disorders, including sickle cell disease and beta thalassemia. As the PM, I managed all business and operations of the program, which has cured 10+ patients with SCD or beta-thal.
Jeremy Rubel
I graduated from Amherst College in 2015, majoring in Chemistry and Economics. After school, I started my career in consulting at EY-Parthenon. There, I worked on strategy and diligence projects focused on the health care and life sciences sector. After working there for 3 years in Boston, I completed a 3 month rotation in EY-Parthenon's Munich Office for the European life sciences team. In 2019, I returned to Boston to join the strategy team at MassHealth, Massachusetts' Medicaid Agency. In my first year at the agency, I provided strategic advice to agency leadership and led projects ranging from telehealth to non-emergency medical transportation to accountable care organizations. After the start of the COVID-19 public health emergency, I project managed Massachusetts' Nursing Facility Command Center team, helping direct our cross-government response to the crisis in long term care facilities. Over 60% of the state's COVID-19 deaths occurred in nursing homes and the Command Center team implemented new funding, infection control measures, and testing policies to fight the pandemic.
Natasha Sakraney
I grew up in Southern California and graduated from Duke University with a B.S. in Neuroscience and a minor in English. After college, I spent three years as a consultant in McKinsey's Southern California office in the healthcare practice, serving senior management clients at health systems and payors. I helped build analytic assets to equip health systems to leverage their data, successfully grow in their communities, and improve patient experience. I then moved to Washington, D.C. to pursue nonprofit work and joined Reach Higher, Michelle Obama's college access initiative which serves as the Access & Equity team at Common App. Funded by a Kresge Foundation grant, I helped explore how Common App could leverage its existing infrastructure to support under-served students in applying for scholarships. I have also conducted economic research with the McKinsey Global Institute, a private sector think tank, and interned in the White House Office of Science and Technology Policy during the Obama administration. At Wharton, I am pursuing a dual degree with Penn GSE's M.S.Ed. in Education Policy.
Benjamin Sataloff
I grew up just outside of Philadelphia surrounded by a family of clinicians and studied economics at Vanderbilt University. Looking to better understand the healthcare industry, I joined Huron Consulting Group, where I worked as a revenue cycle management consultant for almost two years. I focused on both back-end process improvements and software implementation to improve revenue for hospitals. Seeking to gain more boots-on-the-ground healthcare experience, I then joined NYU Langone, where I worked in the Value-Based Management group, which lies at the intersection of finance, quality, and operations. While at NYU, I managed many projects, including streamlining osteomyelitis treatment, achieving OR efficiencies through the robotics program, managing end-of-life care through predictive analytics, and optimizing patient class. I also worked as a consultant for a digital health startup during my time at NYU and have recently been working as a strategy consultant for a medical device startup.
Maggie Schell
I grew up in the suburbs of Philadelphia and graduated from Harvard College in 2017 with an B.A. in Psychology and a Language Citation in Mandarin. After graduating, I moved to New York City where I worked for Deloitte Consulting in the Strategy & Analytics practice. At Deloitte, I focused primarily on life sciences strategy, working with pharmaceutical and biotech clients on clinical trial innovation, R&D transformation, and cost management and quality improvement engagements. In addition, I supported a product launch for a consumer technology client, helped to define Deloitte's internal AI strategy, and forecasted resource and budget needs for a health insurance company undergoing a digital transformation. Most recently, I completed an internship at Redesign Health, a healthcare venture studio based in New York City. In this role, I worked with the New Ventures team to explore new opportunities in cybersecurity and virtual clinical trials and helped to prepare an existing opportunity for investment review. I also worked with the Strategic Partnership team to develop a strategy and approach to engage potential industry partners.
Emily Schreck
I was born and raised in the suburbs of Los Angeles, CA and moved up north to attend the University of California, Berkeley (go Bears!) from which I graduated in 2016 with a B.A. in Public Health. Afterward, I moved to San Francisco to work at Triage Consulting Group, where I led teams in identifying and recovering underpaid revenue for U.S. hospitals and health systems, analyzed revenue trends, and devised recommendations for operational improvements to minimize future cash loss. Throughout my four years at Triage, I had the opportunity to collaborate on special projects with Patient Financial Services and Managed Care departments and present data-driven insights to hospital CFOs and senior management clients.
Kaveh Sedehi
I began my professional career at a company called Davita in their leadership development program. I worked as a business analyst in Denver focusing on strategic initiatives and telehealth projects for alternative modalities for dialysis patients including peritoneal dialysis, home hemodialysis, and extended therapy dialysis. During this time I was fortunate to work on partnering with a mobile phlebotomy start-up to bring remote and rapid lab testing to patient's homes and/or their places of employment. I later transitioned to the multi-specialty arm of the business that is now under the umbrella of Optum through acquisition. During my time here I was a general manager in outpatient clinical operations where my teams provided services across internal medicine, family practice, urgent care and OBGYN. I eventually transitioned to a remote consultant role, staying with the company and providing recommendations on streamlining operations, new service line offerings and growth strategy, while also making a move to the Bay Area to try to a build a health tech start-up. Currently I am still pursuing entrepreneurship in the clinical decision support space.
Maggie Selvin
I grew up in a small Hudson Valley town (Pawling, NY) and attended Tufts University where I graduated magna cum laude in 2013 with a double major in International Relations and Spanish. After graduating, I moved to New York City to join the Healthcare practice of leadership advisory firm Egon Zehnder, where I worked until starting at Wharton, making me one of few people I know to have spent seven years at the same company. Since 2017, I've been Director of the Healthcare Research team, managing 16 direct reports across five US offices and launching a team in New Delhi, India. Throughout my tenure, I've served clients across the healthcare spectrum, including working on CEO successions for two of the top five global pharma companies and partnering with private equity firms investing in healthcare services companies. Since moving out to San Francisco three years ago, I've started working more with early stage health tech companies which has led to my interest in digital health post Wharton.
Himanshu Sharma
While completing my undergrad in biotechnology back in India, I was introduced to bioinformatics and became fascinated with using technology to solve biological problems. This led me to pursue a master's in bioinformatics at NYU during which I interned at Regeneron Pharmaceuticals and worked in a team finding biomarkers for type 2 diabetes. After my master's, I started work at Harvard Medical School in a lab that focused on genetic mechanisms involving glioblastomas. I then transitioned to Partners Personalized Medicine where I worked for five years and learned the ins and outs of clinical diagnostic testing. Hoping to gain experience in a startup, I became a project manager at a health-tech SAAS product company Seven Bridges Genomics. Prior to Wharton, I worked as the Genomics Lead for IBM Watson Health, leading interdisciplinary teams in the US and China.
Lamin Sonko
I was born in The Gambia, grew up in Colorado, and eventually found a home on the East Coast where I graduated Phi Beta Kappa from Johns Hopkins University with a B.S. in Molecular and Cellular Biology. After graduating, I joined the then early healthcare company, Remedy Partners, as a business analyst in Connecticut and New York. There, I helped transition healthcare organizations from a fee-for-service model, to a more patient centered, value-based bundled payment system while simultaneously, personally developing a passion for healthcare entrepreneurship. While at Remedy, I also co-founded a new peer mentorship company called White Coat Strategists. Our company aimed to lower the financial barriers for premed students seeking admission to medical school by affordably and reliably connecting them with medical student consultants throughout the application process. In 2017, I was accepted into medical school and was immediately drawn to Penn by the opportunity to merge my passions for patient care and entrepreneurship. At Penn I've focused on developing innovative tools for clinical decision making and patient care, including the development of a machine learning based algorithm for bedside ultrasound.
Lucas Sullivan
I grew up in upstate New York and followed my older brother to Notre Dame, where I graduated in 2015. After graduating, I commissioned in the Marine Corps as an infantry officer and spent a year training in Quantico, Virginia. In 2016, I moved out to San Diego, where I commanded a platoon (40-ish people) for a year-long training cycle and a six-month deployment to East Asia. After returning, I became an executive officer, focused primarily on multi-function integration and short- to mid-range operational planning and support. I spent about two years in that role, and another deployment to East Asia. I spent my last eight months as a company commander, heading up a team of about 150 spread across six functional areas.
Tara Sullivan
I grew up in Boston and ventured up to Montreal (with a warm coat) for undergrad at McGill. After graduation I joined Putnam Associates, a boutique strategy consulting firm serving life science clients. I loved the small case teams, fast-paced projects, and close friendships. Most of my work focused on payer contracting, biosimilar launch planning, and health system access. After three years, I was bitten by the startup bug and eager to learn about health tech; I moved to NYC and joined an operations and strategic planning team at Flatiron Health. Assimilation to startup culture included ramping my LaCroix intake to four cans a day. Flatiron is a swiss army knife of engineers, clinicians, and business strategists; it was exciting to drive cross-functional progress with these groups. I also enjoyed growing our team and partnering with leadership on strategy development. In general, I learned a lot about how to prioritize strategic initiatives, scale operations, and measure success within a health tech business.
Keerthana Sundar
I was born in Michigan, and moved to Singapore when I was about 8 years old. After spending most of my formative years in Singapore I went back to Michigan for college. As someone who has always been interested in the intersection of public sector work and analytics, I decided to pursue a major in Public Policy and a minor in Economics. Wanting to further my learning and development in analytics and complex problem-solving, I joined McKinsey right after college. While at McKinsey, I worked on digital and analytics projects across a range of industries – from public sector, to utilities, to manufacturing. About 2 years into my career, I decided I wanted to have an impact in the healthcare space – I particularly wanted to learn more about the shift towards value-based care. That took me to Oak Street Health. At Oak Street I primarily worked on the strategy to expand into new markets, realize greater managed care growth and better serve vulnerable patient populations during the COVID-19 situation.
Natalie Szczepaniak
I grew up in the small town of Peru, Illinois and graduated from Northwestern University in 2016 with a B.A. in Slavic Languages & Literatures and International Studies. After graduation, I made the natural transition from Russian literature to healthcare and joined the Management Fellowship program at Cancer Treatment Centers of America in Boca Raton, Florida. The Management Fellowship is a 2-year rotational leadership development program focused on strategy, analytics, and operations, and as a Fellow I gained experience leading projects in a variety of functions within the oncology provider space. Post-Fellowship, I stayed with CTCA as a Manager of Enterprise Innovation to help optimize call center operations. After 3 years at CTCA, I joined Higi – a Chicago-based B2B2C healthtech startup focused on connecting consumers with personalized healthcare programs and resources – as its Chief of Staff in order to gain deeper experience in running and scaling a business. While at Higi, I focused on sales operations, business operations, and business development; my key experiences included redesigning the sales process and its accompanying tools/reporting capabilities and running several BD opportunities from scoping to contract execution.
Samad Wahid, M.D.
I was born and raised in Buckinghamshire, a small greenish county north of London. People often assume it's where the Queen hangs about but I'm yet to see her! I'm a physician by background, and studied a dual degree in Medicine and Management at Imperial College London. I'm training to be a pediatric surgeon although I recently had the distinct pleasure of working on the front line for Clovid…how the virus became to be known in our emergency room following a colleague's late night misspelling. Previously I have enjoyed the opportunity to work in consulting as well as broader health-policy, serving as medical chair for the UK Youth Health Parliament.
Abigail Wank
I was born on Long Island, New York and attended Duke University, where I graduated in 2014 with a B.S. in Biology and a minor in Chemistry. I launched my career in the biopharmaceutical industry through a rotational development program at GlaxoSmithKline, where I worked on large-scale digital transformation programs in the Philadelphia and London offices. I subsequently joined GSK's Global Vaccines Business in Rockville, Maryland as a Multichannel Marketing Manager, advising vaccine brand teams on customer engagement strategies. After four years at GSK, I pivoted to life sciences consulting at EVERSANA Management Consulting (f.k.a. Promidian Consulting) in New York to broaden my industry exposure (and unintentionally, moved to my 4th city since graduating college!). At EMC, I worked on a variety of projects that helped pharmaceutical, biotech, and digital health companies navigate commercial and market access challenges. My most memorable project was when I created a 'launch blueprint' for a big pharma company preparing to commercialize its first gene therapy.
Arthur Whyte
I grew up in the suburbs of New York City and went down to Duke for undergrad. Throughout undergrad I knew I wanted to work in a field that had a positive social welfare impact. After giving up on pre-med 2 days into freshman year, I transitioned into Public Policy with a minor in economics. Outside of class, I helped cofound a peer mentoring organization, was president of the Duke Rugby Football Club and spent plenty of time playing pickup basketball. Upon graduation in 2014, I went to work in the Enterprise Strategy division at Aetna, providing internal consulting services to a variety of different business units. After 2.5 years I wanted to move to a role that was closer to the patient, more operational and at a smaller/startup company. I left Aetna to work at Bright Health, eventually leading the Network Strategy division. The ~3 years I spent at Bright were super interesting – huge enterprise growth, many different roles/responsibilities, and exposure to parts of the industry I hadn't known existed.
Nicholas Williams
I grew up in Saint Joseph Michigan, a small coastline town directly across the lake from Chicago. From Michigan, I made the move to Nashville, Tennessee to attend Vanderbilt University to study Economics and Human & Organizational Development. While at Vanderbilt, I had several healthcare-centric professional experiences that bolstered my interest in the industry and culminated in the decision to pursue healthcare consulting. After graduation, I stayed in Nashville and accepted a position with FTI Consulting's Health Solutions practice, where I've worked on both Operational and Advisory teams to serve public and private clients across the healthcare spectrum. Over the last four years, I've worked to build experience in a variety of healthcare environments and an understanding of what it takes to manage and develop complex, highly regulated healthcare enterprises.
Shawn Xiao
I was born and raised in a small town in China before moving to the United States to Baltimore, Maryland during middle school. For undergrad, I attended UNC Chapel Hill and graduated with a degree in business administration. Following graduation, I worked first in the M&A investment banking group at Oppenheimer before joining Morgan Stanley's healthcare group, where I worked on a number of large cap healthcare M&A and financing transactions. My interest in working with businesses in healthcare eventually led me to GTCR in Chicago where I spent three years in the firm's healthcare private equity group. There, I evaluated investments across all healthcare subverticals, with a focus on pharma, medtech, and specialty chemicals.
Joel Yadidian
Born and raised in Los Angeles, I graduated from UC Berkeley in 2016 with a double major in Computer Science and Business Administration. My experience at Berkeley skewed towards Computer Science – I enjoyed a variety of software engineering internships, the most recent of which was at Amazon. However, post-graduation, I switched over to the business track, and joined L.E.K. Consulting in its San Francisco office. At L.E.K., I advised corporate and private equity clients across 20+ growth strategy and M&A advisory engagements, specializing in healthcare services, technology, and everything in between (e.g., digital health).
Sylvia Yang
Right after undergraduate, I joined McKinsey Silicon Valley Office as a Business Analyst, where I worked mainly with Healthcare, Life Science and Technology companies for 2 years. Afterwards, wanting more engagement with smaller companies, I joined Entrepreneur First, a deep tech VC/incubator, where I worked on setting up the incubation program in Hong Kong and had the opportunity to help build 10+ tech focused startups. Currently, I am wrapping up my Master Program in Asian Studies with a subject focus on Medical Anthropology (yes it is an independent field in itself and I still don't know exactly what the field does after having written a thesis on it :)). My thesis examines the challenges and opportunities that returning genetic scientists (Chinese nationals trained abroad) face in China.
Jason Yu
I grew up in the San Francisco Bay Area and first came out to the East Coast to attend college at Princeton University, where I graduated in 2016 with a degree in Economics and a minor in Computer Science. My first job out of college was teaching fourth grade English as a Princeton in Asia fellow at a K-12 school in Chiang Mai, Thailand. After the school year was over, I returned to the US and joined Boston Consulting Group, where I advised both public and private sector clients on strategic and operational matters. My projects ranged from building a direct-to-consumer business line for a MedTech client to conducting due diligences on HealthTech companies for private equity clients. Over the past six months, I've been at a senior care provider called Arosa+LivHOME to temporarily lead and integrate a Boston-based acquisition and develop new business models around in-home and community-based care.
Cindy Zhao
Born in and raised eleven miles south of Cleveland, Ohio, I left the Midwest to study statistics at Harvard with a secondary in Global Health and Health Policy. While in college, I loved engaging in health policy research and interning in the Health Economics and Outcomes Research group at Analysis Group, but I ultimately decided to head directly after college for medical school here at Penn's Perelman School of Medicine. In medical school, I have found the most meaning in getting involved as a student leader in two of our free student-run clinics for underinsured and structurally vulnerable patients in Philly. In these roles, I have worked to implement an electronic medical record in our community clinics and am currently creating a curriculum on disparities in surgery. Aside from also researching surgical disparities, I have been working on quality improvement projects and most recently, investigating the impact of Covid-19 social isolation policies on rates of trauma and gun violence in West Philly.
Cindy Zheng
I grew up in the suburbs of Washington, DC (on the Maryland side) before heading north to Yale University. I graduated cum laude with distinction in economics and a focus on health economics. At Yale, when I was not volunteering as a tax-preparer, I was in the lab conducting neurobiology and maternal health policy research. My research sparked my passion for using data and analytics to improve affordability and access in health care. After graduating, I moved back to DC where I joined Deloitte as a strategy and operations consultant in the government sector. I bring my passion for health care analytics to support our federal health clients in tackling improper payments and primary care transformation. My most recent project focused on collaborating with payer leaders across the country to implement an innovative value-based care payment model. Beyond client work, I also founded an internal health care analytics community of 100+ members and trained analysts in key programming languages like R and SQL.
Jodie Zong
I was born and raised in Dalian, China, but also spent some time in Singapore (8 years) and Japan (2 years). I graduated from Northwestern University in 2015 with a degree in Computer Science and Kellogg Certificate in Financial Economics. After graduation, I joined Deloitte Consulting in Chicago, and worked on the implementation of ACA for over a year. After different projects brought me to London and then Sydney, I eventually gravitated towards digital healthcare strategy and operations, where I got to work on product launches in patient experience and customer service operations with pharma's and providers. I am currently at Philips as a Group Strategy Manager in Shanghai, focusing on the delivery of connected care. I look forward to being at Wharton, especially with the HCM program, to learn more about how we can help drive meaningful outcomes during this global pandemic.
Click on covers to see e-books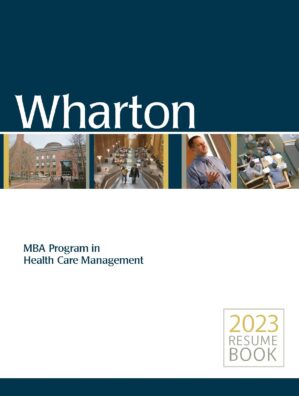 Resume Book 2023 (pdf)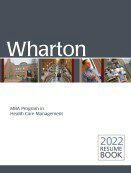 Resume Book 2022 (pdf)